sommai - Fotolia
HubSpot CPO shares HR technology strategy wisdom
For marketing software company HubSpot, HR technology decisions are led by strategy and employee experience, not by shiny object syndrome. Here's a look.
HubSpot's head of HR, Chief People Officer Katie Burke, believes in a strategy-first, tools-second approach. At a time when the HR technology market is growing exponentially, that philosophy provides much-needed grounding amid the hype. It's also notable, given that HubSpot, itself a software company, is known for inbound marketing and is in an expansion mode of its own. Indeed, from HubSpot's founding in 2005 to its initial public offering in 2014 to press coverage around the company's soaring shares in 2018, the company has been on an enviable growth trajectory.
And that means its HR technology strategy will only become more important as the company scales. (In HubSpot's most recent diversity report in January 2017, the company claimed 1,529 worldwide employees.)
Burke spoke with SearchHRSoftware about the real significance of landing on "best places to work" lists, the changing role of the HR leader, what she learned about HR technology strategy from the previous CPO and more.
HR's emergence as strategic function
Congratulations on HubSpot being named a top place to work by Glassdoor, among others. In what ways does the HR function being in the C-suite help in achieving such distinctions of employee experience?
Katie Burke: The way that I view awards [given to] HubSpot is that they're a lagging indicator versus a leading indicator. So, they've been a reflection of so much of the hard work that's gone on companywide to do all the big and little things that hopefully make this a great place to work daily. For me, the Glassdoor award is always a special one, simply because it's actually chosen and rooted in employee feedback.

At this point, how commonly do you think the top HR role is being included in the C-suite?
Burke: More and more CEOs and co-founders are thinking about HR and culture meaningfully. I think HR, for many years, was almost a compliance function. And now, it's being viewed more as it should be, as a growth function and as a real catalyst for growth. I think it matters less where your HR executive sits and more how the people team is viewed as a catalyst for the business, versus someone you just go to when someone's in trouble and needing help.
How common is that 'HR as strategic function' mindset?

Burke: I think we're still in the early innings of [most companies] thinking of it that way. But the transparency that the market has brought to bear on the candidate and employee experience has created a fundamental shift in how important it is that you actually treat people well on a regular basis. For years, if I wanted to create a great employment brand, I could just put out brochures and pump out content that shows smiling employees [who are] sharing quotes about their experiences.
Now, hopefully, if you're applying for a job at [for example] HubSpot, you could very easily, using social media, find a current employee, talk to a former employee or chat with someone who's interviewed at our company, and that transparency will level the playing field and really means what you do is more important than what you say as a business. The changes that we're seeing are a direct result of the power that employees and candidates have in sharing their experiences and a reaction to that.
A people-first HR technology strategy
The first chief people officer role was held by Jim O'Neill, who, before that, had been CIO. Can you comment on the part that HR technology strategy has played for the CPO role at HubSpot?
Burke: I was very lucky to learn from Jim. He had a lot of thoughts about how technology can enable a people team. What he and I both have in common is that we're not traditional [HR] leaders -- I came from the marketing function, he came from the IT function. And I think that's where you're seeing the convergence -- between marketing, IT, business systems and HR.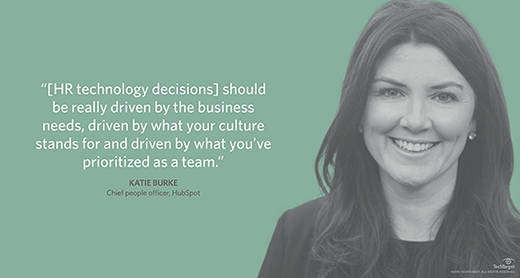 What I was lucky enough to learn from Jim [about HR technology strategy] is that the tools are only as important as the business teams that they serve and that it's absolutely imperative that your employees and your HR team understand the core why -- why the tools are being deployed. I think we're seeing a ton of different tools being released and a ton of companies trying to take advantage of them. What your employees care most about is: What actions are you taking? If you're just doing it to take a pulse or just to say that you're doing it, it's a waste of time. If you're doing it because you actually care and are going to take meaningful action with that data, that's where the magic happens.

I get calls from thousands of vendors and then also from a ton of executive leaders saying, 'We're evaluating X software. What do you think?' And I say, 'Well, it's not my position to tell you whether you have a core need there. It should be really driven by the business needs, driven by what your culture stands for and driven by what you've prioritized as a team. And then, what are you actually going to do with it? What business outcome is it going to help you achieve? If there's not a clear answer there, it's a waste of time and money.'
Hubspot's HR technology
On that note, can you talk about a few of the technology tools you use to support the employee and candidate experience at HubSpot? And also the why that it's serving?

Burke: For the candidate experience, we use two primary tools. One is Greenhouse, [which] is our applicant tracking system. We use it to help our candidates in two ways. One is to make sure their interview experience is seamless, fair, clear, consistent, well-scheduled. And we've had tremendous luck with that. The key with the applicant tracking system is that it doesn't just have to be easy to use for your recruiters; it has to be easy to use for your hiring managers as well.

And then, the second is Glassdoor. So, we monitor Glassdoor reviews for two things. One is to get context on what's working and what isn't. I describe it to our recruiters as almost a game tape [review]. We [discuss Glassdoor reviews] with our recruiters as a learning experience for them. 'This is how the candidate views this part of the experience. This is what we can learn from it.'

And then, the second way in which we use Glassdoor is: Our candidates look regularly at not just our candidate experience but also our employment reviews, and so, our engagement on Glassdoor, our willingness to respond both to positive and negative feedback sends a strong message that we really, really mean [that we] care not just about candidates but also care once they get here.

Our primary tools to make the employee experience great are SurveyMonkey and Workday. With SurveyMonkey, just a basic survey tool, we do a quarterly anonymous employee Net Promoter Score survey where we gauge what's working, what isn't, what employees want us to improve. We use that survey tool so we're getting ongoing feedback globally from employees anonymously. And then, we use Workday for things like performance reviews and assessments, or things like leave [requests] and for our quarterly peer bonus system.