Rawpixel - Fotolia
Online benefits enrollment system frees broker from paper
A San Diego insurance broker uses a cloud benefits enrollment system to move his employer clients to online enrollment and onboarding, resulting in convenience and time savings.
Bryan Wood is a veteran in an industry that has long been, in his words, "saturated with paper."
Wood, co-owner of an insurance brokerage in San Diego, is making strides toward changing that old-school mindset by basing much of his business on a cloud-based benefits enrollment system from EaseCentral.
While the vendor's system is primarily aimed at brokers -- and was designed by a broker, the company's founder and CEO, David Reid -- it also has employee- and employer-facing user interfaces.
Software for brokers, employers and workers
B. Wood Insurance Agency's main business is selling benefits to SMBs, the same market that EaseCentral targets through brokers who subscribe to its SaaS system and then extend it to client companies.
B. Wood provides EaseCentral's benefits enrollment system as an online enrollment and onboarding tool for its clients' employees. Workers get individualized views of all their personal and family data and detailed real-time information on their medical, dental, life and disability insurance choices and can compare different plans.
"There's a whole lot of time saving. Everything's paperless," Wood said.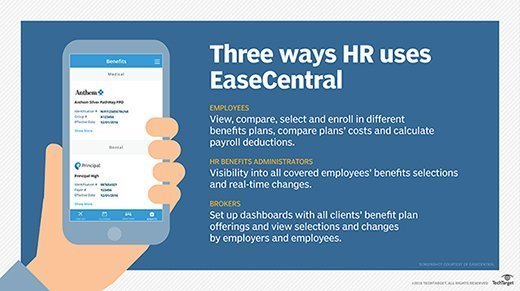 Easier open enrollment
So, during open enrollment season or after they're hired for a new job, employees -- rather than getting a paper booklet or an email with elaborate sign-on instructions -- select and enroll for their benefits on the EaseCentral mobile or desktop platform.
There are no back and forth emails or shuttling forms to their company's HR department or B. Wood service representative.
There's a whole lot of time saving. Everything's paperless.

Bryan WoodB. Wood Insurance
Wood sees the EaseCentral benefits enrollment system as a technology akin to the Amazon consumer environment -- intuitive and agile.
"It is designed with that same swift intention, so you can go on putting in information, know what your insurance costs are going to be, know what types of products there are, and you have the documents in PDF form with the click of a mouse," Wood said.
For employees, the benefits enrollment system calculates things like their portion of their health and other insurance costs and how much will come out of their checks depending on whether they're covering their spouse and children.
"It does all these normal things that would take up tons of time back and forth with an employee, or during the course of an open enrollment-type meeting, or with follow-up questions because someone needs to talk about a certain health condition they have," Wood said.
Vendor CEO eyes big market
Reid, who brought his benefits enrollment system to market in 2015, sees a huge business opportunity in not only the majority of SMBs -- which are still on paper-based benefits systems -- but also what he estimated is the 98% of the country's 500,000 brokers who still rely on paper.
While Wood talked about EaseCentral's features for end users, Reid touted its advantages for SMB benefits administrators. The system helps automate premium reconciliation when employees' benefits change due to their age or their dependents' age or employees leave or are terminated, he said.
"All this is something a group administrator has to do on a monthly basis, and it's a pain in the butt," Reid said. "So, a tool like this gives you a precise barometer to make that job and other aggregated things, like payroll deductions, easy."
Moving into HR tech
Over the past three years, EaseCentral has expanded beyond strictly benefits enrollment and administration by adding human capital management (HCM) features, such as time and hours functions, including employees scheduling time off, and Affordable Care Act compliance.
EaseCentral has also forged payroll integration agreements with ADP and Paylocity and maintains a marketplace, or ecosystem, with partners like HCM outsourcing vendor TriNet. And as the firm branches out from the more constrained world of brokerages and benefits and into the HR tech mainstream, Reid pointed out it is starting to attend HR tech conferences and trade shows.
HCM for SMBs
Reid also noted that big HCM vendors, such as Oracle and Workday, have robust benefits administration technology. But their benefits modules must be heavily customized and programmed for the extensive needs of large enterprises, while EaseCentral's system for SMBs is, more or less, turnkey.
"This is a new technology. It is what the big companies have had, but now, it's come down to the small group level," he said.
As for brokers, they get a master dashboard with visibility into all their clients' insurance plan offerings -- a more elegant and easily usable approach than managing dozens or hundreds of file folders.
In his sales pitches, Reid touts the cost savings for brokers and clients when using software instead of paper.
Cost savings claimed
"If you take a 200-life group [200 employees of a single company covered by insurance] and went to a traditional benefits administration firm, they would probably charge $6 or $7 per employee per month," he said.
By contrast, technology-enabled brokers can charge as little as 13 cents per employee per month, he said.
"That's because they're using software," Reid said.
Dig Deeper on Core HR administration technology