Kronos introduces its latest time clock, Kronos InTouch DX
The newly launched time clock integrates with Workforce Dimensions, Kronos' workforce management suite, providing real-time updates to managers and employees.
Workforce management and HR software vendor Kronos this week introduced Kronos InTouch DX, a time clock offering features including individualized welcome screens, multilanguage support, biometric authentication and integration with Workforce Dimensions.
The new time clock is aimed at providing ease of use and more personalization for employees.
"By adding consumer-grade personalization with enterprise-level intelligence, Kronos InTouch DX surfaces the most important updates first, like whether a time-off request has been approved or a missed punch needs to be resolved," said Bill Bartow, vice president and global product management at Kronos.
InTouch DX works with Workforce Dimensions, Kronos' workforce management suite, so when a manager updates the schedule, employees can see those updates instantly on the Kronos InTouch DX and when employees request time off through the Kronos InTouch DX, managers are notified in Workforce Dimensions, according to the company.
Workforce Dimensions is mobile-native and accessible on smartphones and tablets.
Other features of InTouch DX include:
Smart Landing: Provides a personal welcome screen alerting users to unread messages, time-off approvals or requests, shifts swap and schedule updates.
Individual Mode: Provides one-click access to a user's most frequent self-service tasks such as viewing their schedule, checking their accruals bank or transferring job codes.
My Time: Combines an individual's timecard and weekly schedule, providing an overall view so that employees can compare their punches to scheduled hours to avoid errors.
Multilanguage support: Available for Dutch, English, French (both Canadian and French), German, Japanese, Spanish, Traditional and Simplified Chinese, Danish, Hindi, Italian, Korean, Polish and Portuguese.
Optional biometric authentication: Available as an option for an extra layer of security or in place of a PIN number or a badge. The InTouch DX supports major employee ID Badge formats, as well as PIN/employee ID numbers.
Date and time display: Features an always-on date and time display on screen.
Capacitive touchscreen: Utilizes capacitive technology used in consumer electronic devices to provide precision and reliability.
"Time clocks are being jolted in the front of workers' visibility with new platform capabilities that surpass the traditional time clock hidden somewhere in a corner. Biometrics, especially facial recognition, are key to accelerate and validate time punches," said Holger Mueller, vice president and principal analyst at Constellation Research.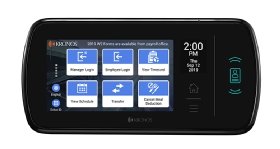 When it comes to purchasing a product like this, Mueller said organizations should look into a software platform. "[Enterprises] need to get their information and processes on it, it needs to be resilient, sturdy, work without power, work without connectivity and gracefully reconnect when possible," he said.
Other vendors in the human capital management space include Workday, Paycor and WorkForce Software. Workday platform's time-tracking and attendance feature works on mobile devices and provide real-time analytics to aid managers' decisions. Paycor's Time and Attendance tool offers a mobile punching feature that can verify punch locations and enable administrators to set location maps to ensure employees punch in or near the correct work locations. WorkForce's Time and Attendance tool automates pay rules for hourly, salaried or contingent workforce.