sevans
New Kronos headquarters design mirrors reinvention play
Kronos is trying to redefine itself as a cloud company. The workforce management software vendor's new headquarters is meant to mirror that change.
The nearly featureless, concrete-dominated façade of the new Kronos headquarters in the old mill city of Lowell, Mass., imparts a slightly forbidding first impression.
The Kronos headquarters -- housed in a trio of 12-story monoliths from the little- lamented brutalist period of American architecture -- looks no more welcoming than the buildings did in the 1980s, when they were home to Wang Laboratories, the long-defunct corporate icon of the personal computer era.
Inside, though, is a fully realized version of an office of the future, with workspaces configured specifically to foster employee engagement. Suites of translucent cubes, wireless meeting "pods," quiet zones and recreational common areas designed for an uplifting employee experience have replaced the conventional offices of previous tenants.
New headquarters seen as mirroring shift to cloud
Executives at the 41-year-old workforce management (WFM) software vendor harbor hopes for the Kronos headquarters that go beyond offering top-class amenities and working conditions to employees.
They see the 500,000-square-foot complex, the product of a $68 million reconstruction, as a reflection of the business rebranding that Kronos is trying to pull off.
The company began selling employee time clocks in 1977 and expanded into mainframe-based time and attendance software before developing on-premises WFM and human capital management (HCM) software and adapting that to cloud hosting.
Now, Kronos is trying to pivot to the public cloud world. Its new, fully cloud-based Workforce Dimensions system -- which executives heralded as a project in which Kronos set out to, in effect, reinvent itself -- has received good reviews, but some question whether it's belated.
Pride in renovation
On a recent afternoon, Jonathan Proffitt, the company's vice president of global workspace solutions, led visitors on a tour of Kronos headquarters. Proffitt took obvious pride in the extensive work and that it was guided by a 20-person advocacy committee representing a cross-section of the company, from junior to more senior employees.
The committee gave input on everything from cube size and chair selection to lighting and desk phones (landline phones were eliminated by consensus, and all employees got to try out five different cube styles and a dozen chair options).
"Frankly, it's not the best-looking building when you're pulling up," Proffitt said. "So, we said, 'How do we make this look a little cooler, a little more high-tech?'"
During the 18-month renovation, Kronos stripped much of the concrete from every floor, installed oversized museum-quality glass picture windows on the first two floors to stream diffused light into the formerly dingily lit floors and installed wireless videoconferencing technology in dozens of conference rooms.
The designers opened up the two main floors as reception and common areas and kept mammoth concrete internal crossbeams on each floor to impart a dramatic look.
The company moved to the former Wang complex in November 2017 after outgrowing its old, multibuilding campus in Chelmsford, the next town over, and deciding to consolidate all of its 1,500 New England employees on 17 floors in one place. Kronos leases one full building, four floors in another and a floor in yet another, with connecting corridors on the upper floors.
An open, 30,000-square-foot amenities "hub" takes up the entire second floor. It sports a staffed espresso and snack counter, genius bar for employees' walk-up tech problems, billiards and ping pong tables, couches and adjoining full-length basketball court.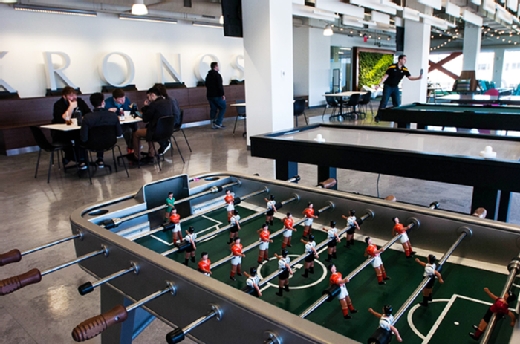 "Kronos has these three pillars: It's work-inspired, give-inspired -- which is our charitable giving -- and live-inspired, and we feel this is kind of the intersection between work- and live-inspired," Proffitt said. "You can hang out, decompress, get away from your desk."
This move kind of coincided with some larger changes we're making in the organization in terms of shifting to the cloud. A lot of us viewed the move to this building as sort of a physical manifestation of that.

Stephen TisaKronos
One member of the renovation committee, Stephen Tisa, senior director of digital technology, noted that the move to the new Kronos headquarters coincided with the company's quest for a new identity.
"This move kind of coincided with some larger changes we're making in the organization in terms of shifting to the cloud," Tisa said. "A lot of us viewed the move to this building as sort of a physical manifestation of that."
Skepticism about Kronos' ability to change direction
Some HR tech industry watchers, however, aren't convinced that Kronos can pull off the transformation, especially with a host of well-established cloud-based competitors selling into the WFM, payroll and HCM software markets.
In a recent report, Brent Skinner, principal analyst at Nucleus Research, wrote that legacy HR tech vendors, like Kronos and ADP, are late to market with true multi-tenant, public cloud HCM systems.
"It's crystal-clear that Kronos was lagging with their existing solutions," Skinner said in an interview. "They've been struggling in deals to win new business. In order to move into a true modern solution, this move with Workforce Dimensions was absolutely necessary from a technological perspective, and in that regard, they made the right move."
"There's a real strong push from Kronos to move their existing user base, which is vast and sprawling, onto Workforce Dimensions, and that is prompting a lot of users to think anew about whether they want to stay with Kronos or go with something else," he said.
Time clocks still viable, CEO says
Kronos still derives a good chunk of its revenue from sales and service associated with time clock-based versions of its WFM system, Workforce Ready. And on an upper floor at Kronos headquarters, an array of time clocks from technological generations going back to the 1970s line a wall -- symbols of Kronos' past, present and foreseeable future, according to CEO Aron Ain.
Clocks also adorn Ain's open-door but windowless office.
Ain works at his standing desk, looking out over a well-traveled hallway. The new office design didn't award corner or window offices to upper-level executives, though senior executives tend to have more space.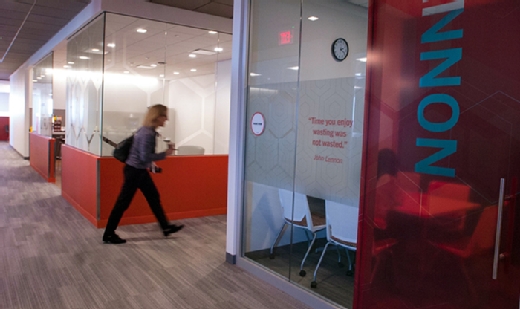 In an interview around his conference table, Ain acknowledged that his company's corporate culture and business are changing with the thrust toward cloud-only products.
Even so, he said he can't easily envision a future in which employers don't want physical time clocks, and he said Kronos will remain in that business for a long time. (The newest Kronos system, Workforce Dimensions, uses mobile timekeeping and also integrates with Kronos software systems that use the Kronos InTouch and Kronos 4500 timekeeping devices.)
CEO says new HQ helps attract talent
But Ain maintained that corporate culture is thriving in the new location, revenues are up, employee turnover is down and there's a palpable energy around Workforce Dimensions.
As for the new Kronos headquarters, it is a valuable asset that will help draw the talent that will develop and market innovative new systems, Ain said.
"It's not possible for us to develop great products and deliver great service without great people," he said. "When you work hard to recruit great people, you have to work as hard to retain great people, because great people have choices about where to work."
"So, the environment they work in directly impacts how people who are really good … think about whether they want to stay at a place or not," Ain said.