What's the difference between WFM and WFO?
WFM and WFO systems can automate employee schedules. However, WFO platforms include contact center features, such as call recording, to improve agent performance.
Many contact center leaders struggle to manage high turnover rates and fluctuating call volumes. However, workforce management and workforce optimization software can help them overcome these challenges.
Although some mistakenly use the terms interchangeably, WFM and WFO refer to distinct tools with some overlapping features. Both systems help organizations schedule the appropriate number of employees for a given period, but WFO platforms include additional contact center features that boost agent performance.
Business leaders should know the difference between WFM and WFO systems so they can select the right employee management software for their organizations.
What is workforce management?
WFM is the set of strategies and tools organizations use to manage schedules and track attendance in busy workplaces like retail stores and contact centers. WFM systems use service-level forecasting and automated scheduling apps to ensure that organizations always have the right number of employees.
What is workforce optimization?
WFO is the set of strategies and tools that large contact centers use to boost agent satisfaction, engagement and performance. WFO platforms combine WFM features with quality assurance capabilities, such as call recording, speech analytics and real-time coaching. Vendors and users may refer to these platforms as workforce engagement management (WEM) systems, especially if they include gamification and voice of the employee apps.
3 differences between WFM and WFO
WFM and WFO systems offer forecasting and scheduling features, but WFO tools focus more on employee engagement. The three key differences between these systems are the features, scope and users.
1. Key features of WFM and WFO
WFM systems perform basic yet vital functions, such as attendance tracking and schedule building, in busy workplaces where employees get paid hourly and trade shifts. These workplaces might include retail organizations, construction sites, restaurants and contact centers. Key WFM features include the following:
Service-level forecasting. Forecasting tools let organizations predict how busy their workplaces might be throughout a given season, week or even a specific day.
Schedule automation. Automation features schedule the right number of employees based on service-level forecasts.
Attendance tracking. Attendance apps can log employee clock-in and clock-out times and automatically alert supervisors when employees violate attendance policies.
Absence management. WFM systems include apps that let workers request time off. They can also manage and track employee vacation and sick leave per internal and external compliance requirements.
Shift-swap tools. These tools streamline the process by which employees trade shifts with each other, which increases schedule flexibility and improves employee satisfaction.
Mobile access. Mobile-friendly WFM systems let employees check their schedules, review their attendance history, request time off and trade shifts from their mobile devices.
WFO platforms offer the features that WFM systems have but include additional contact center features, such as agent performance analytics and coaching tools. Key WFO platform features include the following:
Call recording. Supervisors can record calls between agents and customers for quality assurance.
Call monitoring. Monitoring features let supervisors listen in on calls to evaluate agent performance and offer assistance.
Speech analysis. AI tools can analyze recorded or live conversations to detect customer emotions. This analysis can identify agents that need further training.
Desktop analysis. WFM systems can record agents' desktop activities to track which URLs and applications they use. When combined with other metrics, such as agent rating, it can offer insights into which agent behaviors lead to successful and unsuccessful outcomes.
Real-time coaching. This feature uses text and speech analytics to detect customer emotions in real time. It then gives agents recommendations on what action to take next.
Knowledge management. Some WFM systems offer knowledge management features, such as centralized FAQ repositories, that agents can use as a reference guide.
Voice of the employee surveys. These digital surveys collect employee feedback so supervisors can learn how to improve the employee experience and reduce turnover rates.
2. WFM is a subset of WFO
Organizations rely on WFM systems to execute basic business processes, such as scheduling, hour tracking and absence management. WFO platforms also perform these functions, but they go a step further and help organizations train contact center agents and increase employee satisfaction.
WFM systems can improve employee satisfaction to some degree because they use forecasting and scheduling automation features to keep employee schedules fair and balanced. However, WFO platforms offer agent analytics, real-time coaching and employee surveys to ensure that agents have the training and support they need to succeed.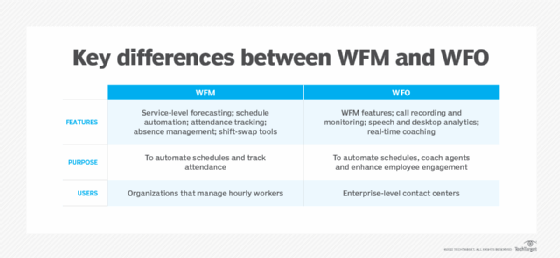 3. WFO tools cater to large contact centers
WFM systems can benefit almost any organization that employs hourly workers or offers flexible schedules. However, these tools become more vital as an organization's workforce grows. Small organizations can sometimes manage their schedules with simple spreadsheets, but most need a dedicated WFM software tool to handle the complexities.
WFO platforms, on the other hand, cater specifically to large contact centers. These systems typically entail a big investment, so SMBs might not have the budget for them. However, enterprise-level contact centers that want to outperform their competitors often turn to WFO platforms.
Due to the COVID-19 pandemic, more organizations have embraced hybrid work and flexible schedules, which has made WFM and WFO more vital. Both systems streamline the shift-swap process, which supports flexibility, and WFO platforms can offer remote training and coaching for agents who work from home. SMBs might consider a WFM system to help execute scheduling tasks, whereas large contact centers might want a WFO platform to improve employee engagement and overall performance.
Dig Deeper on Customer service and contact center