Sergey Nivens - Fotolia
Google sparks open source unrest over Knative, Istio
Google is keeping its Knative and Istio projects close to the vest, which could limit their reach long term, early adopters say.
Early adopters of Google's Knative and Istio projects will watch their governance carefully, as it becomes clear they will not join their sister project, Kubernetes, in an independent open source foundation.
Google announced on its Knative mailing list Oct. 1 that the event-driven computing framework will not be donated to an independent open source foundation in the foreseeable future, prompting public protests from representatives of other vendor companies that contribute to the project. While Google has not said that it has the same plans for Istio in so many words, when reached for comment a company spokesperson also didn't deny plans to keep the service mesh project away from independent governance as well.
"Google Cloud and the community are actively investing in continued project growth, sustainability and adoption for both Knative and Istio," the company said in an emailed statement. "Transparency, governance and inclusion are implemented across both projects to ensure distributed decision-making as much as possible. We welcome new community members, and anyone invested in the success of either project can help influence direction, much as we encourage in Golang, TensorFlow and our other projects."
Like Knative and Istio, the Golang programming language and TensorFlow machine learning projects are available for free use under Apache Licenses and open to third-party code contributors, but their governance falls mostly under Google's control.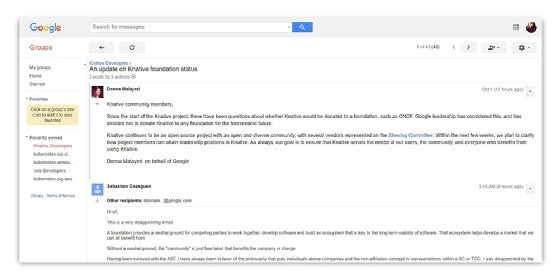 Golang and TensorFlow still boast healthy adoption and support in the market, but Knative and Istio might be a different story, IT pros said. The two are among the newest Google cloud-native computing projects and are closely associated with Kubernetes, which is governed by the Cloud Native Computing Foundation (CNCF). Other CNCF members that contribute to Knative and Istio and bundle them into Kubernetes management products and services expressed disappointment in tweets that the two newer projects would not follow suit.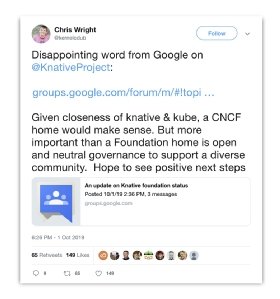 "Given [the] closeness of Knative and [Kubernetes], a CNCF home would make sense," Red Hat CTO Chris Wright said. "But more important than a Foundation home is open and neutral governance to support a diverse community. Hope to see positive next steps."
Microsoft distinguished engineer Brendan Burns joined Wright in criticizing Google's Knative decision, but neither a Red Hat spokesperson nor Burns would comment on whether the companies would reconsider their support for Knative or Istio in products such as Azure and OpenShift. IBM, one of the originators of the Istio project, did not respond to a request for comment about its stance on the project's governance.
Knative and Istio lack Kubernetes dominance, market may fragment
Until and unless contributors abandon the Knative and Istio projects because of governance concerns, it's difficult to tell what effect Google's decision will have on enterprise users. But some Kubernetes shops said they'll carefully watch how the projects develop, and in some cases will be more open to considering alternative tools if they remain too Google-specific.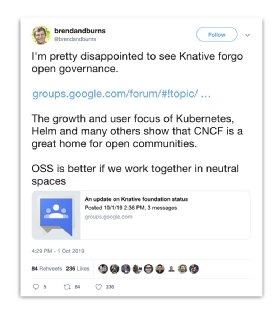 "So far I'm not far enough in to Istio to be really strongly committed yet," said Andy Domeier, senior director of technology operations at SPS Commerce, a Minneapolis-based communications network for supply chain and logistics businesses that runs Istio in production. "[HashiCorp] Consul Connect is really well-positioned to compete here if Google decides to keep Istio close to the vest."
Domeier said he's concerned that without open governance, Istio adoption will be curtailed, which will lessen incentives for third-party software vendors to build integrations for it. It would also open the door for alternative projects to arise, most likely governed by Google cloud competitors, while enterprise service mesh adoption remains in its early stages.
Consul Connect isn't governed by an open source foundation, but HashiCorp doesn't compete with vendors such as Microsoft Azure the way Google does. Consul is also a mature product used in production by several large enterprises, Domeier said, and HashiCorp has a good reputation in the open source community.
I hope this motivates Google to make Istio such a good project you can't not use it -- if they're going to take the approach they're taking, they have to make sure the project is the best out there.

Andy DomeierSenior director of technology operations, SPS Commerce
"We're kicking the tires on Consul Connect," Domeier said. "I hope this motivates Google to make Istio such a good project you can't not use it -- if they're going to take the approach they're taking, they have to make sure the project is the best out there."
Users already committed to Google Cloud Platform and Google Kubernetes Engine (GKE) said it's unlikely they'll avoid Knative and Istio because of governance concerns, but there are still general worries about how Google will balance its mandates as an open source software steward and a cloud platform provider with revenue goals.
"There's concern among our SRE team that Google will put premium Kubernetes features into Anthos, which is more worrying than open source project governance," said Josh Koenig, head of product at Pantheon Platform, a web operations platform in San Francisco that runs in GKE and plans to evaluate Knative and Istio. "Everyone can benefit from Binary Authorization, for example, but right now it's only generally available as part of Anthos, which sends a certain signal to the market."
Koenig said he also believes it's likely that new competitive projects to Knative and Istio will arise in response to governance issues.
"It's something everyone will need to pay attention to," he said. "In the long run, it's easy to see a point where Amazon, Microsoft or both decide to fork the projects or develop their own alternatives."