Definition
Google Mobile Services (GMS)
What is Google Mobile Services (GMS)?
Google Mobile Services (GMS) is a collection of applications and application programming interfaces (APIs) developed by Google for manufacturers of Android devices, such as smartphones and tablets. GMS can only be implemented into devices once the manufacturer has obtained a license to use the set of cloud-based applications. By placing all popular Google applications under one offering, GMS provides end users with secure and consistent functionality across devices.
Examples of popular applications within GMS include Google Play Store, Chrome and Search -- a tool that searches the web and the device for specific information. Manufacturers have the option of pre-installing specific GMS applications, like Gmail or YouTube, on a device home page or offering them for download through an app store. Additional GMS applications include Google Drive, Hangouts, Maps, Photos and Music.
GMS may vary based on regional availability and licensing requirements. It should also not be confused with the Android Open Source Project, which is used to help Android developers create consistent, device-level user experiences.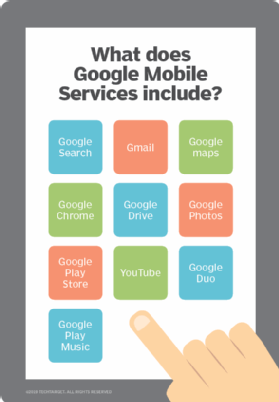 GMS licensing
Android device manufacturers must obtain a license from Google to be able to use GMS on their devices, ensuring that all applications work as intended on the device software. Developers who do not acquire a license from Google will not be able to update commonly available applications, such as Gmail, which may lead to improper operation.
It often takes up to six months to get a license for GMS applications. To receive certification, manufacturers should contact Google, fill out the proper forms and follow procedures surrounding compatibility with GMS applications. Compatibility tests can be completed through the Android compatibility test suite, called CTS Verifier, or through the Google GMS Test Suite. These types of tests will verify aspects such as compliance, performance quality, experience and display resolution.
Benefits of GMS
Some advantages of GMS are the following:
access to a large number of productive applications under GMS;
uniform functionality and support for various Android devices;
ensured application stability and security through Google's guidelines;
enabled system updates and patches to ensure that applications consistently operate properly; and
support for over-the-air updates.
This was last updated in
February 2023
Continue Reading About Google Mobile Services (GMS)
Dig Deeper on Mobile application strategy