vadymvdrobot - Fotolia
Rugged devices market grows as hardware gets more portable
A warehouse employee needs logistics information while wearing gloves. A delivery worker needs their device in the truck and at the door. Here's why rugged devices are on the rise.
As endpoint hardware advances and more organizations require remote work, the uses for rugged devices continue to multiply.
Rugged devices often need to be customized for an organization's use cases. Both the rugged PC and mobile markets are growing, but the mobile segment of the rugged devices market is rising faster. Several reasons are driving this, including availability of a wider array of mobile apps, demand for portability and the lower cost of rugged mobile devices over rugged PCs.
"To have employees more connected… [with] one device with the business applications the user needs, you're better able to assist customers and you're making the employee more productive," said Bryan Bassett, a senior research analyst at IDC. "The benefits of arming employees with these types of devices is growing."
Why to adopt rugged devices
Rugged devices are designed for harsh environments and meant to withstand conditions such as extreme temperatures, water immersion, major drops and more. Due to the specialized hardware required, however, these devices often come with high purchasing and implementation costs. But because they are built to last -- sometimes five or more years in the field, for example -- the long-term ROI is strong, Bassett said.
Companies often introduce a mobile device strategy by adopting non-rugged devices. Once they're able to prove ROI from mobility, they turn to rugged devices that allow for more versatility in the field, said Derek Biersteker, sales and marketing manager at TransCOR Information Technologies, a Panasonic rugged device reseller in Georgetown, Mass. Consumer devices can fail in these harsher scenarios, with users complaining they can't see the screen in direct sun or use it while wearing gloves, for instance.
The technology behind rugged hardware has also advanced to enable more options for today's harsh work environments. Greater heat protection and faster processing capabilities are two examples.
"Technology has changed, which allows us to have the same performance in a rugged device that you can have in a consumer device," Biersteker said.
Rugged mobile on the rise
Demand for rugged mobile devices is growing as more users want portability in industries such as retail and field service. The worldwide rugged mobile devices market will grow 8.8% over the next five years, according to IDC's Worldwide Rugged Mobile Device Forecast, 2019-2023.
Compared with PCs, smaller, mobile devices that aren't docked to a fixed location can be easier to work with when employees are on the move. There's also a hybrid approach, where employees use a dock such as a Samsung DeX to mount a rugged mobile device in a vehicle, for example, and then remove the device and take it on the go.
Rugged mobile devices often cost less than rugged PCs. The hardware requirements aren't so intensive, which means organizations are more likely to refresh mobile devices more often, said Jack Gold, principal and founder of J. Gold Associates, a mobile analyst firm in Northborough, Mass.
Plus, more common business applications, such as Salesforce and Oracle, now have mobile versions available to rugged mobile devices.
I want something that's easy to manage, that has a low TCO, that I can replace if I have to.

Jack GoldPrincipal and founder, J. Gold Associates
"If I'm IT, I want something that's easy to manage, that has a low TCO [total cost of ownership], that I can replace if I have to, that isn't going to make me jump through hoops," Gold said. "Availability of apps is a big part of that."
Many older generations of rugged mobile devices ran on legacy OSes such as Windows Mobile, but in the past few years, more Android manufacturers have added rugged devices to their portfolios -- contributing to the overall market growth.
"Android has really stepped in to fill that gap," Bassett said.
Samsung, for instance, has its Galaxy Tab Active tablets and offered a line of Galaxy S Active smartphones. At the CES conference earlier this month, the company launched the Galaxy XCover Pro, which comes with a dual rear camera, 4050 mAh replaceable battery, enhanced touch capabilities for users wearing gloves, and a slimmer body design.
Zebra has an extensive array of rugged devices, including Android mobile devices specifically designed for certain industries, 2-in-1 tablets, and customizable lightweight tablets that run either Windows 10 or Android. Honeywell is another main competitor in the rugged devices market, offering the CN80G mobile computer for U.S. government logistics, warehouse and field service uses that require high security, for example.
Rugged PC market remains solid
Rugged PC vendors are beginning to offer less expensive and more portable PCs to meet user demands, Gold said. Dell, HP, Panasonic and other major PC vendors all offer ruggedized laptops.
Industries such as the military, utilities, trucking and public safety typically use rugged PCs. Biersteker has also seen an uptick in smaller rugged PCs in supply chain and logistics and warehousing.
Delivery and field service are two of the top industries that use Panasonic's Toughbook series, he said. The company's Toughbook 55, released in September, has a 14-inch screen, integrated stylus holder and a unique modular design with expansion packs for organizations to customize to their use cases. For instance, a business could add more I/O ports, DVD capability, a fingerprint reader, additional battery packs, SSDs or other components.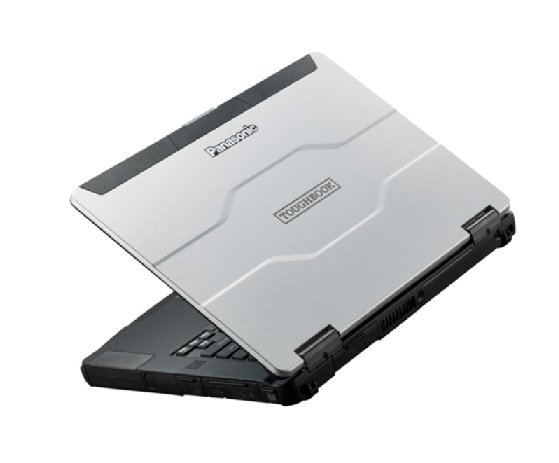 "Different groups require different connections, different ports, and this unit allows us to provide just one device to customers with different accessories," Biersteker said.
The Toughbook's built-in carrying handle is a big draw that increases portability, he said.
Rugged PCs can be expensive -- between $2,000 and $3,000 -- and often require more infrastructure for support than rugged mobile devices, however. The Toughbook 55 starts around $2,099.
Because organizations tend to keep rugged PCs longer, the rugged PC market is steady but not growing as quickly as its mobile counterpart, Gold said.
Vendors such as Panasonic tend to have very loyal customers, which helps keep the rugged PC market stable, Bassett said.
"The people who rely on these devices are still going to need them tomorrow, so I don't see demand tapering off for this type of solution," he said.
Still, rugged PCs don't get new versions as often as rugged mobile devices.
"They last so long, and there's so much design effort that goes into them," Gold said. "[Vendors] can't afford to design a new machine every year."
As for the future of the rugged devices market, Bassett hopes to see a ruggedized Chromebook in the next few years, since Chrome OS is such a lightweight operating system.
As always in end-user computing, the key to adoption is the user experience.
"You want to make sure that end users are empowered to get their job done, and if you give them technology that's hard to use, they're not going to be very happy," Gold said.
Dig Deeper on Mobile operating systems and devices