alotofpeople - Fotolia
Smartphone market trends elicit longer refresh cycles
Organization must follow the smartphone market trends to inform their purchase decisions. Mobile admins should tailor purchase choices to fit each desired use case.
As the smartphone market trends downward with unprecedented declines in unit sales, OEMs are adjusting their strategies to stay relevant and profitable.
These adjustments include new price ranges and feature sets for flagship smartphones from major OEMs, and a greater emphasis on services and programs that support and spread each OEM's install base.
"There are a few factors that are slowing enterprise smartphone sales, and a lot of them can be traced back to organizations making bulk investments in mobile early on and trying to extend the longevity of their devices," said Andrew Hewitt, an analyst at Forrester.
Enterprise organizations should familiarize themselves with the current smartphone market trends to inform their mobile device purchase decisions.
How did the smartphone market get here?
A number of key factors contributed to the current decline in smartphone sales, including market saturation, rising prices and the increased durability of major OEMs' smartphones. All of these factors hit high-end flagship smartphones, and the slowing demand for these types of smartphones reflects that, according to a 2019 Gartner report.
Organizations are extending their refresh cycles as the devices themselves become more rugged and able to withstand falling damage or water spills, according to Hewitt.
At Dudek, an environmental consulting firm, CIO Brian Nordmann has noticed users' smartphones holding up better than usual.
"We're seeing a decrease in the number of phones that come back to us damaged, and our users' phones are just lasting longer," Nordmann said. "When we tell them they're up for a device refresh, they're saying, 'The thing I have is still perfectly fine.'"
For one organization, the smartphone refresh cycle increasing by a few months may not seem like it could have a drastic effect, but when massive organizations with tens of thousands of workers make this adjustment, the sale of smartphones will drop more noticeably.
The durability of smartphones, however, isn't the only factor that extends refresh cycles. High-end smartphones haven't introduced revolutionary new features, so the incentives for organizations to purchase the latest high-end smartphone aren't as enticing as the savings that a mid-range smartphone can offer.
"In a lot of cases, the [smartphone] that someone has in their hand is good enough -- it gets the job done," said Anthony Scarcella, research manager at IDC.
The old adage "if it ain't broke don't fix it" applies to both consumer and enterprise buyers, and the logic works in both scenarios. Why would an organization or a consumer expend limited resources on a brand-new smartphone for limited marginal gains?
An organization might purchase its users a smartwatch instead of a brand-new smartphone to extend the life of a smartphone and save on hardware costs, Hewitt said. Organizations could also outright replace corporate-issued smartphones with wearables.
Some organizations are waiting for 5G to fully roll out and for the technology to mature before they invest in a new smartphone as well, according to Scarcella. IDC projects a return to smartphone sales growth in 2020 and 2021 when buyers will have a broader range of options for 5G-enabled devices. In some enterprise use cases, 5G is an attractive enough feature to put the typical lifecycle on hold to update certain mobile devices.
Dudek uses drones with mobile devices to record and survey disaster sites in remote locations without access to high-speed networks, and 4G upload speed isn't going to cut it for the amount of data that the drones collect, according to Nordmann. Dudek's current method of uploading the data relies on overnight shipping of hard drives to company offices that can quickly upload the data to company servers.
"Our clients want us to capture this data and process it as soon as possible, so 5G could be huge for us because we could even stream that data directly from the drone to the servers," Nordmann said.
How are major OEMs adjusting to the smartphone market trends?
Major smartphone OEMs with high-end flagship smartphones such as Samsung, Apple and Google are adjusting to the shifting market in different ways. For example, Google is wading into the mid-range smartphone with their new line of Pixel 3a smartphones.
"We noticed a gap that was emerging in price points of smartphones as premium phones just kept getting more expensive, and that was really leaving some customers behind," said Soniya Jobanputra, product manager for Google Pixel.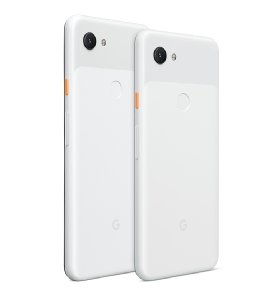 With the introduction of the $399 Pixel 3a, Google offers a flagship smartphone that works well enough for the needs of certain enterprise users without compromising too many features of Google's typical high-end flagship smartphones. Google compromised in a few areas such as phone durability and processing power, but it didn't compromise on security, which is often the largest factor in enterprise-level mobile device purchases, according to Jobanputra.
Apple, on the other hand, is doubling down on its strategy to focus on premium users, and the cheapest iPhones available for direct purchase are simply older models.
"Apple is now focusing on building the install base, rather than maximizing [smartphone sales], and getting everyone in their ecosystem so they can push services," Scarsella said.
Apple's most expensive smartphone, the iPhone 11 Pro Max, carries a price tag of $1,099. This device isn't a worthwhile investment for most kiosk or single-use deployments of smartphones, but it caters to a knowledge worker who requires the best device available on the market.
"In the past [Apple] has labeled the iPhone as for everybody, but now they've labeled their new high-end devices 'pro' because they're targeting professionals who need their phone to perform at a high level to get through the day," Scarsella said.
What should enterprise organizations do about these smartphone market trends?
Organizations that purchase or refresh mobile devices in bulk should adjust their purchase decision strategy to match the shifting market. For starters, organizations can cut costs by matching the latest devices with users who would maximize the devices' value.
For example, mid-range smartphones may not provide the highest processing speeds or the most durable devices, but some use cases such as kiosks and corporate-owned single-use devices may only need mid-range smartphone features to effectively carry out the required tasks.
"A large percentage of mobile endpoint investments moving forward are focused on enabling frontline workers like insurance agents, sales professionals and retail storefronts," said Sean Ginevan, head of global strategy and market enablement at Google Android. "These aren't executives making crucial minute-to-minute decisions, so that's obviously going to lower the desired price point."
Cost-cutting shouldn't be an organization's only motivation when it makes a smartphone purchase decision, however.
Knowledge workers benefit the most from having [the latest smartphone] because they're more likely to be picky about their devices.

Andrew HewittAnalyst, Forrester
"Knowledge workers benefit the most from having [the latest smartphone] because they're more likely to be picky about their devices … a great end-user experience is make-or-break for a lot of organizations," Hewitt said.
While some knowledge workers may be able to effectively do their jobs with mid-range smartphones, they may also care about how the device reflects their status in the organization, Hewitt said.
"We want our employees to feel like we're really investing in them, so we don't want to give them this bare-bone device that can barely get the job done," Nordmann said.
Organizations should put security first, however, when it comes to mobile endpoint purchase decisions, according to Hewitt. A potential breach could easily outweigh any minor savings that the mid-range and low-range smartphones provide.
Dig Deeper on Mobile operating systems and devices