XenMobile Service a tough sell for some Citrix shops
XenMobile is now called Citrix Endpoint Management, and Citrix wants on-premises customers to move to the cloud. But some IT pros aren't ready to make the jump.
ANAHEIM, Calif. -- Citrix pushed the cloud as it made changes to its unified endpoint management offering, but the cloud isn't heavenly for everyone.
Cloud-based unified endpoint management (UEM), which Citrix has offered through its XenMobile Service, provides benefits around cost, reliability, feature updates and speed of deployment, the company said. But some IT professionals fear the cloud's automatic updates and don't want to abandon their existing on-premises investments.
"One thing that I'm worried about is what's going to break when they update that stuff on the fly," said Elijah Weber, an IT systems manager at Micron Technology, a computer memory manufacturer based in Boise, Idaho. "With on prem, you have the ability to hold off on updates, wait and see, and vet all the bugs out. We won't have the ability to test it before it hits. It's live just as they release it."
Citrix's enterprise mobility management (EMM) software, formerly known as XenMobile, is now called Citrix Endpoint Management, the company said here at its Synergy 2018 user conference. The rebranded product -- which already supported Windows 10 management, a key differentiator of UEM -- integrates with Citrix Workspace, which unifies users' SaaS apps, mobile apps, virtual desktops and applications, files and more from a single interface.
"Everyone is going with a unified approach these days," said Jack Gold, analyst at J. Gold Associates in Northborough, Mass. "EMM is dead. UEM is the next phase."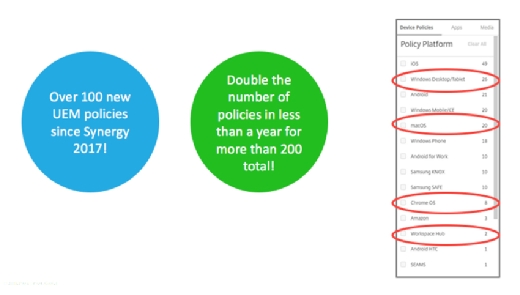 XenMobile Service migration concerns
As Citrix products move to a unified, cloud-based interface, some XenMobile Service customers that still run on-premises software said they are getting left behind.
"We're seeing more recently that it is a challenge to have on prem," said Jason Eshraghi, the lead mobile platform engineer at EY, a global professional services organization headquartered in London. "Because of new features and a new focus from product development on the Citrix side for the cloud, there are limited enhancements for on prem."
In a Synergy session on XenMobile Service, Citrix product manager Justin Maeder and senior technical product marketing manager Amandeep Nagra made their case for organizations to move to the cloud. They named faster deployment, no upfront costs, 99.9% uptime, and Citrix's handling of licensing and updates as some of the reasons to move to cloud-based UEM.
Still, some attendees weren't convinced. One Citrix administrator who wished to remain anonymous for privacy reasons explained that his company has a large on-premises infrastructure and has spent significant amounts of money on perpetual licenses.
"If we don't get feature updates on prem, it's a slow death on the vine," he said in a question-and-answer period that followed the Synergy session. "In a certain sense, it feels like we're being kicked to the curb for those of us on prem."
Citrix Endpoint Management in the cloud will automatically receive updates every two weeks, while the on-premises version is on a quarterly cycle, with patches in between; this means those customers won't receive the same features at the same time as cloud shops.
Maeder and Nagra compared the total cost of ownership (TCO) of XenMobile Service to that of the on-premises version, claiming that organizations could save thousands of dollars by switching to the cloud. But for some IT professionals, the TCO guide didn't match up with reality.
"We've invested [in the on-premises software] already, so this money has been spent," Eshraghi said. "In terms of comparing sunk costs, it's just not applicable."