Brian Jackson - Fotolia
CDN providers comparison: Highlighting vendors' focus
Get to know the top content delivery networks with the help of this CDN providers comparison infographic, breaking down vendors' network capacity, services offered and more.
Making the public internet perform better has been a priority ever since there was a public internet. In the late 1990s, content delivery network (CDN) providers were among the first companies to focus on improving internet performance by caching customers' web and application content at their global points of presence (POPs), where it could be delivered to a user's computer or other digital device as quickly as possible. While web performance acceleration remains the fundamental component of CDN suppliers' product portfolios, today's CDN providers are finding their missions are continually expanding.
Any CDN providers comparison needs to examine new trends in the market. To that end, providers are offering a variety of new services, including website optimization, API management, content acceleration, digital rights management and security, according to Ted Chamberlin, research vice president of cloud service providers at Gartner. In terms of market growth, MarketsandMarkets projected CDN revenues to grow from $7.5 billion last year to more than $30 billion in 2022, fueled by the activation of security, compression and data duplication features for customers that already exist in CDN providers' networks.
At the same time, providers are mulling the delivery of a string of new CDN services as enterprises move workloads to the public cloud.
The CDN providers comparison chart below can help you navigate the expanding CDN market. We examined a number of the top CDN providers to find out more about their network reach and capacity, customer focus and service portfolios.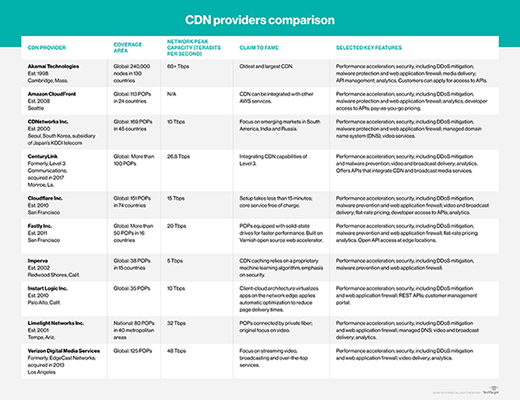 This was last published in
May 2018