ra2 studio - Fotolia
Growing CDN services market changes to meet cloud needs
Enterprises looking for greater network performance and scalability turn to traditional CDN services providers for nontraditional help to improve security and offer access to APIs.
A broader CDN services market is evolving, as enterprises move more of their business to the cloud and their need for content delivery networks increases. While enterprises still rely on basic CDN services that cache their content on points of presence at the network edge, CDN providers are seeing more growth in services -- including security and dynamic media delivery -- that enhance web performance in other ways. As a result of the changes, some are launching new and creative business models that appeal to targeted sets of customers.
Content delivery networks are made up of distributed servers that deliver webpages and other types of content, like video, e-commerce applications and software downloads, to users based on their geographic location. By having servers with cached content closer to end users, rather than hauling it long distances, for example, CDNs minimize latency and ease the traffic load on the customer's network.
The basic purpose of a CDN is still the same. But cloud use, growing reliance on mobile devices and application developers' needs to optimize their platforms are driving demands for CDN services that boost network performance and scalability, according to Ted Chamberlin, research vice president of cloud service providers at Gartner. Enterprises need their websites to be as dynamic as possible, and now they're looking at other pain points and turning to their CDN providers for help, he said. "They're saying, 'What else?'"
That "what else" includes services like web application firewalls, distributed denial-of-service (DDoS) protection, bot mitigation, streaming video and e-commerce optimization.
Most of this happens through cloud platforms. The use of cloud-based CDN services continues to grow because they improve capabilities of web applications and storage, Chamberlin said. "Cloud is spurring everybody to do more than static content."
CDN services growth
The general consensus is CDN services are in for a period of big growth. MarketsandMarkets forecasts the CDN services market will grow from $7.5 billion in 2017 to $30 billion in 2022, as CDN providers focus on security, compression, video, web optimization and data duplication features.
Craig Matsumoto, senior analyst at 451 Research, agreed the overall CDN services market will continue to grow significantly over the next four years, with security services growing the fastest at a projected 25.3% compound annual growth rate. Network performance services that include web and application optimization is also a fast-growing segment, with an expected 10% compound annual growth rate through 2022, he added. Media delivery is projected at a 6.5% compound annual growth rate.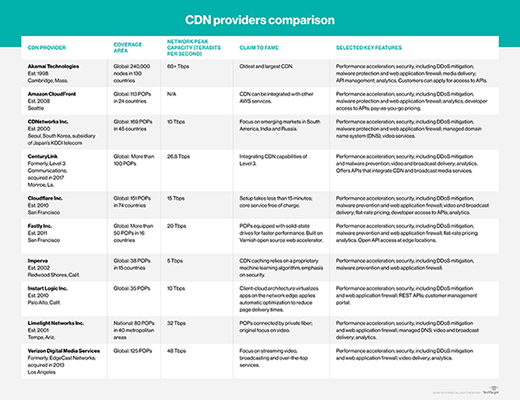 As website elements become more complex, caching content close to end users on its own isn't enough anymore to enhance performance, Matsumoto said. For example, a mainstream news website can have more than 100 elements on its page, with images, video and ads all having to load. "It gets really complicated."
Nothing typifies the complexity of content better than streaming video. Broadcast companies and streaming services like Netflix and Hulu are looking for CDN providers that can act as optimization engines, Chamberlin said.
Security is also of growing importance to companies, according to Jen Taylor, head of products for Cloudflare, a CDN services provider in San Francisco. "Customers know they need performance, but they don't want to sacrifice security," she said. To meet the need, Cloudflare offers DDoS protection and other security services in its CDN subscription plans.
As infrastructure becomes more complex, customers are looking for greater ease in managing CDN services, Taylor said. Cloudflare sees the use of data playing a larger role in the company's products.
The need for more access to data is changing how customers view the help their CDN providers can offer, according to Lee Chen, head of partnerships for Fastly, a CDN provider in San Francisco. While companies still find Fastly mainly through their need for traditional CDN services, they want more help with developing programmable networks, he said. Providing developers access to the CDN platform's APIs gives them that. "The turning point is when you see more workload and compute at the edge."
He gave HotelTonight, a Fastly customer, as an example. The mobile device app allows travelers to see same-day hotel rates and booking options. Using the phone's GPS, the app can identify hotels with vacancies within a specific distance from the mobile device. Fastly's platform interacts at the edge --making sure the app eliminates hotel information that is too far away or unhelpful, reducing the load on HotelTonight's network and improving responsiveness times for users, Chen said.
New business models for CDNs
[The CDN market] needs a new term that encompasses security, routing, video -- the whole digital experience.

Ted Chamberlinresearch vice president of cloud service providers at Gartner
Reflecting this changing and more mobile environment, several CDN providers have developed creative business models to extend CDN service offerings by being developer-friendly, having an open source caching platform and targeting cloud security, according to analysts.
Akamai Technologies is the oldest and largest CDN provider, offering caching services to organizations of all sizes. But among the CDNs with creative business models, Instart Logic, Fastly and Cloudflare each have extended their CDN services, Matsumoto said. Instart Logic, a CDN provider based in Palo Alto, Calif., uses analytics to learn about the devices accessing webpages through its delivery network. When those devices access the same pages a second time, the Instart Logic platform automatically removes the Java script or page elements that aren't needed. "That's the kind of thing that shaves milliseconds off [delivery] time," Matsumoto said.
For its part, Fastly caters to the software programming culture. By focusing on that audience, the company has an advantage in understanding how to take a DevOps approach to networking performance, he said.
Another CDN provider, Cloudflare, focuses on security as a basic service, which has helped it become a serious player, Gartner's Chamberlin said, adding the company's unique pricing model -- a flat monthly subscription rate for services targeting four different levels of users that range from personal websites through large enterprises -- helps companies of all sizes explore CDN services. "That's the kind of thing that's disruptive."
Eventually, the CDN services market itself might need to be reclassified, Chamberlin said. As enterprises demand more from CDN providers, the market "needs a new term that encompasses security, routing, video -- the whole digital experience."
This was last published in
May 2018