chris - Fotolia
WAN optimization techniques pace IT investment
TechTarget's most recent Networking Purchasing Intentions survey reveals IT's priority to invest in WAN optimization techniques in the next 12 months.
There's no question WAN optimization is a vital tool that IT managers rely on to ensure their networks deliver the best performance possible to branch offices and remote users. The growth of software as a service and other cloud-delivered services means organizations have to keep their networks running in top-notch form. WAN performance has to be just as good, if not better, than the internal data network.
Indeed, industry estimates peg worldwide market revenue for the WAN optimization market to reach $12.1 billion by 2019, fueled by market evolution, demand for WAN optimization as a service options, and the continued growth of IP and Ethernet services.
TechTarget's worldwide 2015 Networking Purchasing Intentions Survey reveals how enterprises plan to spend their IT dollars to optimize WAN performance in the next 12 months. Indeed, implementing a variety of WAN optimization techniques resides among the top five priorities enterprise IT intends to address for WAN-related performance issues.
The survey also shows why IT needs to adopt WAN optimization techniques to improve its WAN performance. Key reasons include the need to support QoS, real-time application acceleration for services such as VoIP and video, and bandwidth aggregation.
To meet those performance goals, IT is assessing a wide variety of WAN optimization techniques and tools -- from WAN optimization as a service to virtual WAN optimization products. With network traffic growing at an exponential pace, IT needs to exploit every technique it can to ensure users get the performance they demand.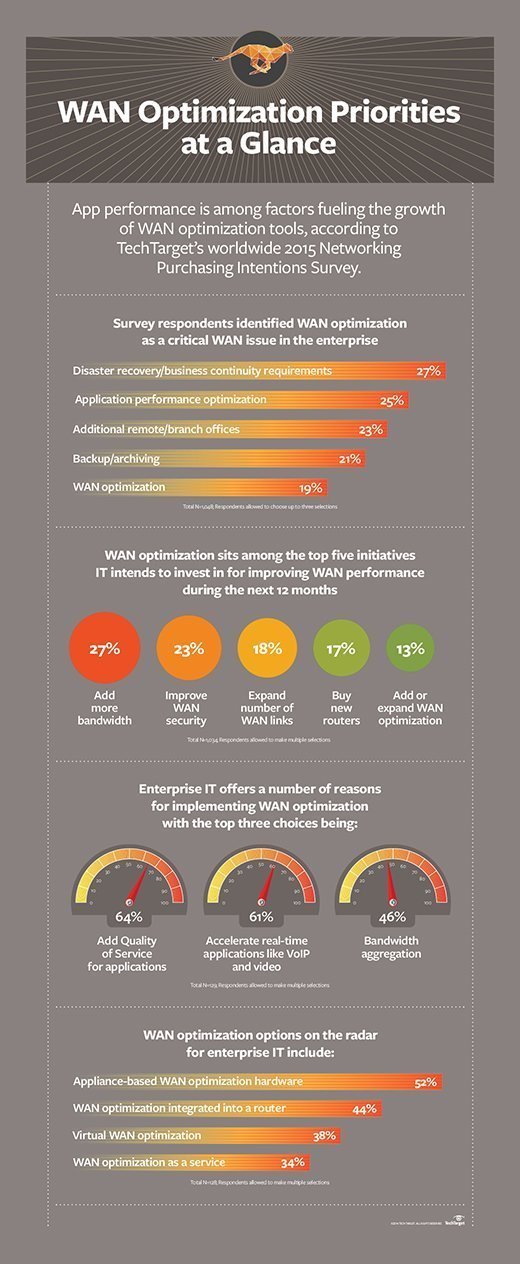 Next Steps
Learn more about different approaches to WAN optimization in this e-handbook
Setting up WAN optimization policy in the enterprise
Dig Deeper on WAN technologies and services