Denys Rudyi - Fotolia
Viptela SD-WAN security unveiled at Cisco Partner Summit
At Cisco Partner Summit this week, Cisco announced better security for the Viptela SD-WAN, two ISRs, a Catalyst wireless LAN controller and a Catalyst midmarket switch.
Cisco has embedded several security applications into its Viptela software-defined WAN platform for the campus and branch office, as companies struggle with the complexity of securing their SD-WAN purchases.
Cisco introduced the latest features this week at the Cisco Partner Summit in Las Vegas, where the company also unveiled two more Integrated Services Routers (ISR) that support the Viptela platform. Other related announcements included increased reliability of connections between the SD-WAN product and Microsoft's SaaS office productivity suite, Office 365.
SD-WAN cuts networking costs by letting companies route traffic across multiple links, so only the most critical traffic uses the highly reliable connections that tend to be the most expensive. However, using more network connections than a traditional WAN makes SD-WAN security more complicated, according to experts.
"Along with ensuring that you meet the WAN needs of an enterprise, [SD-WAN vendors] also have to factor in the distributed security model that every enterprise needs," said Rohit Mehra, an analyst at IDC. That model has to include securing traffic heading to SaaS and software running in public clouds.
Cisco is attempting to bolster its SD-WAN security by integrating a firewall, intrusion prevention and URL filtering into Viptela. The company will offer the software at no extra charge to Viptela license holders.
Cisco is also offering customers the option of adding its cloud-based secure internet gateway, called Umbrella, into the Viptela platform. However, that addition will cost extra.
Other SD-WAN companies have added enterprise-grade security to their products through partnerships. Cisco also lets Viptela customers use third-party security products if that's their preference.
However, companies that use Cisco's products can use the Viptela management console to set security policies for traffic heading to and from the branch or campus.
"We're embedding this all into a single pane of glass," said Ramesh Prabagaran, a senior director of product management at Cisco.
Improving Office 365 performance
To improve Office 365 performance, Cisco has worked with Microsoft to embed technology into Viptela that can find the closest Microsoft data center running the SaaS software, Prabagaran said. Connecting to the nearest facility improves the speed and reliability of the connection. The technology is not exclusive to Cisco, and Microsoft could make it available to other SD-WAN vendors.
Cisco's focus on improving application performance is another trend among SD-WAN vendors, Mehra said. "The broader vision for SD-WAN is also to optimize the user experience for cloud [and SaaS] applications."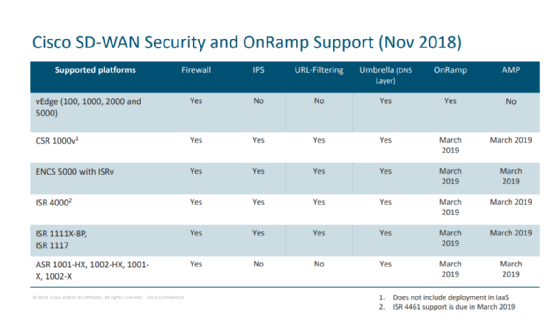 Cisco's latest hardware
For new Viptela-supporting hardware, Cisco introduced the ISR 1111X-8P and the ISR 4461. The former has integrated Wi-Fi, Long Term Evolution (LTE) and SD-WAN for a relatively straightforward deployment at sites with 20 or more employees and a limited IT staff, according to Cisco. The ISR 4461 is a modular branch platform with compute and storage for running virtual network functions or other advanced services for larger offices or a campus.
Cisco plans to release the ISR 1111X-8P with Wi-Fi and LTE support in June 2019. The starting price is $1,595. The ISR 4461 is available at a starting price of $24,000.
In other Cisco Partner Summit news, Cisco launched the Catalyst 9800 Series wireless LAN controller, which is available in hardware or as software only. The series supports up to 6,000 access points and 64,000 clients.
Also, the company released the Catalyst 9200 for midmarket companies. The campus switch comes with 24 or 48 ports, with fixed 1 Gigabit Ethernet or 10 GbE uplinks.
Cisco customers can use the company's DNA Center to manage the latest hardware. DNA Center is a centralized software console for managing campus networks built on top of Catalyst 9000 switches. Last year, Cisco introduced the option of using the DNA Center for distributing policy-based configurations across wired and wireless environments.