Denys Rudyi - Fotolia
Look back at top IT infrastructure spending trends of 2018
Enterprise IT infrastructure spending trends in 2018 focused on data center servers and hosted and cloud collaboration, driving an increase in annual vendor revenue.
Last year saw immense infrastructure market growth, as aggregate vendor revenue reached $125 billion. This growth was spurred by a 13% increase in annual IT infrastructure spending among enterprises, according to data published by Synergy Research Group.
Synergy's research focused on six areas of enterprise infrastructure: data center servers, switches and routers, hosted and cloud collaboration, on-premises collaboration, network security and wireless LAN (WLAN).
Data center servers held the largest portion of the market and also garnered a 26% growth rate in spending -- double the average growth rate. Server configurations and an increase in average selling prices contributed to this growth, said John Dinsdale, chief analyst and research director at Synergy, based in Reno, Nev.
"There is huge growth in the amount of data that is available and having to be processed by enterprises and an associated increase in the scope and sophistication of apps to handle the data," Dinsdale said. "This is helping to fuel a requirement for richer configurations of servers."
Hosted and cloud collaboration held the second-highest growth rate, with its 22% growth rate largely due to decreased IT infrastructure spending on on-premises collaboration products and increased investments in public cloud services. While Dinsdale said the cloud growth was exciting, he doesn't expect enterprise IT infrastructure to go away.
"Despite the huge growth in public cloud services, enterprise spending on their own IT infrastructure is still pretty robust," he said. "The numbers are big, and they're not about to start heading south at any great speed."
Switches and routers made up the second-largest market segment, yet it saw growth of only 3%. On the other end of the market, network security and WLANs saw a modest spending increase, making up the smallest market sectors.
As for vendors in the market, Cisco maintained its place as the dominant enterprise vendor, leading the market in most infrastructure areas. Cisco's overall market share was 23%, down from preceding quarters. Hewlett Packard Enterprise, Dell EMC, Huawei, Microsoft and Check Point also held top positions among the various infrastructure segments.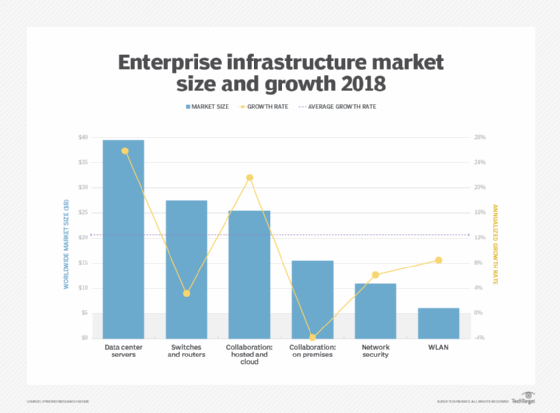 Effects of networking initiatives
Aside from the top six infrastructure sectors, Dinsdale said various means of outsourcing -- such as public cloud services and enterprise software apps -- saw increased investments. Yet, initiatives such as software-defined networking (SDN) and virtualization were less impressive.
SDN and intent-based networks may receive high levels of attention, but Dinsdale said he doesn't expect them to have a dramatic effect on IT infrastructure spending.
"SDN and intent-based networks are typical of many new technologies in that they get lots of attention -- and quite rightly so," he said. "But, in the short term, they don't move the needle dramatically in terms of enterprise spending patterns."
As virtualization continues to play out in both public and private cloud growth, however, Dinsdale said he still expects to see virtualization growth in the coming years.
Synergy's research is based on quarterly surveys sent to leading technology vendors and service providers, ongoing market tracking research and financial analysis.
Dig Deeper on Network Infrastructure