ake78 (3D & photo) - Fotolia
HPE touts pricing, tech flexibility of 5G Core Stack
HPE has unveiled carrier software for the 5G Core. HPE touts flexibility in pricing and tech in its 5G Core Stack, which would compete in a market dominated by six vendors.
Hewlett Packard Enterprise has introduced a pay-what-you-use software stack to run at the core of carriers' 5G networks. HPE's sales strategy is to offer its infrastructure software as a managed service with a lower upfront capital expense than competing products from the market leaders.
HPE announced its 5G Core Stack last week and said it planned to make the collection of five network functions generally available in the second half of the year. HPE has designed the software to support the 5G Core architecture defined by the 3rd Generation Partnership Project (3GPP). The standards body develops protocols for mobile telephony.
HPE is also making core functions available from partners. They include Affirmed Networks, Casa Systems, Mavenir, Metaswitch and Samsung.
HPE is enticing carriers with product flexibility. The software can run on HPE servers or those from rivals, such as Dell. Also, the stack supports older 3G and 4G core technology to give regional service providers time to transition slowly to 5G, Karl Whitelock, an analyst at IDC, said.
"I believe it is this group that will be the primary target for HPE," he said.
Whatever the target, HPE is far from a market leader among 5G Core suppliers. The dominant players are Ericsson, Huawei and Nokia. Toss in the next three -- Cisco, Mavenir and ZTE -- and 85% of the market is covered, according to Dell'Oro Group.
Tom Nolle, president of strategy consulting firm CIMI Corp., said HPE is making a mistake going after the 5G Core market. He said more carriers deploy an interim technology called non-standalone 5G. NSA 5G can support a 5G New Radio on the control plane of an existing Long Term Evolution (LTE) network.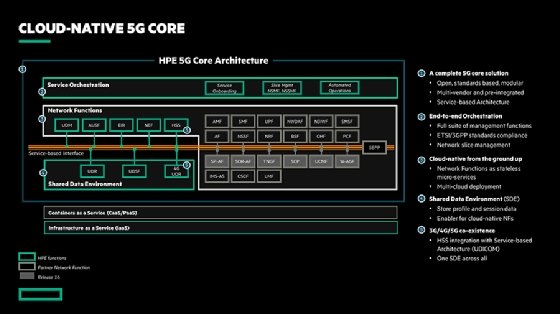 NSA 5G lets a carrier provide faster speeds to 5G mobile phones, wearables and other devices. The next step, called standalone (SA) 5G, would replace the older network. However, many carriers are hesitant to commit to SA 5G until they identify the unique services that will attract enterprises. Carriers and analysts see businesses as the most lucrative segment of the overall 5G market.
"HPE doesn't offer 5G NSA, so their competitors will own the early stage of 5G, and it will be exceptionally difficult to break in," Nolle said.
HPE's 5G Core Stack comprises five critical core functions. For the control plane, HPE offers Unified Data Management, the Authentication Server Function and the Network Exposure Function. For the carrier's data environment, there is the Unstructured Data Storage Function and a Unified Data Repository.
The 3GPP plans to release its final specifications for the 5G Core this year. However, the architecture is close enough to completion that vendors are releasing supporting products today.