Definition
3GPP (3rd Generation Partnership Project)
What is 3GPP?
The 3rd Generation Partnership Project (3GPP) is a collaborative project between a group of telecommunications associations with the initial goal of developing globally applicable specifications for third-generation (3G) mobile systems. The project was based on the Global System for Mobile Communications (GSM) specifications and the International Telecommunication Union's (ITU) International Mobile Telecommunications-2000 effort. The partnership project has since expanded its focus to include the maintenance and development of GSM technical specifications and reports.
3GPP unites telecommunications standards organizations around the world, such as Japan's Association of Radio Industries and Businesses (ARIB) and Telecommunication Technology Committee (TTC); China Communications Standards Association (CCSA); South Korea's Telecommunications Technology Association (TTA); European Telecommunications Standards Institute (ETSI); and Alliance for Telecommunications Industry Solutions (ATIS) in the U.S.
3GPP officially formed in December 1998 when ETSI partnered with these standards and telecom organizations with the goal of developing 3G networks. The 3GPP partnership was based on an earlier strategic initiative for the development of wireless internet between AT&T and Nortel Networks, which later attracted global interest from several other large telecom companies. A standards forum for this initiative established that this 3G network would be based on GSM, which was the European second-generation (2G) standard.
Since its formation, 3GPP has developed the most widely used 3G standard, as well as global fourth-generation (4G) and fifth-generation (5G) standards.
3GPP standards
3GPP standards are designed for mobile systems based on evolved GSM core networks, as well as the radio access technologies they support, service capabilities and security. This includes the maintenance and development of the following:
2G/2.5G standards, including General Packet Radio Services (GPRS) and Enhanced Data Rates for GSM Evolution (EDGE);
3G standards, including High Speed Packet Access (HSPA), Universal Terrestrial Radio Access (UTRA) and Japan's Freedom of Mobile Multimedia Access (FOMA);
Long-Term Evolution wireless broadband technology, LTE Advanced and 4G standards; and
5G standards.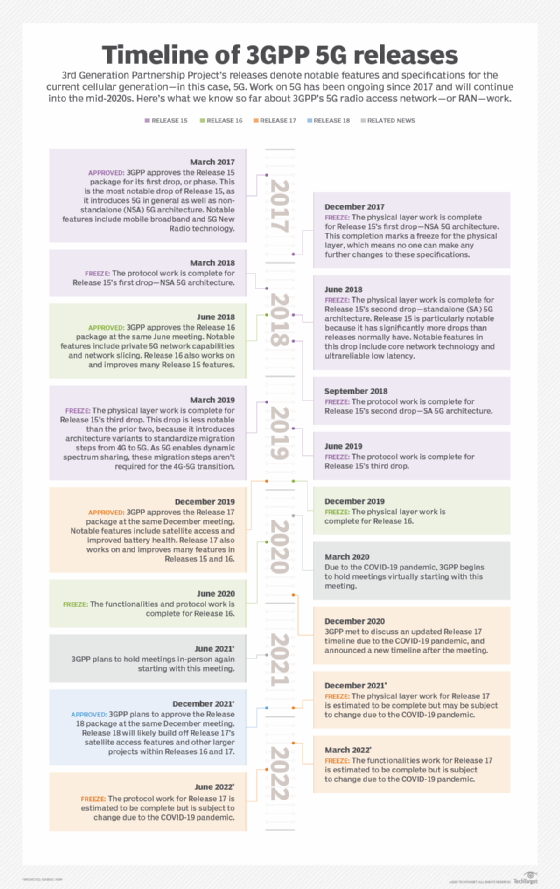 Each standard contains hundreds of technical specifications. Here are the primary features included with each release:
Phases 1-2, releases 96-98. These releases focused on GSM but also included Enhanced Full Rate (EFR) codec, user data rate improvements, GPRS, Adaptive Multi-Rate (AMR) codec, EDGE and GPRS for Personal Communications Service (PCS) 1900.
Release 1999. This was the first 3G release, which featured the consolidation of GSM specifications from previous releases. It also incorporated code-division multiple access (CDMA) radio.
Release 4. The main feature of this release was the development of an all-Internet Protocol (IP) Core Network.
Release 5. IP Multimedia Subsystem (IMS) and High Speed Downlink Packet Access (HSDPA) debuted in this release.
Release 6. This release enhanced IMS with features such as Push-to-Talk over Cellular (PoC). Other features included operation with wireless local area networks (WLANs), High Speed Uplink Packet Access (HSUPA) and Multimedia Broadcast Multicast Service (MBMS).
Release 7. This release largely focused on performance improvements, such as decreasing latency, improving quality of service (QoS) and improving voice over IP (VoIP). This release also worked on Evolved HSPA (HSPA+), near-field communication (NFC) integration and EDGE Evolution.
Release 8. This release introduced the first LTE standard. It also included the All-IP Network (AIPN); orthogonal frequency-division multiple access (OFDMA); multiple input, multiple output (MIMO) radio; and dual-cell HSDPA. This release is not backward-compatible with the CDMA radio developed in previous standards. However, it is forward-compatible with Release 10, which improved LTE into LTE-Advanced.
Release 9. This release added interoperability between Worldwide Interoperability for Microwave Access (WiMAX>), LTE and Universal Mobile Telecommunications System (UMTS). This release also included dual-cell HSDPA with MIMO, LTE Home eNodeB (HeNB) and dual-cell HSUPA.
Release 10. This release included LTE-Advanced, which was the first standard to meet the requirements to be designated as 4G. Multi-cell HSDPA is also included in this release. This release is backward-compatible with Release 8, which introduced the first LTE standard.
Release 11. This release included improvements to heterogenous networks; coordinated multipoint operation; in-device coexistence; advanced IP interconnection of services; and service layer interconnection among separate carriers, operators and application providers.
Release 12. This release included enhancements to small cell wireless network base stations; carrier aggregation; MIMO additions, such as 3D channel modeling, elevation beamforming and massive MIMO; machine-type communications (MTC) enhancements; device-to-device communication; and Evolved MBMS (eMBMS) enhancements.
Release 13. This release proposed the LTE in unlicensed spectrum (LTE-U) extension. It also included LTE enhancements for MTC, elevation beamforming/full-dimension MIMO (FD-MIMO), indoor positioning, LTE Advanced Pro and Cat 200kHz.
Release 14. This release developed location services, energy efficiency and mission-critical data and video over LTE. Release 14 was the second LTE Advanced Pro release.
Release 15. 5G made its debut in this release. Release 15 came in three phases and generally focused on the core network architecture. The first phase focused primarily on mobile broadband for nonstandalone 5G architecture. The second phase introduced standalone 5G architecture. The third phase introduced architectures for migration from 4G to 5G.
Release 16. This release largely continued work on the features introduced in Release 15. It also introduced dynamic spectrum sharing (DSS), network slicing and features designed for private 5G These developments marked a new focus on enterprise- and business-centered capabilities. Other capabilities included New Radio (NR)-based access to unlicensed spectrum (NR-U) and satellite access.
Release 17. This future release will improve features from the previous 5G releases -- Release 15 and Release 16 -- such as private 5G network and DDS. This release will include satellite access and battery health improvements. Release 17 will also enhance support for edge computing in 5G Core network automation for 5G, 5GC location services, network slicing, industrial internet of things (IIoT) connectivity and multimedia priority service. Release 17's Stage 2 Functional Freeze is scheduled for June 2021; the Stage 3 Protocol Freeze is schedule for March 2022. The Protocol coding Freeze is scheduled for June 2022.
Generations of mobile systems
Mobile systems have spanned across five different generations, beginning with the introduction of analog first-generation (1G) technology in the 1980s, up through the deployment of 5G in 2019.
1G. These mobile systems began with the introduction of analog cellular service, called the Advanced Mobile Phone Service (AMPS).
2G. This generation introduced the first digital systems in the 1990s with voice, Short Message Service (SMS) and data services. The main technologies that power 2G are GSM/GPRS and EDGE, cdmaOne Personal Digital Cellular (PDC), Integrated Digital Enhanced Network (iDEN) and Digital-AMPS (D-AMPS).
3G. This generation is based on GSM networks and its supported radio technologies. 3G mobile systems have focused on maintenance and development of GSM networks, GPRS, EDGE, HSPA and UMTS. It includes the original LTE.
4G. LTE-Advanced -- the first approved 4G standard -- introduced high-speed data, spectral efficiencies and more advanced radio-to-mobile communications. LTE-Advanced Pro has been developed for use by industries beyond telecom, such as IoT, transportation, education and critical communications.
5G. This generation includes technology such as NR and enhancements to the existing LTE-Advanced Pro. 5G standards are specified in Release 15 and beyond.
3GPP vs. 3GPP2
3GPP and 3GPP2 are sister programs. Both were created in December 1998 as collaborative telecommunications standards organizations for the development of 3G technology. Though they are separate, they are competing entities, and some telecommunications organizations -- such as Qualcomm -- develop technologies for both.
3GPP was created as the standards organization behind UMTS/wideband CDMA (W-CDMA). UMTS is essentially the 3G upgrade to the 2G GSM networks. UMTS/W-CDMA technologies used a 5 megahertz (MHz) bandwidth carrier.
3GPP2 developed separate standards for 3G technologies, known as CDMA2000. These technologies used a 5 MHz bandwidth carrier and are based on the earlier cmdaOne 2G technology. 3GPP2 incorporates North American and Asian interests for developing global specs for American National Standards Institute (ANSI)/Telecommunications Industry Assocation (TIA)/Electronic Industries Alliance (EIA)-41 cellular radio telecommunication intersystem operations, as well as the radio transmission technologies it supports.
ITU endorsed both 3GPP's and 3GPP2's 3G standards, and both were used by countries around the world. 3GPP and 3GPP2 also competed on developing 4G standards: 3GPP developed the LTE system, while 3GPP2's system was Ultra Mobile Broadband (UMB). The Institute of Electrical and Electronics Engineers (IEEE) developed the WiMAX system, a third competitor for the 4G standard. 3GPP's LTE system ultimately became the global standard for 4G. As of 2013, 3GPP2 has been inactive.
3GPP continues to develop mobile technology and technology standards for 5G. Read here for more background on 5G Releases 15 to 18.
This was last updated in
March 2021
Continue Reading About 3GPP (3rd Generation Partnership Project)
Dig Deeper on Network management and monitoring