Getty Images/iStockphoto
IOTech Edge Connect frees data from factory floor devices
IOTech designed Edge Connect to collect data from operational technology and send it to IT systems that monitor and control devices in manufacturing and other industries.
IOTech Systems worked with several industrial suppliers to develop connectivity technology that lets manufacturers, energy companies and commercial building managers access data from devices to improve operations.
Launched this week, IOTech developed Edge Connect with energy management specialist Schneider Electric, building technology maker Johnson Controls, energy storage provider Fluence Energy and footwear machinery manufacturer King Steel.
IOTech built Edge Connect for what analysts call the fourth industrial revolution. Industry 4.0 refers to shifting from isolated systems to those interconnected through software to improve industrial efficiency and output.
However, today's industrial equipment is mostly hardware-centric and communicates on a single protocol, industry experts said. Companies adding new equipment must replace other devices or update or rewrite their software. IOTech and its partners designed Edge Connect to avoid those costly upgrades.
King Steel embedded Edge Connect into its NexCell injection molding machines. The manufacturing gear produces parts by injecting molten material into molds.
Edge Connect lets NexCell users collect data to improve their manufacturing processes. Using Edge Connect was less expensive than building similar technology, King Steel said in a statement.
Edge Connect sends data to IT systems that monitor and control how physical devices perform in manufacturing, energy and commercial buildings. Companies within the sectors can embed the product in a wide range of edge devices, including those as small as microcontrollers, according to IOTech.
Key IOTech features include the following:
Supporting multiple protocols to read/write data from many equipment types. Protocols include Modbus, BACnet, OPC Unified Architecture (UA) and EtherCAT.
APIs for third-party application integration. Customers can access data via an OPC UA server layer.
Support for the MQTT protocol and JSON data interchange format. Together the technologies make it possible to stream information to cloud services.
A small memory footprint and efficient use of computing resources. These make using Edge Connect on applications like microcontrollers possible.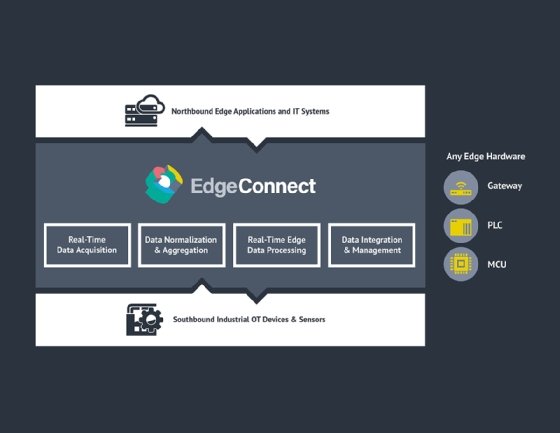 Equipment manufacturers and software developers can deploy Edge Connect as a native Linux application or a container. They can also embed it as a library in a software stack.
Many companies contacting IOTech want to be part of the Industry 4.0 trend, CTO Jim White said in a recent TechTarget podcast.
"We're seeing a lot more companies coming to us saying, 'Hey, we want more of a solution. We want that solution at scale, and we want it today,'" he said. "We're seeing an evolution within the last year, really, from more play time to more real time."
Edge Connect is available today.
Antone Gonsalves is networking news director for TechTarget Editorial. He has deep and wide experience in tech journalism. Since the mid-1990s, he has worked for UBM's InformationWeek, TechWeb and Computer Reseller News. He has also written for Ziff Davis' PC Week, IDG's CSOonline and IBTMedia's CruxialCIO, and rounded all of that out by covering startups for Bloomberg News. He started his journalism career at United Press International, working as a reporter and editor in California, Texas, Kansas and Florida. Have a news tip? Please drop him an email.