Kurhan - Fotolia
How 3 benefits of SDN can help small businesses
As SDN matures and evolves from its original definition, it's getting harder for small businesses to ignore the benefits of SDN, like better visibility, security and efficiency.
Medium and large businesses are embracing software-defined networking as a way to automate operations, enforce...
Continue Reading This Article
Enjoy this article as well as all of our content, including E-Guides, news, tips and more.
consistency, bring more flexibility and reduce troubleshooting times. As SDN matures and refocuses, however, more small businesses can glean from the benefits of SDN.
SDN architectures traditionally targeted companies with large data centers or hundreds to thousands of network devices, as they were most likely to reap the benefits. In fact, when SDN first appeared, the conventional wisdom was businesses would realize the benefits of SDN only if they ran thousands of network devices.
But this outlook changed over time, as SDN both matured and evolved. The maturity resulted from learnings at some of the highest-volume data center deployments. Companies like Amazon, Facebook and Google became more proficient with SDN, for example, and their knowledge rolled back into the market.
Additionally, the definition of SDN broadened beyond the early architectures that focused on managing Layer 3 switch infrastructure. SDN expanded beyond the hardware focus toward a software-centric view, with more emphasis on automation and management.
SDN simplifies network management through abstraction
Managed network devices have two primary planes: a control plane, which governs access, and a forwarding plane, which sends data from point to point. Traditionally, these two planes are combined within a device, and each device is programmed individually. If an access change needs to happen within the network, it is up to the administrator to make that control change across multiple devices -- often with a command-line interface.
SDN moves the control plane to a central location in which a single controller handles access and provisioning for all devices, while each physical device still manages its own forwarding plane. With centrally managed access and intelligence, SDN can make changes in one location and propagate those changes to all network devices instead of relying on many individual configurations. SDN creates abstraction between the hardware and actual business intent, thereby simplifying network management tasks.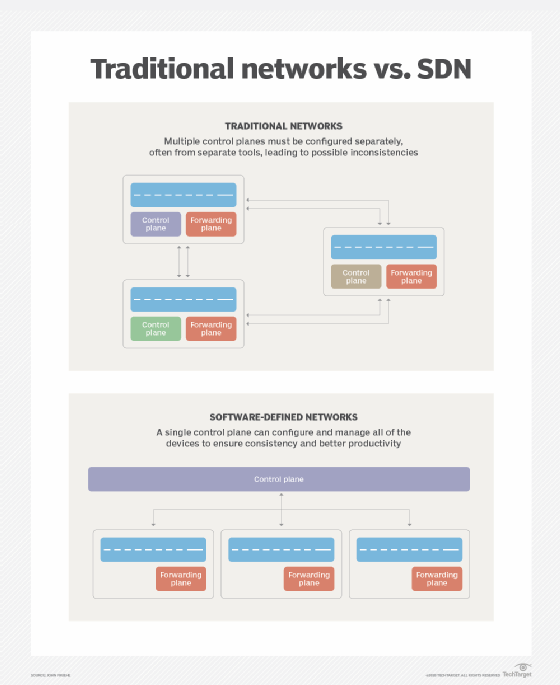 While large businesses may benefit from centralized purchasing, many smaller businesses and branch offices contain less standardized equipment, often from different vendors and occasionally with consumer-grade equipment sprinkled in due to lower costs. This leads to an odd mix of equipment that is difficult to manage, and it results in higher support costs and lower productivity, even if outsourced to a service provider.
When each device has its own management console and parameters, support teams can't see a holistic view of the network. Troubleshooting becomes a complex and time-consuming process that eats into both budgets and profits.
How small businesses can glean the benefits of SDN
SDN creates abstraction between the hardware and actual business intent, thereby simplifying network management tasks.
Small businesses can minimize these management and troubleshooting challenges through the following SDN benefits:
1. Better visibility. With a consolidated console, businesses can more easily see routing, switching, remote access, wired and wireless components, as well as potential threats and attempted incursions from the outside. The single SDN controller makes it easier to identify issues and, more importantly, translate them for nontechnical staff.
Traditionally, small businesses have little on-site IT, so SDN tools can help abstract networking into more understandable actions. For instance, wireless traffic will eventually travel over wires, so seeing the whole chain helps pinpoint issues faster than trying to correlate data over multiple consoles.
2. Better security. Most security problems come from inconsistent application of rules. It's more likely that a poorly executed rule will accidently jeopardize a resource than a nefarious hacker outside the firewall. SDN centralizes features and automates their provisioning across the network. If manufacturing isn't supposed to have access to accounting's data, for example, IT teams can put that rule in place. The SDN controller will then write the instructions out to all the appropriate devices, ensuring consistency and accountability.
3. Better efficiency. A major benefit of SDN is it shortens the troubleshooting time to resolution. SDN consoles can help small businesses with no in-house IT support or less technical staff more quickly identify the issue, or at least rule out some possibilities. This triage helps reduce troubleshooting time and bring users back to productivity faster, sometimes even before a remote technician can make it on site. The centralized SDN controller can even reside in the cloud, enabling a remote support organization to monitor from anywhere, even if the network is inaccessible.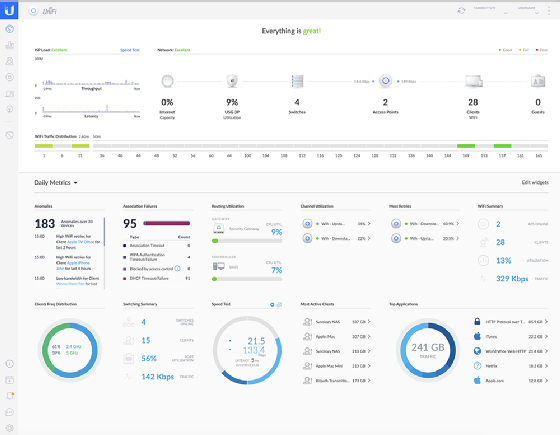 SDN options for small businesses
Small businesses can find SDN offerings from companies like Aerohive Networks, Hewlett Packard Enterprise's Aruba, Cisco, Dell, Ubiquiti Networks and others. These highly integrated options put control back into the hands of the small business with tools that are easier to configure and use.
Small businesses should consider the level of integration across wired and wireless, as well as the usability of the management console. If your business is in need of a smarter, more cohesive way to deploy and manage network resources, perhaps it's time to look into the benefits of SDN and decide whether SDN is right for your organization.