FotolEdhar - Fotolia
How to use Patch Wizard to resolve Oracle EBS issues
Karen Brownfield shows the advantages of using Patch Wizard for Oracle EBS and how to use the Applied Patches, File History and Register Flagged Files components.
This is part one of a two-part article. For part two, click here.
One of the important best practices you can adopt as an Oracle E-Business Suite (EBS) R12 customer is a commitment to apply and track patches in your system.
Resolving problems
Oracle EBS is no exception to the maxim that software is not perfect. When a problem does occur, the first step for many users is to search My Oracle Support to see if Oracle has already provided a note that addresses the issue. If there is no note, you file a service request.
Often, the solution to an Oracle EBS problem is to apply a patch that provides an updated version of one or more elements of the software. The question then becomes whether or not you've already applied the suggested patch or made the suggested update. Oracle Support may provide instructions to grep the header of a file and report back the version.
Staying current
It is also important to ensure you have applied the latest patches to your Oracle EBS environment to optimize and update its features. But it isn't always clear which patches are the latest. The notes for this usually exist on My Oracle Support, but there are so many of them, it can be difficult to know which ones to read. Also, you have to consider one-offs and the danger that a patch will overwrite customizations.
What is Patch Wizard?
The Oracle EBS Patch Wizard makes it easier for customers to stay current and monitor patching.
The Patch Wizard is a tool available from Oracle Applications Manager (OAM), as well as from the System Administrator responsibility by choosing Oracle Applications Manager | Patching and Utilities. The Patch Wizard contains five components: Applied Patches, File History, Register Flagged Files, Timing Reports and the Patch Wizard itself.
Applied Patches
Applied Patches allows you to search for patches applied within a specified time frame and, if patches are found, to drill down into the patch details. The look-back period is only 60 days, so adjust accordingly. Wildcards are not supported for this screen.
The Advanced Search button on the Applied Patches screen (Figure 1) enables searching by product or tier. Be aware that the product list does not come from FND_APPLICATION. It comes from AD_PM_PRODUCT_INFO, where product_family_flag <> 'Y'.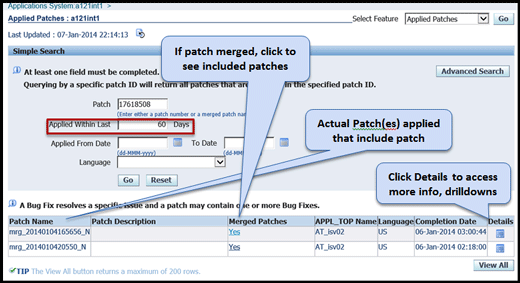 File History
The File History screen allows you to search for any file and see the version history and which patch installed that version. This is very useful when Support asks you to Grep the Header and you do not have operating system access or the DBA is not available. File History works even if Oracle changes the directory where a file is stored.
The initial screen allows searching by name, how long ago the patch was applied, or the date range.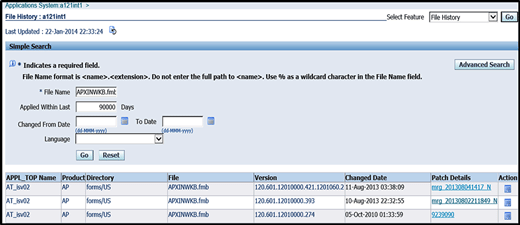 If the My Oracle Support (MOS) note references a file version and the most recent version of that file has a higher version number, the version referenced in the note is always the one applied, even if that version isn't listed on the screen. This can happen if a patch is subsequently applied that contains either a higher version or both versions of the patch. Only the highest version in a patch or merged patch is ever applied, although all versions are recorded in the underlying tables, and this screen only lists applied versions.
Register Flagged Files
Flagged Files are Oracle files that either have been customized or that you want to be aware of when the version is updated. When a patch analysis is run on a flagged file, Oracle will indicate if the flagged patch will update the current version. Applcust.txt is obsolete in R12, so this is now the way to track custom files.
The Register Flagged Files form opens to a search screen that lists all currently flagged files. To add a new file, click the Add button. You can now search by product, file name or directory. Conditions support "is", "starts with" and "contains". If you cannot find a file, you may need to do further research to determine if your desired file is actually contained as part of another file. For example, the Purchasing Approval workflow POAPPRV is delivered as part of the file POXWFPOA.wft.
When you get the results, choose the file(s) to register and click the Add button.
Next, enter a comment so that you will know why you registered this file. This comment does not appear when drilling down to the applied files after running Patch Wizard. Then click the Apply button. When the confirmation page appears, click OK.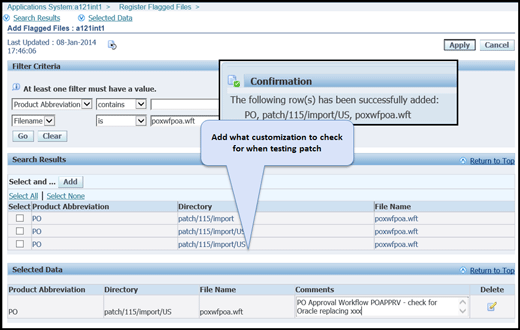 Many files (more than 100,000) will be listed more than once. That's because the file appears multiple times in the AD_FILES table. The file will exist for each application it is registered to. Also, a subsequent release or patch may have changed the file's directory, causing multiple listings. If in doubt, click all occurrences as recommended by MOS note 1616392.1.
See part two for a discussion on discovering and merging recommended patches.
Next Steps
Online patching is a major game changer in Oracle EBS R12.2
Oracle EBS R12.2 uses the edition-based redefinition capability to support Oracle online patching
The key to successful Oracle patch updates is knowing which patch is the right one