Pei Ling Hoo - Fotolia
SAP and Uber Freight partnership boosts digital supply chain
A new partnership integrating the SAP Logistics Business Network with Uber Freight may help shippers and carriers optimize freight transportation processes.
A new partnership between SAP and Uber Freight is intended to bring more intelligence and automation to the digital supply chain.
The Uber Freight network, which connects shippers and carriers, is now integrated with the SAP Business Logistics Network, which brings logistics analysis and process automation to the Uber Freight network connected drivers.
The intent is to modernize and bring intelligence to the digital supply chain, according to Richard Howells, vice president solution management for digital supply chain at SAP.
"This partnership allows customers to access transportation rates from Uber Freight directly via the SAP Logistics Business Network," Howells said. "This gives them better visibility into shipments, and they can get real-time quotes. They'll also be able to better utilize freight capacity across the network."
Based on SAP Cloud Platform, the vendor's Logistics Business Network enables companies to manage logistics transactions, exchange documents with their business partners and get visibility across the digital supply chain, according to Howells.
Uber Freight is an app platform that connects shippers and carriers, much in the same way that the Uber app connects riders and drivers. Uber Freight has contracted with more than 36,000 carriers who have more than 400,000 drivers in aggregate and serve more than 1,000 shippers, including Anheuser-Busch InBev, Land O'Lakes and Colgate-Palmolive, according to the company.
Modernizing the freight industry
The integration with SAP Logistics Business Network modernizes a freight industry that has been slow to adopt new technologies, said Driegert, head operations and co-founder Uber Freight, based in San Francisco.
"Prior to Uber Freight, it could take carriers and shippers hours to find their next load or book their next transaction, given existing practices," Driegert said in an emailed statement. "Now, they can create and assign out a load in seconds."
Integrating SAP Logistics Business Network gives Uber Freight users access to thousands carriers on its network, Howells said.
"This gives our customers more options as to different carriers to work with to move goods around the country," he said.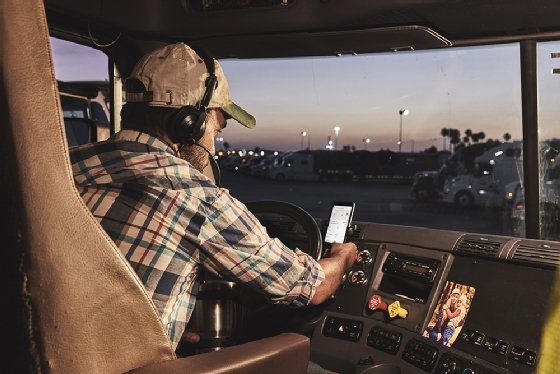 The partnership has benefits for all participants in the shipping industry, Howells explained. Shippers have more choices for their carriers and will be able to improve service levels and reduce costs, because they will be more informed when choosing carriers. At the same time, carriers now have better visibility into the shipping process and better collaboration with shippers, which can lead to improved profitability.
"There's so much time wasted just waiting for shipments for carriers, so they can better utilize their time to optimize their trips, reduce dead time, and increase fleet utilization and capacity," Howells said. "However, one other benefit that gets missed a lot is the environmental benefit of better utilization of asset equipment, which reduces carbon emissions by reducing trips with less than full loads on and dead miles."
The SAP Logistics Business Network is a cloud-based SaaS application that users can access through a monthly subscription. This makes it easy for users to access both it and the Uber Freight network, according to Howells.
"You can register online [to the SAP Logistics Business Network] with a credit card, if you choose to -- there are different types of memberships. Then, you can invite your carriers to join the network, and they can join for free," he said. "Registration for the Uber Freight Network is done through the Uber Freight portal."
Although the deal with Uber Freight is the partnership in this area, the relationship is not exclusive on either side, and SAP is looking to partner with other transportation companies going forward, Howells said.