alphaspirit - Fotolia
Forcepoint pushes 'human-centric cybersecurity' approach
During the launch of the Forcepoint Cyber Experience Center in Boston, Forcepoint execs emphasized the need for adopting a new approach to cybersecurity that focuses on the human factor.
BOSTON -- Forcepoint believes it's time for a more human-centric cybersecurity approach, and the company made a major investment to accelerate that vision.
Forcepoint this week opened its new Cyber Experience Center, a 53,000-square-foot facility in Boston's Seaport district. The center is designed educate enterprises about their current security challenges as well as promote a human-centric cybersecurity approach.
Matthew Moynahan, CEO of the Austin-based cybersecurity vendor, believes it's a "failed approach" to cybersecurity that is responsible for putting adversaries in a more advantageous position.
"It's because the current approach to cybersecurity focuses more on protecting infrastructure and putting walls to keep people out, as opposed to focusing on what's happening with the people on those infrastructures," Moynahan said at the event.
Despite cybersecurity investments being made to protect governments and enterprises, threat actors still manage to get in, he said.
"With a 95% success rate for the hackers and adversaries, there has never been such an imbalance with spend in corporate industry and the lack of results," Moynahan said.
Most cybersecurity companies are trying to secure the internet, which is a nearly impossible feat, said Richard Ford, Forcepoint's chief scientist.
"At Forcepoint, we are taking a step back and flipping the way we look at threats by examining the intersection of humans and critical data rather than the internet at large," Ford said in an interview. "Forcepoint's human-centric cybersecurity approach looks at the behavior of human and digital identities to protect against theft of critical data."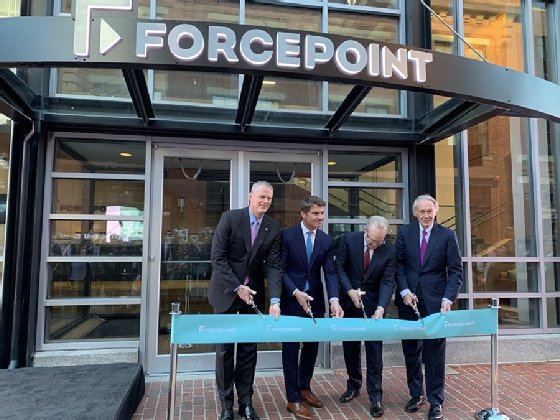 Organizations building a cybersecurity strategy should keep in mind that there is no sector out there that's not of interest to external adversaries and malicious insiders, said Michael Rogers, former director of the National Security Agency.
The best approach to security is developing a multi-layered strategy that takes the best of the human dimension and the technical piece and then puts it together in an integrated solution, Rogers said at the event.
"One of the reasons why I like [the human-centric cybersecurity] approach is that I like the fact that there is a human dynamic here that can be a real edge from the defensive side; it can be a real positive," he said.
If companies can tie that to a strategy that also connects to the technology side, then "you got something really powerful," he added.
Forcepoint Cyber Experience Center
Forcepoint said the Cyber Experience Center will offer customers the opportunity to learn how approaching security through a behavior-centric lens can help mitigate cyberattacks. The facility features an executive briefing center where enterprises can learn from Forcepoint engineers, cyber behavior analysts and product leads.
"We wanted that space where we could bring our most valuable customers and partners and explain to them how security through the Forcepoint lens is different … so that we can engage with the customers in an effective way. And we can show them our products in non-salesy way, in a way that's tailored to them and the problems that they have," Ford said.
The facility will also serve as Forcepoint's first Global Center of Excellence for Behavioral Analytics, which will provide services as well as develop threat detection methodologies for customers.
The Forcepoint Cyber Experience Center is expected to bring 300 to 400 new cybersecurity jobs to Boston, Moynahan said.
Forcepoint's focus on a center for educating commercial and public sector decision-makers on tangible threats to their enterprises is filling a needed void, said Phillip Miller, head of infrastructure and CISO at New York-based clothing giant Brooks Brothers.
"Recently, the focus of many technology companies has been on artificial intelligence and machine learning, but at the expense, perhaps, of understanding the human dimension," Miller said. "Forcepoint is closing that gap."