Petya Petrova - Fotolia
Sophos acquisition bid presents potential growth, peril
Private equity firm Thoma Bravo made an offer to acquire Sophos for approximately $3.9 billion. Analysts discuss what the deal might mean for the endpoint security vendor.
As Sophos shareholders weigh a multibillion-dollar acquisition offer, security analysts say the deal offers both potential growth and peril for the endpoint protection vendor.
Last week U.S.-based private equity firm Thoma Bravo made an offer to acquire Sophos for $7.40 per share, or approximately $3.9 billion. Sophos, which is publicly traded on the London Stock Exchange, saw its stock price reach a high of 577 pence, or $7.45 a share, on the day the proposed deal was announced.
The Sophos acquisition offer requires approval from shareholders; Sophos said its board of directors will unanimously recommend the offer to shareholders.
In an email sent to SearchSecurity, a Sophos spokesperson explained that investors will receive documentation within 28 days of the announcement, and that there will be shareholder meetings to determine the fate of the bid thereafter.
"Shareholders can either elect to accept or not, and the level of acceptances will determine the outcome. 75% by value and 50% by number need to accept for the offer to become unconditional as to acceptances," the spokesperson said, adding the acquisition could be completed as early as the first quarter of 2020.
Thoma Bravo has acquired and sold a number of cybersecurity vendors in recent years, including Blue Coat Systems, DigiCert and SonicWall. Current investments in the security space include Barracuda Networks, Veracode and Imperva, among others.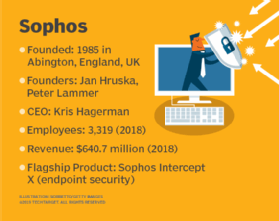 Sophos is one of the biggest endpoint security vendors in the market. Earlier this year, its endpoint security product Intercept X achieved the highest scores in the 2019 Advanced Endpoint Protection (AEP) Group Test by NSS Labs, an independent product testing firm.
Several analysts weighed in on the proposed Sophos acquisition and what it means for the security vendor as well as Thoma Bravo.
Eric Parizo, senior analyst at Ovum, called the bid "somewhat unexpected, though not entirely surprising," as Sophos has been "an aggressive player when it comes to identifying cybersecurity vendors that may be undervalued and have potential for growth."
However, Parizo had concerns for what might happen if the Sophos acquisition is approved.
"My two primary concerns for Sophos are whether the move would hinder Sophos' strong growth, as it has been investing to gain market share and move upmarket to cater to more large enterprises, and whether a potential ownership stake in both Sophos and McAfee, key competitors in endpoint security, would present a conflict of interest," he said. "If Thoma Bravo is interested in investing to accelerate Sophos' growth, it will be a great move, because Sophos is already one of the best-run businesses in the industry. If the intent is to strip it down and maximize profit, then obviously that would be a shame for both Sophos' customers and the industry."
Chase Cunningham, principal analyst at Forrester, said there is a possibility that Sophos won't stay in one piece. "They might end up being carved into a couple of companies because Thoma Bravo seems to like to do that for acquisitions," he said. "I think it's just further proof that Thoma Bravo is looking to buy anything they can get their hands on in the cybersecurity space, and I think it's also probably indicative of how they couldn't make everything happen they would have liked with McAfee so they picked up Sophos."
Late last year, a report stated that Thoma Bravo entered early talks to acquire McAfee from owners TPG Capital and Intel (Thoma Bravo acquired a minority stake in McAfee in 2017). The reported deal never came to fruition.
Still, Cunningham called it "a smart buy that fits in with the overall mission of Thoma Bravo," though not necessarily a "whizbang" move that could fundamentally shift the endpoint security market.
Enterprise Strategy Group Senior Analyst Doug Cahill agreed and said a Sophos acquisition for Thoma Bravo makes sense. "Sophos has built an impressive mature business focused on serving the midmarket with a broad portfolio of cybersecurity products offered through an extensive network of resellers," he said. "Along the way the company has also made a series of prudent technology acquisitions to accelerate its product roadmap to retain a competitive edge in the frothy cybersecurity market. As such, Sophos is the type of business a private equity firm such as Thoma Bravo seeks to drive profits in the transactional midmarket served by a network of OEMs, MSPs and VARs."