Getty Images
Big tech layoffs may ease software engineer shortage
Recent layoffs will create an influx of software engineers on the job market in the coming months, which might benefit smaller enterprises searching for talent.
Big tech layoffs could present an opportunity for smaller enterprises to recruit talented and experienced employees. Companies should consider more than just compensation when planning for new hires, however, according to some industry experts.
Tech companies have laid off more than 228,000 workers since the beginning of 2022, according to Layoffs.fyi, a website that tracks layoffs. The rate of layoffs is accelerating, with approximately 69,000 jobs lost in 2023 as of 6 a.m. EST Monday, including from companies such as Alphabet, Salesforce and SAP. Layoffs are happening so quickly that by noon EST Monday, that number on Layoffs.fyi topped 75,000.
This might be uncertain times for tech workers, but smaller enterprises could benefit from the influx of job-seekers into the workplace, said Chris Rice, partner at Riviera Partners, a tech recruiting company in San Francisco.
Right now, there is a significant supply of talent for earlier and growth-stage companies that a year ago was unobtainable.

Chris RicePartner, Riviera Partners
"While layoffs are not something anyone wants to face, be it the employee or employer, there is an upside for those currently seeking key hires," Rice said. "Right now, there is a significant supply of talent for earlier and growth-stage companies that a year ago was unobtainable."
The recent layoffs in the tech industry have created an excess of highly skilled workers, said Volodymyr Semenyshyn, president at SoftServe, an IT services and consulting company in Austin, Texas.
"Large enterprises such as Google, Microsoft and Salesforce train great people," he said.
Big tech layoffs come with cultural caveats
Despite the massive number of new candidates, some smaller enterprises still have struggled to solve their software engineer shortage. For example, D2iQ, a Kubernetes platform vendor in San Francisco, has had a difficult time finding the right Kubernetes engineers, said Molly Austin, senior director, head of people at D2iQ.
"The hiring landscape has not eased in the past year, and it continues to be challenging to find incredible people," Austin said. "We don't usually have a problem finding people that are open to an initial conversation with us. We do, however, struggle to find people who pass both our coding challenge and our core values interviews."
These hiring challenges could still ease up with a bit more time, according to Rice. Big tech companies such as Google offer severance packages that include 16 weeks' compensation plus two additional weeks for every year of employment at the company. That means that many of these workers will spend a few weeks or months trying to figure out what to do next, so the talent pool of adept tech workers is likely to grow in Q2, he said.
But Austin is also concerned about whether workers can successfully transition from a big tech corporate culture to a more intimate one.
"That type of big-company background doesn't necessarily fit D2iQ's values and culture," she said.
However, some employees laid off from household name brands might be looking for a change in their working environment, said Brad Hill, division president, digital at SkillGigs Inc., an online tech recruiting marketplace in Houston.
"Many of these professionals are realizing how disposable they were working for the large tech companies and will be looking for opportunities to feel more valued," Hill said.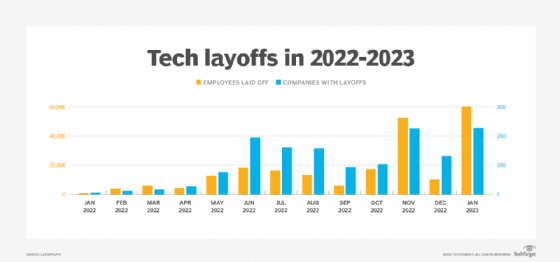 Smaller employers may mean greener pastures
Smaller enterprises can offer candidates benefits that go beyond compensation, said Michael Gibbs, CEO of Go Cloud Careers, a tech training company based in Port Saint Lucie, Fla.
"A small company can provide the employee freedom to be themselves, be more creative and make an impact to the organization," Gibbs said. "Small companies can be flexible [about] where the person lives, when the person can go on vacation, even how and when the employee works, which can be a major factor in attracting and retaining top talent."
While many big tech workers had high compensation packages, that doesn't mean smaller enterprises will have to pay a premium for skilled engineers, Rice said.
"There will usually be more flexibility on the candidate's part," Rice said. "Compensation rates usually do go down a little bit when you have an oversupply."
Another factor that smaller enterprises should consider when hiring in today's market is the cost associated with visas, Hill said. That's because 40% of the workers recently laid off were H-1B or L1 visa holders, he said.
The H-1B visa is a type of non-immigrant visa that enables U.S. firms to hire foreign professionals in roles that demand specialized knowledge or technical skills. The L-1B visa classification allows a US employer to transfer a professional employee from a foreign affiliate to a U.S. office. For an initial H-1B petition as well as an extension after three years, a company could incur total expenses of up to $31,800, including government and attorney's fees, according to an analysis by the National Foundation for American Policy.
"These resources will require companies to make investments in sponsorship to keep [them] in the states," Hill said. "Otherwise, many of them will relocate back to their home countries."
Stephanie Glen is a writer, software developer and YouTuber based in Jacksonville, Fla. She can be reached at [email protected] or on LinkedIn: https://www.linkedin.com/in/steph-glen/
Dig Deeper on Software development team structure and skills