Definition
FreeNAS Project
The FreeNAS Project is an open source storage operating system (OS) that allows the sharing of storage over a network. It was created in 2005 and is based on the open source FreeBSD OS and the OpenZFS OS.
FreeNAS software can be downloaded at no cost from freenas.org, and runs on most x86-64 commodity hardware. It supports iSCSI and file transfer protocol for block storage or Common Internet File System/Server Message Block (CIFS/SMB), AFP or Network File System for storing files. It supports most major virtualization platforms, including Citrix, VMware and Microsoft.
History of FreeNAS
In 2005, Olivier Cochard-Labbé create a version of the FreeBSD 6.0 OS that was more suitable for unified storage. Development work on FreeNAS continued until 2009, when it was announced that FreeNAS would be moved to maintenance-only mode and ported to Debian Linux. At that time, vendor and FreeBSD contributor iXsystems had its chief science officer, Matt Olander, contact Cochard-Labbé to discuss iXsystems' desire to take over FreeNAS development so the OS could stay on the BSD platform.
iXsystems updated FreeNAS from an architecture that used m0n0wall and PHP, to one that employed a newer version of FreeBSD, Python, a Django Web framework and the Dojo JavaScript toolkit. While these changes allowed for an updated user interface and a plug-in architecture, they were not embraced by all users. Since FreeNAS users/groups could no longer offer new code builds under the FreeNAS name acquired by iXsystems, the NAS4Free project was formed in 2012 for "direct continuation of the original FreeNAS code." According to NAS4Free, the group has progressed from FreeBSD 7 to FreeBSD 9.x releases, and supports newer hardware.
Major FreeNAS milestones under iXsystems include the following:
The 2011 release of FreeNAS 8.0, which featured re-written code and a new GUI.
The 2013 release of FreeNAS 8.3, which introduced ZFS encryption.
The 2014 release of FreeNAS 9.3 (the current version), which featured a new volume manager, setup wizard and virtualization features.
FreeNAS plug-ins and features
Among the many plug-ins, supported by FreeNAS 9.3 are:
Among the numerous storage features supported by FreeNAS are:
Encryption: FreeNAS features 256-bit encryption, which only protects drivers from being read if they're physically removed from the system. This means the encryption feature does not protect data in transit.
Snapshots and replication: Snapshots of the entire file system can be scheduled or made upon request so the system can be rolled back to the most recent snapshot at any given time. Snapshots can be viewed and deleted or cloned using the FreeNAS Web interface. Snapshots can also be replicated to a remote ZFS file system for disaster recovery.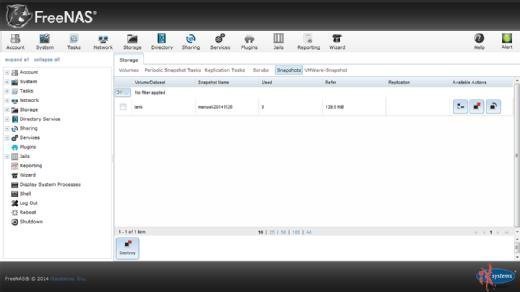 File sharing: Most major OSes can connect to FreeNAS using SMB shares with little additional configuration. In iSCSI environments, VMware vStorage APIs for Array Integration (VAAI), Microsoft ODX, and Windows Server 2008 or 2012 R2 clustering is also supported.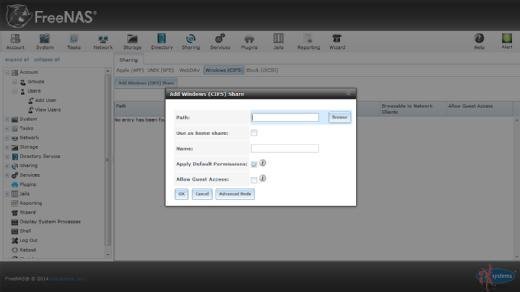 Installing and configuring FreeNAS
To install FreeNAS, developers recommend using a USB flash drive with at least 8 gigabytes (GB) of storage or booting from a burned CD. Once installed, users must point a Web browser to the provided IP address to get FreeNAS running. It can be installed on physical hardware or a virtual machine.
FreeNAS supports most physical hardware. Recommended hardware requirements include a 64-bit processor, 16 GB boot drive, 16 GB RAM, at least 2 direct-attached disks and at least 1 physical network port. Pre-configured and pre-certified servers or storage can also be purchased from iXsystems. The FreeNAS 1U, 2U or 4U storage appliances ship with 32 terabytes (TB), 96 TB and 192 TB of serial ATA (SATA) and serial-attached SCSI (SAS) hard drives, respectively, and are pre-installed with the FreeNAS OS.
IXsystems also offers the TrueNAS unified storage platform, which offers hybrid flash or all-flash storage. There are four TrueNAS configurations with varying capacities of 320 TB, 888 TB, 1.54 petabytes (PB) and 30 TB.
This was last updated in
March 2015
Continue Reading About FreeNAS Project