Cybrain - Fotolia
Data Dynamics Inc. StorageX 7.6
Judges found the 2015 upgrade to Data Dynamics Inc. StorageX file management software brought significant improvements including extended integration and added features.
Gold winner in the Storage magazine/SearchStorage.com 2015 Products of the Year Storage Management Tools category.
Judges agreed that Data Dynamics Inc. StorageX 7.6 file management software's ease of integration, ease of use and innovation set it apart from other finalists in the storage management tools category.
StorageX software provides users with a unified dashboard view into all storage in a multi-vendor environment, and is used for data lifecycle management. It uses policy-driven automation to migrate and tier unstructured data in a distributed file system (DFS) using a three-phase copy process to minimize user disruption.
The Data Dynamics Inc. software also features quality of service (QoS) bandwidth throttling to maintain performance. When files are being migrated, StorageX automatically updates DFS namespaces so that manual LAN or WAN routing is not required -- relieving one of the biggest pain points for administrators dealing with DFS migration.
StorageX version 7.6 added API integration to NetApp Data ONTAP and EMC Isilon and VNX, which allows the use of features native to those storage systems. This upgrade also added distributed file system management features including replication and high availability. Additional updates to this version include the ability to create custom reports, automatic validation of file storage and DFS namespace resources, and role-based access to StorageX features.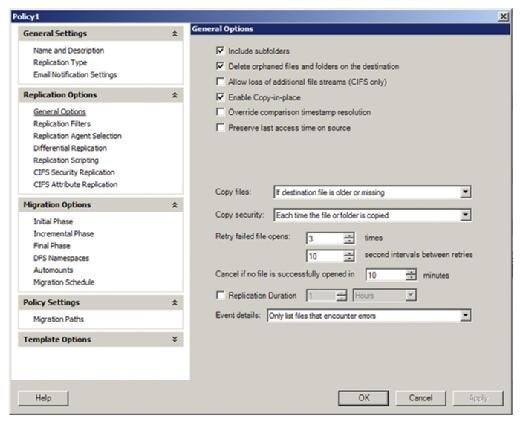 StorageX was scored the highest among the group of nine finalists which included automation, provisioning and performance monitoring tools. Judges gave the Data Dynamics Inc. products the highest scores for its ease of use and manageability, and for performance and functionality. One judge said StorageX 7.6 was an essential update to the product because "it makes the product more competitive with other offerings and offers several advantages such as automated file storage management." Another judge said it was "unparalleled for file migration needs" and predicted Data Dynamics Inc. StorageX software could "save everyone 30% of new storage costs." Judges also acknowledged that Microsoft DFS management is a narrow market, but one that is worth pursuing because the file systems are often complicated and lack management features.
Data Dynamics Inc. StorageX 7.6 is sold through the channel and the list price starts at $500 per TB.