Sergey Nivens - Fotolia
Data Dynamics StorageX 8.0 adds analysis, S3 support
Data Dynamics beefs up StorageX file management software with new single-view analysis portal and support for Amazon S3 API-compliant object storage.
The latest version of Data Dynamics' StorageX file management software adds a single-view analysis portal, support for Amazon S3 API-compliant object storage and expanded application programming interfaces for DevOps environments.
With the StorageX 8.0 release, the Teaneck, N.J., software vendor continues to extend the product's capabilities beyond the original data migration focus. Data Dynamics StorageX enables users to set policies and move files from one storage system to another without a gateway, file virtualization, global namespace, stubbing, sharding or agents.
Newly added support for Amazon's Simple Storage Service (S3) API -- which has become the de facto standard for object storage -- lets customers move files from an NFS or SMB layer to cloud-based object storage, such as Amazon cloud storage, NetApp StorageGrid, IBM Cloud Object Storage and other S3-compliant object stores.
Data Dynamics StorageX stores file natively in the S3 object format, enabling users to attach metadata tags to ease search and management. The native S3 object format also lets applications running in Amazon directly use and work on data that StorageX 8.0 has migrated. The updated StorageX 8.0 includes a new portal to enable users to retrieve S3-archived data in an SMB file format.
File analysis capabilities
StorageX 8.0's new analysis capabilities rely on the product's universal data engine (UDE) to collect information on a file's owner, size, type, access, modification and other metrics to help users make more informed decisions on data management and migration. The UDE can run on the same server as StorageX or on virtual machines (VMs) in local data center servers with management rights to access the storage, according to Data Dynamics CEO Piyush Mehta.
If you don't know what you have, how are you making [a] business decision on what to do with the data?

Piyush MehtaCEO, Data Dynamics
"What we've found through our experience over the last five years is that customers just don't know what they have," Mehta said. "If you don't know what you have, how are you making a business decision on what to do with the data?"
After analyzing the data, StorageX customers can use the product's VM-based central console to set policies to enable the UDE to manage and move the data out of band. Mehta said the product is most useful in storage environments in excess of 100 TB, and the majority of the company's 80 customers have multi-petabyte deployments across multiple data centers and geographic regions.
Mehta said all functionality provided through the Data Dynamics StorageX web-based user interface is accessible via API for management from a DevOps standpoint. An application developer can write to the StorageX APIs and gain access to the file management features and automate them based on application needs.
"You can actually integrate an application to manage storage using us as a middleware to then downstream manage the data within those storage tiers," Mehta said.
Data Dynamics acquired the StorageX technology from Brocade Communications Systems in 2012. The company's 80 customers span industries such as financial, pharmaceutical, telecommunications, media, oil and gas, and consumer retail, according to Mehta. He said many use StorageX with storage from NetApp, Dell EMC, IBM, Amazon S3 and traditional file servers with direct-attached storage.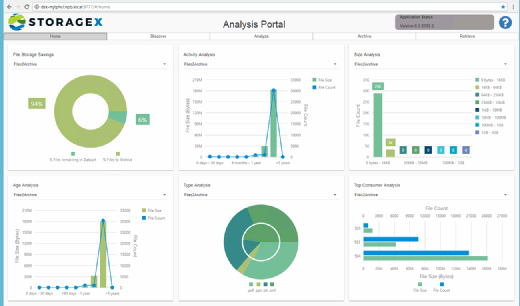 Data Dynamics competitors
Mehta said competitors in Data Dynamics' management space include Avere, Panzura and Primary Data. But he claimed they use gateways, stubbing, sharding or other mechanisms that tie customers to their products to gain access to data.
"If you go with a Primary Data or ioFabric, once you allow something else to start moving your data, generally you need to keep that other [product] running so you can get to your data," said George Crump, founder and president of Storage Switzerland LLC.
Crump said Data Dynamics StorageX doesn't do "all the things that would set up a transparent recall," as some of the other products do. He said StorageX moves data and then essentially gets out of the way.
Scott Sinclair, a senior analyst at Enterprise Strategy Group Inc. in Milford, Mass., said the analysis portal and native S3 object support represent another key shift for Data Dynamics StorageX, as the product expands beyond its file migration roots.
"They're assisting beyond just the move to give you a better understanding of what type of content you have. This functionality is incredibly important when you're looking at a hybrid cloud environment," Sinclair said. "With the cloud, you really want to know what you're moving because of security, compliance, performance requirements and anything else [to get] a better idea of what stays on premises versus off."
Pricing for Data Dynamics StorageX 8.0's new and existing capabilities is as follows:
$40 per terabyte for analytics;
$72 per terabyte for replication;
$100 per terabyte for file archive -- SMB or NFS conversion to S3;
$200 per terabyte for file retrieval -- S3 conversion to SMB or NFS;
$150 per terabyte for application modernization and transform file to S3; and
$500 per terabyte for file migration, for one-time use, security transformation and file-system restructuring.
Next Steps
Software tools help migrate data to object storage
Look back at last year's top data storage management products
The advantages of hybrid cloud storage