Share this item with your network:
Managing and protecting all enterprise data

Torbz - Fotolia
IT spending priorities for 2018 include cloud and flash storage
More than half of respondents to our survey have larger IT budgets this year, and their storage spending is focused on ways to manage massive data growth.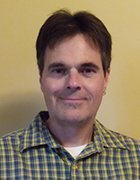 By
It's hardly news that surging data growth has put the squeeze on storage systems. To cope, organizations plan to...
Continue Reading This Article
Enjoy this article as well as all of our content, including E-Guides, news, tips and more.
spend heavily on cloud-based backup and the use of cloud and local flash for primary storage.
Those are among the top IT spending priorities for data storage highlighted in the TechTarget 2018 IT Priorities Survey. The survey culled the results of 181 respondents in North America who identified data backup and storage as areas that dominate their time. These IT and storage pros work for organizations that maintain an average of 1.8 petabytes (PB) of capacity on premises.
Twenty-one percent have 1 PB or more, including 8.5% whose storage exceeds 10 PB of capacity. Another 24% have between 250 TB and 999 TB, while 34% have between 10 TB and 249 TB. About 20% have fewer than 10 TB.
Cloud storage spending to embrace backup, primary
The respondents' average IT budget will increase 6% in 2018, roughly the same as 2017. Fifty-four percent of enterprise IT budgets will rise this year, with 12% expected to increase more than 10%. Another 19% anticipate IT spending will grow between 5% and 10%. Twenty-three percent of budgets will increase by less than 5%, 20% will remain flat and 7% will decrease.
Cloud, backup storage and on-premises flash are among the top IT spending priorities for data storage.
The number of companies planning to use cloud storage for primary applications dropped at least 9 percentage points, and possibly more, to 39% from 48% who said they would be spending on public and private cloud initiatives in 2017. Still, nearly one in five data centers will turn to the cloud for production workloads, while 21% expect to use public cloud providers. Eighteen percent will launch private, on-premises clouds.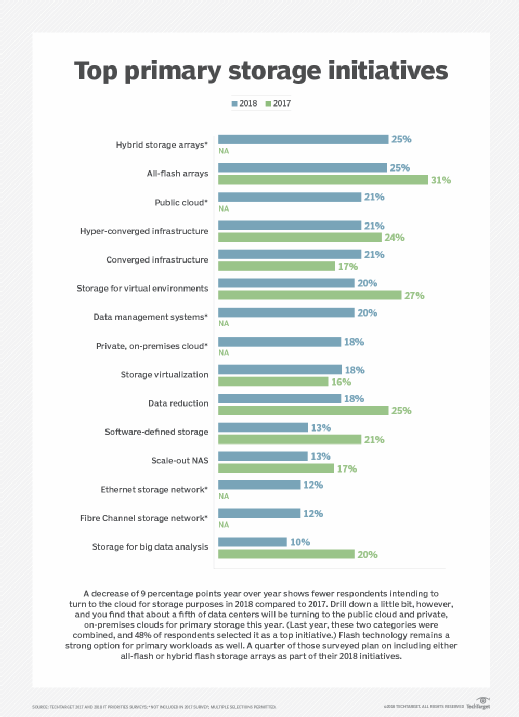 Only 5% signaled their intentions to spend money to implement primary object storage, a surprisingly low number considering cloud pricing wars among the major providers. Most object storage runs in the cloud, predominantly using AWS S3. In 2017, 16% of those surveyed listed object storage as a spending priority.
Other notable findings in primary storage include continuing demand for data management (20%) and data reduction (18%) tools. About 12% of respondents will spend money to implement Fibre Channel storage or expand an existing network, and the same percentage plans to implement Ethernet-based storage. In addition, 9% are set to launch open source initiatives in the coming year.
A significant number of respondents placed cloud-based backup and disaster recovery (DR) high on their to-do lists. That includes 21% with plans to back up local data to the cloud and 18% implementing maturing cloud-to-cloud backup technologies. Another 13% will allocate part of their storage budget to cloud-based business continuity and DR -- although that dropped from 16% of respondents a year ago.
Data centers are also taking steps to handle the challenge of managing multiple cloud environments, with more than 30% on track to consolidate cloud workloads in 2018.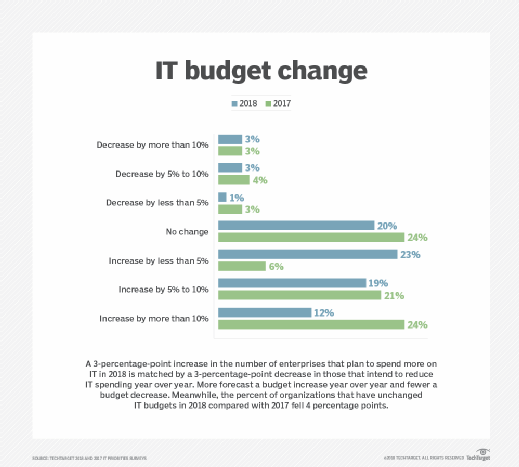 Among other top IT spending priorities for 2018 in data storage highlighted in the survey: Companies are continuing to de-emphasize in-house data protection. The number of companies spending on disk-based backup appliances is 17%, down from 26% and in-house DR budgets dropped from 26% in 2017 to 24% in 2018.
Data centers eye flash, hyper-converged investments
On-premises storage infrastructure is a priority at 37% of companies. And all-flash and hybrid arrays are running neck and neck, each considered by 25% of companies in 2018.
A new wrinkle in IT spending priorities for 2018 is the emergence of nonvolatile memory express (NVMe) flash storage. Although still in its early days, nearly 7% of data center administrators said they will invest in NVMe-based flash this year.
Thirteen percent of storage teams have scale-out NAS on their radar for 2018, down from 17% in 2017. Meanwhile, storage with converged systems continues to gain attention in primary storage. Among our survey respondents, 38% will deploy hyper-converged infrastructure (HCI), compared with 23% who lean toward converged infrastructure, as a data center networking initiative. Both HCI and converged infrastructure come in at 21% when the question is limited to using those technologies for primary storage initiatives, however.
A hyper-converged platform combines computing, networking, storage and virtualization resources integrated as a single managed appliance. Converged infrastructure allows the system components to be separated from the chassis and used individually.
Emerging composable infrastructure, which uses software to assemble compute, network and storage resources as needed on bare metal, is a budgetary priority for nearly 15% of data centers for their infrastructures.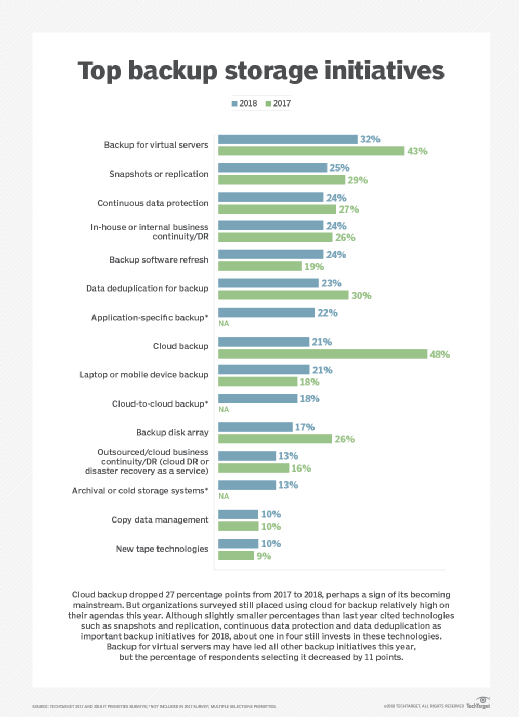 Thirty-seven percent of enterprises plan software-defined storage spending, including server-side flash installations, for their data center infrastructures.
Secondary storage is of primary importance
Aside from greater use of the cloud, IT blueprints for backup encompass a variety of strategies and tools. Dealing with storage for virtualization remains among the top IT spending priorities in data storage. Nearly one-third of respondents cited backup of virtual servers as one of their top initiatives this year. About 20% will add storage for virtual environments. Fifty-six percent will embark on server virtualization.
Snapshot replication is also a big secondary storage concern, with 25% of respondents planning initiatives in 2018, and 24% will spend storage dollars on continuous data protection technologies.
Dig Deeper on Storage management and analytics