Share this item with your network:
Managing and protecting all enterprise data

kentoh - Fotolia
SAN arrays maintain primary data storage dominance, for now
Solid-state flash is the most sought-after technology for primary storage, as storage area networks remain the main focus of increasing capacity for most enterprises.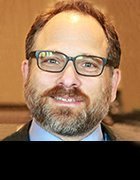 By
Enterprises today may be discovering new and innovative ways to make better use of secondary storage assets to advance business interests through improved analytics, data protection and DevOps, but it is primary data storage that remains the lifeblood of most organizations. And while newer primary storage system technologies such as unified arrays and hyper-converged infrastructures have gained market share over the last few years, most data centers continue to run off the tried-and-true, good-old SAN and NAS arrays.
In fact, the numbers aren't close at all. Surveys show that more than two-thirds of enterprises currently deploy SANs for primary storage, followed by NAS arrays at around a third. Both of these far outnumber hyper-converged, converged and unified arrays, which account for a mere 10% of primary storage deployments each.
These ratios are changing, however, albeit slightly. When asked about their primary storage purchase plans for the next 12 months, a lower percentage of respondents (slightly less than half) indicated an intention to buy a SAN, a drop of around 20 percentage points from those respondents with SANs already in use. Intended NAS array purchases were lower by about the same amount (to 19%) from current NAS deployments, unified arrays dipped slightly as well (to 8%) and planned converged infrastructure storage buys remained static. Hyper-converged, conversely, bucked the trend to rise by a few percentage points to 14%.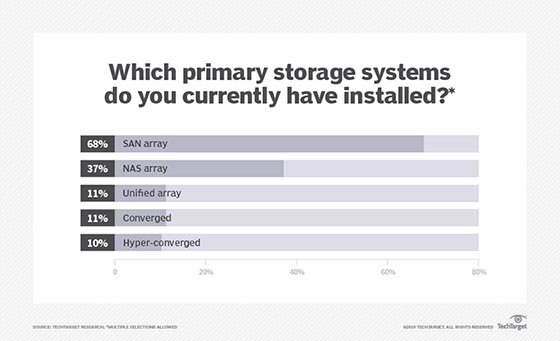 Most tellingly, nearly a third of respondents said they had no plans to buy additional primary data storage over the coming year.
According to the latest data from IDC's Worldwide Quarterly Enterprise Storage Systems Tracker, the storage industry experienced its third straight year-over-year quarterly decline in Q3 of 2016, dropping by 3.2% on revenue of $8.8 billion. Although external storage systems (SAN and NAS) remained the largest segment, sales continued to decline at a faster rate for external arrays than the market overall, 6.1% year over year. Meanwhile, all-flash and hybrid arrays continued to drive the market forward, growing at corresponding rates of 76.4% and 3.5%, respectively, as the traditional hard disk array continued its slide by a third, year over year.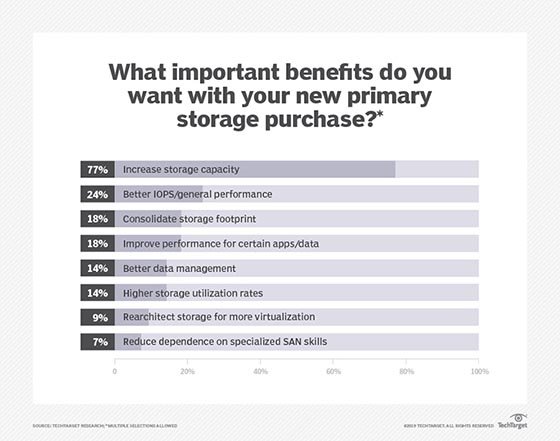 Our research bears these numbers out, with solid-state flash the number-one technology; 46% of our respondents are looking to include it in their next primary data storage purchase. Data reduction (deduplication/compression) is a fairly distant second, with storage virtualization, cloud integration and data archiving rounding out the top five.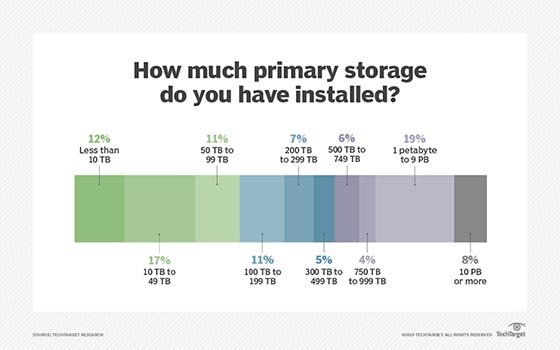 Increasing storage capacity is, by far, the most important IT benefit organizations look to achieve with the addition of more primary data storage. No surprise there. Interestingly, 27% already have a petabyte or more primary storage on hand, with another 33% between 100 TB and 999 TB. Just goes to show how quickly today's enterprises are generating the bits and bytes that power their businesses.
In the meantime, about a quarter of respondents hope to improve IOPS and general performance of their primary storage systems by adding more capacity, followed by around a fifth who are looking to consolidate their storage footprint and improve the performance of particular apps and data. Pulling up the rear of stated benefits are better data management, higher storage utilization rates, rearchitecting storage infrastructure to scale with increasing data center virtualization and reducing dependence on specialized SAN management skills, in that order.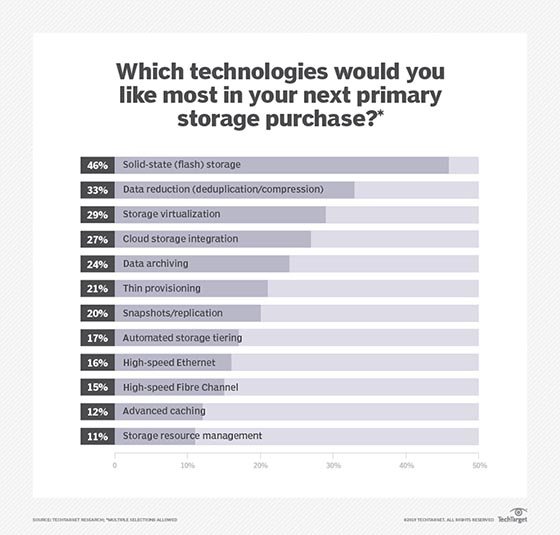 Expect the last reason to grow more important over time. It is part of a greater trend of the wearing down of IT silos due to the embrace of hybrid IT, software as a service and public cloud infrastructure by IT shops that are looking to improve IT agility and reduce Capex costs, according to the Gartner report, "Adapting to the Cloud: Work and Career Strategies for IT Infrastructure Professionals" (June 2016).
Next Steps
Dedupe helps lower primary storage costs
Object storage becomes primary data storage option
Techniques for reducing data in primary storage systems
Dig Deeper on Primary storage devices