itestro - Fotolia
Upgraded Infinidat InfiniBox hoists sail on product launch
Infinidat disk arrays double capacity to 8 petabytes per rack. The new InfiniBox products include InfiniSync DR box, InfiniGuard backup appliance and the Infinidat-hosted Neutrix Cloud.
Infinidat this week upgraded its high-end flagship storage array and added a private cloud and data protection hardware.
The product launch included the Infinidat InfiniBox F6212, with 8.3 petabytes (PB) in a 42U rack. It offers twice the raw capacity of the current high-end InfiniBox F6000 models due to larger SAS disks. Infinidat arrays are all hybrids, including hard disk drives along with flash.
New additions include the InfiniSync flash-enabled "black box" for disaster recovery, InfiniGuard disk backup appliance and Infinidat-hosted Neutrix Cloud multi-cloud service. All the Infinidat products will be generally available in April.
The products use Infinidat's Neural Cache AI engine, InfiniRAID distributed RAID implementation and InfiniSnap snapshot technologies.
Bigger InfiniBox array built for analytics, AI and IoT
The Infinidat InfiniBox platform is marketed to companies with petabyte-scale storage. As with previous models, the F6212 integrates 3 TB of dynamic RAM (DRAM) and up to 200 TB of flash.
InfiniBox arrays serve substantially all read requests from DRAM, which is faster than flash. The SSDs in the system are used to accelerate back-end disk, which mostly stores cold data.
Infinidat last year enhanced its R4 operating system to support 12 TB disks, paving the way for the launch of the InfiniBox F6212. The high-capacity flagship accommodates 480 near-line SAS drives.
Doc D'Errico, Infinidat vice president in the Office of the CTO, said the F6212 is aimed at enterprises handling real-time analytics, deep learning and industrial internet of things use cases.
Infinidat claims roughly 80% of its customers manage at least 1 PB of data, and nearly 15% have 10 PB on an InfiniBox system. The statistics "demonstrate our vision that multi-petabyte computing will become pervasive in the near future," D'Errico said.
Most vendors employ conventional file locking to prevent files from being overwritten, but Infinidat InfiniBox uses timestamp-based snapshots to maintain data integrity.
"That's a much more scalable approach to meet the needs of the customers Infinidat is going after," said Eric Burgener, a research vice president of storage at analyst firm IDC. "The InfiniBox system is built specifically in a way that is different from every other primary storage array on the market."
Privately owned Infinidat launched in 2016. The vendor claims it has posted revenue growth for 18 straight quarters, but it doesn't disclose revenue figures. Its founder and CEO Moshe Yanai was lead developer for the EMC Symmetrix array, which led the high-end array market that Infinidat plays in. After leaving EMC in 2001, Yanai founded data deduplication vendor Diligent Technologies and storage array vendor XIV. He sold Diligent and XIV to IBM before starting Infinidat.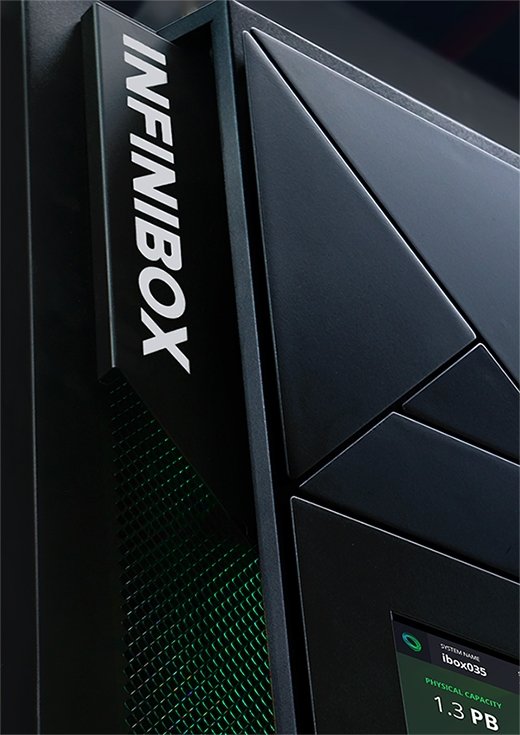 Infinidat: Our customers insist on backup, DR hardware
The InfiniSync DR appliance due out next month is based on flight-recorder technology developed by Axxana, an Israeli company that Infinidat acquired in December. The ruggedized InfiniSync appliance is designed to withstand natural disasters, extreme pressure and temperature conditions.
The InfiniSync platform is based on InfiniSnap's synchronous replication software and includes four SSDs for internal storage. The edge device requires two Infinidat InfiniBox arrays from which to receive data, which eliminates the need for an interim site to route DR traffic between data centers.
The DR box integrates both Ethernet links and a failsafe cellular connection to transmit writes that failed in transit. In the event of a regional disaster, the SSDs could be removed from the InfiniSync appliance and shipped to a remote recovery site.
D'Errico said InfiniSync is for customers who expressed a need for a recovery point objective at or near zero. "Most companies will implement a bunker site [between data centers] or a multisite topology," he said. "With InfiniSync, we're trying to take away the costs and complexity of setting up that type of scenario."
The InfiniGuard backup target is built on the InfiniBox chassis. It provides low-latency SSD access to the Infinidat deduplication database, plus three target-side deduplication engines, using a commercially licensed variable block deduplication technology. Infinidat's AI engine manages prefetching and data placement of application backups.
Neutrix Cloud disaster recovery as a service is conceptually similar to Hewlett Packard Enterprise's Nimble Cloud Volumes and Pure Storage CloudSnap tools for managing cloud-native applications with array-based enterprise data services.
Using Neutrix Cloud, customers can simultaneously access and move application data among cloud providers, said Erik Kaulberg, an Infinidat senior director. Flat monthly pricing is 9 cents per gigabyte, and Infinidat promises five nines of availability, Kaulberg said.
D'Errico said initial Neutrix Cloud deployments will be through Infinidat InfiniBox storage arrays in Equinix colocation facilities, located close to hyperscale cloud data centers.