pixel - Fotolia
Infinidat InfiniBox preps SMB protocol nodes for Windows
All-flash arrays command most of the attention, but Infinidat claims its InfiniBox arrays deliver the performance of flash on commodity-priced spinning disk.
Heeding pleas from Windows Server data center customers, disk storage specialist Infinidat now supports the server message block file protocol for its InfiniBox disk arrays. Version 4.0.40 of Infinidat software also fortified data protection with immutable snapshots to combat ransomware and other viral hazards.
Existing Infinidat InfiniBox controllers support Fibre Channel and iSCSI for block and NFS for file storage. The product is intended for data centers looking to collapse petabytes (PB) of networked file storage. Most NAS storage arrays support NFS and SMB protocols.
Infinidat will support SMB via InfiniBox SMB Node appliances. The physically discrete nodes provide an air gap as code migrates to Infinidat storage controllers.
"Our systems provide a seven nines mainframe-class guarantee. The SMB nodes allow us to monitor exabyte-scale deployments over an extended period, before we allow it into the sanctuary," Infinidat CTO Brian Carmody said.
Infinidat InfiniBox SMB Node appliances can be added instantly to a cluster using the vendor's management pane. Projected Windows use cases include home directories and department-level file storage.
"Customers have been asking us for the ability to consolidate Windows NT workloads on InfiniBox," Carmody said.
Infinidat, based in Waltham, Mass., supports SMB versions 2.1 to 3.1.1. The architecture allows two InfiniBox SMB nodes per system and four tenants per box. An internal InfiniBox cluster network provides node connectivity. InfiniBox SMB Node uses a separate client-facing network to export protocol shares. The code is deployed in virtual machines initially and will be containerized on storage controllers.
Compliance-based backup and archival storage
Managed services provider Thrive Networks, based in Foxborough, Mass., was a beta tester of the Infinidat InfiniBox SMB arrays. Thrive CTO Michael Gray said he plans to use Infinidat InfiniBox SMB Node to deploy new services for compliance-based backup and archival storage.
"Infinidat is becoming sort of a Swiss Army knife for us. We're always looking at ways to build new services on top of gear we already have," Gray said.
Thrive also uses array-based Infinidat snapshots to capture primary data and replicate it to secondary InfiniBox systems for disaster recovery. "The use of spinning disk keeps the price down, which is important," Gray said.
Infinidat's lock-free NAS snapshots
The Infinidat InfiniBox software license includes unlimited snapshots for volumes, file systems and consistency groups.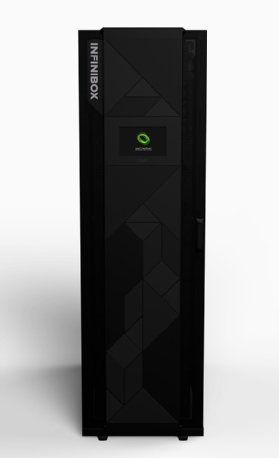 SnapSecure immutable snapshots in the latest InfiniBox release use a lock-free mechanism to prevent deletions or overwrites of data. The time-stamped snapshots can't be altered until the expiration date, including by storage administrators. Retention periods also can't be decreased.
Customers can take hundreds of thousands of snapshots per system without a performance hit, Carmody said.
A self-service feature known as NAS Snapshot Directory provides a directory inside existing file systems, using pointers to mark each snapshot. Authorized end users are able to use Snapshot Directory to recover deleted and modified files independently of the storage administrator.
Infinidat founder and CEO Moshe Yanai spearheaded Symmetrix engineering at EMC for 10 years. He went on to launch Diligent Technologies, which sold backup and deduplication hardware, and storage array vendor XIV. Both of those companies were acquired by IBM.
The vendor said 80% of its customers manage at least 1 PB of storage and nearly 15% store 10 PB on an InfiniBox system.
Infinidat storage places metadata in dynamic RAM and places reads and writes on high-capacity nearline SAS disk. The Infinidat arrays use a small percentage of flash to accelerate write performance. The array maintains an index of all writes made to the system to enable predictions and boost storage performance.