pixstock - Fotolia
Updated IBM storage products focus on cost savings and cloud
IBM storage enhancements focus on data deduplication expansion, cloud-based Storage Insights, VM-based Spectrum NAS and Spectrum Virtualize for Public Cloud.
IBM is adding block-based deduplication and cloud-based analytics to its storage portfolio.
Continue Reading This Article
Enjoy this article as well as all of our content, including E-Guides, news, tips and more.
The vendor plans to support block-based deduplication in various IBM storage products, including Storwize all-flash and hybrid storage, SAN Volume Controller systems, FlashSystem V9000 and VersaStack converged infrastructure. The data-reducing technology will be free charge with an IBM storage system base software .
IBM supported dedupe in its FlashSystem A9000, but it was missing from other IBM storage products.
"The lack dedupe in the V9000 was a noticeable feature gap, and I'm pleased to see them address it, but it wasn't a critical deficiency," Steve McDowell, a senior analyst at Moor Insights & Strategy, wrote in an email. "The A9000, built on the same hardware, has always been much more targeted toward heavy data reduction applications, where deduplication would be a show-stopping feature if it were missing."
Embedding dedupe in Spectrum Virtualize makes it possible to use it in any the more than 440 external storage systems that Virtualize supports.
Eric Herzog, chief marketing officer and vice president of world storage channels for IBM's storage and software-defined infrastructure business, said a flexible 5-to-1 data reduction guarantee is available for IBM storage products. To qualify for the flexible guarantee, IBM must complete a data reduction analysis for the customer. The company also offers a 2-to-1 "express" data-reduction guarantee that requires no analysis.
"You just tell us, and we guarantee you will cut the storage in half. And if it isn't, we give you free storage," Herzog said.
More new options for IBM storage products
Another new IBM option is the cloud-based Storage Insights, which is essentially a feature-enhanced version of the company's on-premises Spectrum Control Storage Insights software. Storage Insights is designed to provide AI-based telemetry, planning, monitoring, analytics and system health information through a unified view to help customers assess their capacity needs, control expenses and ease the product support process.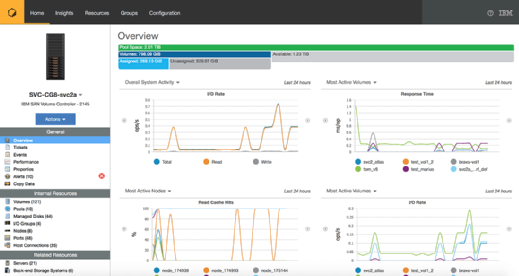 IBM added the cloud-based Storage Insights in response to customer requests for a software-as-a-service option, Herzog said. The IBM Cloud-based Storage Insights would provide the added benefit of independent data collection to create best practices using artificial intelligence, he said.
"That's easier to do when you've got hundreds of thousands of boxes sending stuff," Herzog said. "You can't do that if you're selling the software on premises only."
The cloud-based Storage Insights supports a variety of IBM storage products, including the DS8000; the Storwize V5000, V5030F, V7000 and V7000F; FlashSystem 840, 900, V840, V9000, A9000 and A9000R; SAN Volume Controller; XIV Gen 3; and VersaStack.
A free Storage Insights option supports IBM block storage monitoring, call-home events, four capacity metrics, three performance metrics, 24 hours of data history, event filtering, log collection and displays of active problem management reports, and ticket history.
The Storage Insight Pro version costs $257 per month, per 50 TB and adds additional functionality, such as monitoring of non-IBM block storage, file storage and object storage. The Pro service also offers more than 25 capacity metrics, more than 100 performance metrics, up to two years of data history, information on best-practice violations, customizable alerting, business-impact analysis, data placement optimization with tiering and capacity optimization with reclamation.
"The updates to Storage Insights are extremely important. If you look at the storage landscape today, every vendor seems to be leapfrogging every other vendor on a regular cadence in terms of feature set and capability," McDowell noted. "This is forcing the differentiation to rapidly move out of the products themselves and into the overall ability to manage an infrastructure as a whole."
IBM Storage Insights competes against Dell EMC's CloudIQ, Hewlett Packard Enterprise's InfoSight and NetApp's Active IQ, McDowell said.
IBM Storage Insights ties into the company's Storage Utility offering to facilitate better planning and resource management. For instance, customers might opt to pay for capacity only when they use it or pay for storage capacity based on actual monthly usage. The Storage Utility option is available for the Storwize family, FlashSystem 900 and A9000R, Cloud Object Storage, VersaStack and the DS8880.
Enhanced Spectrum Virtualize for Public Cloud
With this latest wave of updates to IBM storage products, the vendor is also improving the scalability of Spectrum Virtualize for Public Cloud by enabling as many as four two-node pairs, increasing the product's throughput by 20%, and simplifying installation.
Herzog said using Spectrum Virtualize in a public cloud eliminates the need for putting the same type of physical storage system at the cloud provider's site that run on premises. Customers can run Virtualize as a virtual machine (VM) in server hardware in the cloud for disaster recovery. IBM is also updating its Spectrum NAS software-defined storage to be able to run in VMware virtual machines. The product, which was released earlier this year, previously ran only on physical servers loaded with storage drives. Spectrum NAS can use internal storage drives in VM-connected servers or spare capacity in external iSCSI-attached Storwize storage.
McDowell said, "This is going to open the door for IT shops to leverage existing resources and consolidate virtual workloads without sacrificing the storage feature set or continuing to rely on stand-alone NAS."