buchachon - Fotolia
Infinidat storage fabric sews disk arrays to hybrid cloud
Infinidat hasn't followed the storage array crowd into all-flash storage, but it is following the trends of adding flexible consumption pricing and storage analytics.
Disk array maker Infinidat has expanded cloud options with flexible consumption licensing, storage analytics and a preview of new data mobility and recovery tools.
Following the path of other storage vendors, Infinidat storage is adding managed cloud services to complement its direct installs. InfiniBox FLX and InfiniGuard FLX, available immediately, enable a data center to license InfiniBox storage arrays and InfiniGuard data protection appliances as a managed service. With FLX, Infinidat installs hardware on site and manages the storage for customers as a private cloud.
An FLX subscription provides guaranteed always-on availability and a full stack refresh by Infinidat after three years. FLX is the on-premises complement to the storage-only Infinidat Neutrix public cloud that launched last year.
The vendor, based in Waltham, Mass., refers to the integrated products and service as Infinidat Elastic Data Fabric. InfiniBox R5 OS will expand hardware configurations, including supporting optional 32 Gb Fibre Channel (FC) and 25 Gigabit Ethernet. Standard InfiniBox storage connectivity is 16 Gb FC.
Infinidat storage in the petabyte era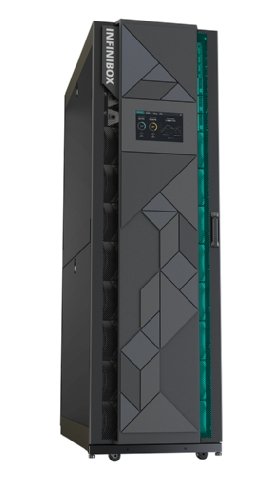 InfiniBox storage arrays are intended for organizations requiring petabyte-scale storage capacity that costs less than flash. Infinidat directs writes to hard disk drives and serves reads from dynamic RAM, which is faster than flash. A small quotient of onboard flash speeds access to cold storage on back-end disks.
Thrive Networks, a managed service provider in Foxborough, Mass., switched to Infinidat storage after its hybrid environment failed to deliver the needed performance, CTO Michael Gray said.
"Everything needs to be faster," Gray said of his storage needs. "Prior to Infinidat, we had a flash tier and a spinning disk tier, and it was a constant game of cat-and-mouse, and we would run out of IOPS."
He said Infinidat handles Thrives' primary and secondary storage. "In some cases, the same array is used for primary and secondary data. In other cases, we use one as primary and one as a disaster recovery target. We made an investment and want to leverage it as much as we can," Gray said.
InfiniVerse analytics, phase one
Infinidat's InfiniVerse cloud-based storage analytics and monitoring is in beta with customers, with general availability planned in June. The software-as-a-service-based InfinVerse platform reclaims stranded Infinidat storage capacity and pinpoints issues that may affect data integrity. InfiniVerse enables workloads to dynamically move between two InfiniBox arrays without disrupting applications.
The mobility feature is based on Infinidat InfiniSnap and Host PowerTools self-service configuration management suite.
"What InfiniVerse unlocks for customers is more awareness and ease of management. This is the kind of insight that is really important when scaling to multiple petabytes of storage," said Erik Kaulberg, an Infinidat vice president.
Predictive storage analytics have become common management tools for storage arrays.
Infinidat also added active-active synchronous replication between two InfiniBox hosts. The technology copies a volume's logical unit number to the target host, witnessed by a stateless virtual machine. Infinidat replication enables both volumes to serve I/O requests.
Kaulberg said the InfiniVerse roadmap includes federated storage availability zones and transparent data mobility across multiple InfiniBox clusters. Those enhancements are slated for 2020.
The InfiniBox R5 OS upgrade this year will support 2 million IOPS and maximum read latency of 25 Gbps. Kaulberg said new hardware configurations will support NVMe over fabrics and storage class memory.