vladimircaribb - stock.adobe.com
Western Canada Lottery bets on HPE Alletra MP storage
When its old infrastructure needed an upgrade, Western Canada Lottery went all in with GreenLake and HPE Alletra storage.
LAS VEGAS -- HPE's recently released Alletra MP aims to support diverse storage needs, and Western Canada Lottery Corp. is putting it to the test.
HPE Alletra Storage MP can support file, block or object storage. IT pros can repurpose the system for different storage protocols, rather than invest in new hardware.
In a breakout session at HPE Discover 2023 here this week, Western Canada Lottery discussed its experience with the HPE Alletra MP platform primary storage system.
Alletra MP serves as a complete cloud storage architecture that can scale and support all three storage protocols, according to Antonio Neri, CEO of HPE. The aim of the Alletra MP is to simplify storage wherever it resides, he added.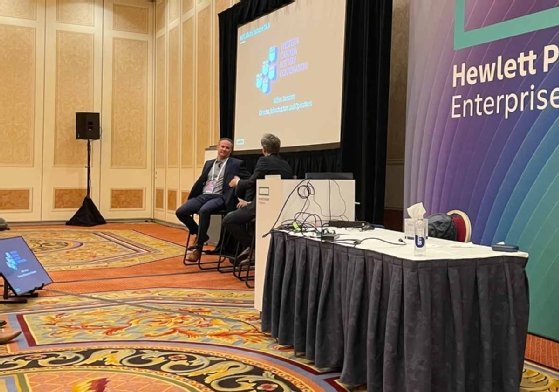 Playing the lottery
Western Canada Lottery operates and manages the lottery for the provinces of Manitoba, Saskatchewan, Alberta and the Northern territories of Canada. The lottery system relies on significant infrastructure to run and to better understand the products its players want.
In 2018, Western Canada Lottery found itself with its compute infrastructure past its useful life, according to Adam Janssens, the lottery's director of infrastructure and operations. This meant a total refresh, and the company used the HPE GreenLake platform to do it.
"It was really appealing to us," Janssens said. "You get a cloud-based model of consumption and the flexibility for growth."
The Western Canada Lottery had used HPE 3PAR arrays for storage. It recently moved from two data centers to one on-premises facility and the other to an Equinix location.
"We didn't want to move our old 3PAR, with spinning disks, in a bumpy truck down the road," Janssens said.
After reviewing Alletra, Western Canada Lottery went with the new storage product and immediately saw performance benefits, he said. Alletra uses an active-active controller, parallel architecture, and all NVMe-based storage to bring higher performance than spinning disks.
The lottery needs to run 24/7, Janssens said. Alletra has 100% availability guaranteed as a standard benefit.
"Whether players want to cash in their ticket or check their numbers, it always needs to be running," he said.
The lottery also needs to be secure, for both the prize money and player information, Janssens said. Alletra allows the protection team to run scans and check reports that have dramatically increased in speed. Replacing all the infrastructure with GreenLake means that data protection itself is built in -- an important feature to support the lottery company's data-driven business strategy.
"We are data-first, and use that data to drive decisions," Janssens said.
The missing object
While Alletra MP offers file and block, it doesn't provide object storage. HPE partnered with Vast Data but chose to use only its file technology, even though the vendor had both in its portfolio. Adding its own object is on HPE's roadmap, but the company declined to give a specific time frame.
The relationship with Vast Data has two parts, Neri said. One is the file storage already announced. But the relationship will also play a part in storage for AI as HPE moves forward with more AI services.
Adam Armstrong is a TechTarget Editorial news writer covering file and block storage hardware and private clouds. He previously worked at StorageReview.com.