kentoh - Fotolia
Microsemi upgrades controllers based on HPE technology
Semiconductor maker Microsemi unveils SmartROC 3100 and SmartIOC 2100 SAS and SATA technology gained in the PMC-Sierra acquisition. The chipset is used to build custom server boards.
Chipmaker Microsemi Corp. has upgraded the SAS and SATA controller technology it picked up in its merger with PMC-Sierra,...
Continue Reading This Article
Enjoy this article as well as all of our content, including E-Guides, news, tips and more.
marking the vendor's biggest step into enterprise storage.
The Microsemi SmartROC 3100 and SmartIOC RAID-on-chip 12 Gbps controller families each include six variants based on the number of ports. The Aliso Viejo, Calif., vendor's Smart Storage Stack firmware and software provides unified management across the controller line.
Enterprises, cloud providers and original equipment makers incorporate the 28-nanometer chipset to build custom boards designed to support Intel's next-generation servers expected this year. The components enable the design of rack-based PCIe cards, standard mezzanine cards and chip-on-motherboard devices.
Smart Storage controllers are based on HPE Smart Array
Smart Storage places silicon between a computer processing unit and disk or flash storage. The controllers are aimed at data centers that require high-availability storage servers and redundant data protection. Use cases include hyper-converged systems and software-defined storage.
"SAS and SATA still account for the lion's share of the storage media. These products are squarely targeted at anything [involving] server storage, which includes hyperscalers, as well as enterprises," said Mark Orthodoxou, director of product management and strategy for scalable storage at Microsemi.
Microsemi rates the new controllers to deliver 1.6 million 4K random-read IOPS.
SmartROC and SmartIOC devices integrate Microsemi's maxCrypto controller-based encryption for data at rest. MaxCrypto encrypts and decrypts data at full line rate at the controller level.
The Microsemi I/O technology is transparent to server and storage admins in that it just works.

Greg Schulzsenior analyst, Server StorageIO
"There remains a clear trend of organizations that need ASICs [application-specific integrated circuits], FPGAs [field-programmable gate arrays] and system-on-chip RAID for high-volume, high-performance functionality to offload workloads from general-purpose servers," said Greg Schulz, senior analyst at IT infrastructure consulting firm Server StorageIO, based in Stillwater, Minn. "The Microsemi I/O technology is transparent to server and storage admins in that it just works. It delivers performance, availability, capacity and economics.".
The Smart Storage controller is based on Hewlett Packard Enterprise (HPE) Smart Array RAID technology that PMC-Sierra licensed before Microsemi acquired it. Microsemi's $2.5 billion takeover of PMC-Sierra in 2016 followed a bidding war with Skyworks Solutions.
"This is the first time we've released a full slate of products based on the intellectual property we licensed from HPE," Orthodoxou said.
Microsemi claims Smart Storage is deployed on more than 30 million servers. Dell EMC, IBM and HPE are among its server OEM customers.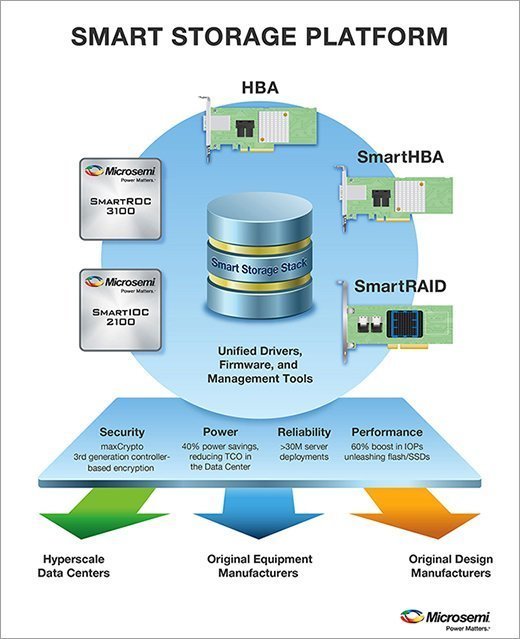 Microsemi plans new HBA, RAID cards on Smart Storage controllers
Microsemi semiconductor products traditionally have been used in aerospace, defense, communications and heavy industry. The PMC-Sierra deal gives it a broader portfolio to sell to data centers, which accounted for 23% of its $1.65 billion last year.
"These products are based on a pretty solid foundation [from PMC-Sierra]. They are the type of products you would buy as part of any storage subsystem you're building," said Thomas Coughlin, president of storage consulting firm Coughlin Associates in Atascadero, Calif.
Other Microsemi storage gear includes Tachyon-branded Fibre Channel controllers and Switchtec PCIe switches. It also picked up the Adaptec line of RAID adapters, controllers and SAS expanders from PMC-Sierra.
SmartROC and SmartIOC models include eight-port, 16-port and 24-port options. The high-end version attaches up to 24 drives and two boot drives. The midrange controller connects 16 drives and two boot drives.
SmartROC 3100 devices are configured with a DDR4 interface as a write cache for high-performance RAID applications.
"That gives you better cost, better power and better performance on a server-by-server basis," Orthodoxou said.
He said Microsemi plans to integrate Smart Storage in branded host bus adapters and advanced RAID cards due out later this year.
Next Steps
After two years, Excelero debuts with NVMesh Server SAN
Which storage technologies will be hot in 2017?
Putting SSDs in servers making more sense for enterprises
Dig Deeper on Primary storage devices