What is macOS?
MacOS is the computer operating system (OS) for Apple desktops and laptops. It is a proprietary graphical OS that powers every Mac.
OSes interact with a computer's hardware, allocating the resources necessary to complete tasks given to it -- for example, running an application. OSes allocate resources including memory, processing power and file storage.
MacOS performance is generally quick and responsive due to the OS being optimized for the specific hardware. Apple releases a new version of macOS approximately every year.
MacOS was introduced in 1984 to run Macintosh personal computers (PCs). The OS helped make graphical user interfaces (GUIs) popular, even inspiring Microsoft to move away from its user input method in favor of using GUIs for Windows OSes.
As of October 2021, the current version of macOS is macOS 12 Monterey.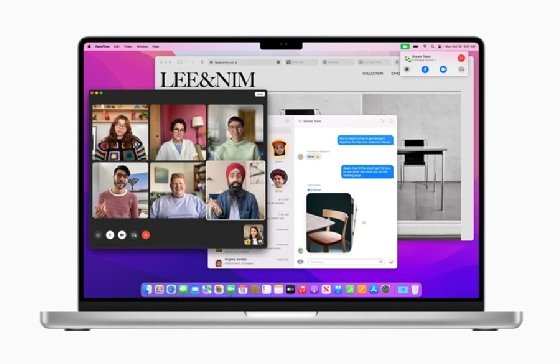 MacOS versions
MacOS 12 Monterey is the 18th major OS release of macOS. The following is a list of each major macOS release after OS X and its latest version:
Earlier versions of macOS were labeled Mac OS versions 1 through 9.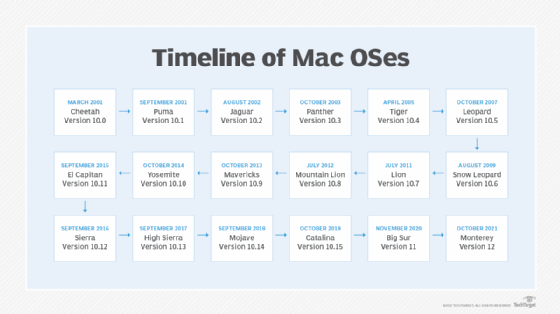 Devices compatible with macOS
MacOS is supported on Apple's desktop and laptop computers. However, not all Apple desktops and laptops support the latest version of macOS. Devices compatible with macOS 12 include the following:
MacOS features and uses
MacOS offers numerous features and applications that enable different tasks for end users. These include the following:
Each application comes installed with macOS and runs natively on the OS. This means the allocation of resources is extremely efficient, as the applications are specifically optimized to run on macOS.
Other features recently added to the OS include focus modes, which enable users to customize what notifications they receive and at what times as well as Live Text, which lets users copy text that appears in photos. Additional features include universal control, which enables users to use a single keyboard, mouse or trackpad between Mac and iPad devices. Recording Indicator is an added security feature that helps users see which apps have access to their Mac's microphone.
History of macOS
MacOS was introduced in 1984 to run Apple's Macintosh computers. The OS was set up as a GUI, meaning users could navigate using a mouse to select icons and folders -- as opposed to having to type commands and text prompts into directories, which Windows OS had at the time. Mac OS was focused on ease of use, popularizing the more intuitive GUI-based OSes used today. The first few versions of the OS had basic features, including multiple folders. The OSes were numbered 1 through 9. The ninth version of Mac OS, Mac OS 9, was notable for improving support for AirPort wireless networking and better USB drivers. It also brought with it file encryption while also providing developers with several features that would be found in the next major release.
The next major release was Mac OS X -- the letter "X" referred to 10 -- which was released in March 2001. This version was the first of nine OS versions to be named after big cats, in this case, Cheetah. In this update, Apple also introduced a new GUI, called Aqua. Aqua had a design theme of being translucent with soft edges.
The other big cat OSes under the OS X umbrella included 10.1 Puma, 10.2 Jaguar, 10.3 Panther, 10.4 Tiger, 10.5 Leopard, 10.6 Snow Leopard, 10.7 Lion and 10.8 Mountain Lion.
After this, macOS versions were named after places in California. These started at Mavericks and continued through Yosemite, Capitan, Sierra, High Sierra, Mojave, Catalina, Big Sur and Monterey. These versions also featured the transition from OS X to OS 11 and the change from the OS X title to the macOS title.
Explore the different macOS devices – including the MacBook Air, MacBook Pro, iMac, Mac Mini and Mac Pro -- and learn how to select the right Mac computer to meet your needs.
This was last updated in
January 2022
Continue Reading About macOS