ra2 studio - Fotolia
IoFabric extends Vicinity to multiple sites, clouds
IoFabric Vicinity combines quality of service, snapshots and replication in a software-defined storage application to manage storage across primary, backup and archive tiers.
Startup IoFabric Inc. added multicloud and multisite capabilities for its software-defined storage designed for managing, protecting and archiving data across tiers.
With IoFabric Vicinity 3.0 launched today, the vendor said it will make data always available either in a data center, off-site storage or in Amazon Web Services (AWS) or Microsoft Azure public clouds. Vicinity now also supports immutable (read-only) Snapshots that cannot be encrypted by ransomware and SnapCopy capability for disaster recovery.
Andrew Flint, IoFabric vice president of marketing, said the goal is to put data on the most cost-efficient storage tier at any time. The tier can be at any site, including a private or public cloud. Vicinity does that through quality of service that allows customers to set policies for application performance, capacity and data protection. It then replicates and moves data to high-performance media for fast access and inexpensive media and the cloud for cold data.
[Vicinity] cures migration, so a migration solution is no longer needed. It cures the disease as opposed to putting a Band-Aid on it.

Andrew Flintvice president of marketing, IoFabric
"This isn't a migration application," Flint said. "It doesn't move data from SAN to SAN. It cures migration, so a migration solution is no longer needed. It cures the disease as opposed to putting a Band-Aid on it."
The new features include the ability to fully replicate data from on premises to AWS or Azure. Flint said customers can move data between those clouds, but that would rarely be cost-effective.
He said IoFabric wants to make an entire data center "look like a big RAID array" and "on-premises storage should look like cloud storage."
"It's about always being available," IoFabric product manager Nicholas Baron said. "Who has a window for downtime anymore?"
Extending outside the box
George Crump, president of IT analyst firm Storage Switzerland, said IoFabric and other newer players such as Primary Data and StrongBox Data Solutions sell software that does what he calls "bidirectional data management." He said that differs from traditional archiving software because it can take data from any point and put it on primary storage when it becomes active.
"[IoFabric] has all the attributes of archiving, plus the attributes of tiering, plus it can extend outside to the cloud," Crump said. "Most storage arrays do some of this, but none do it outside the data center. IoFabric can go across boxes and to the cloud."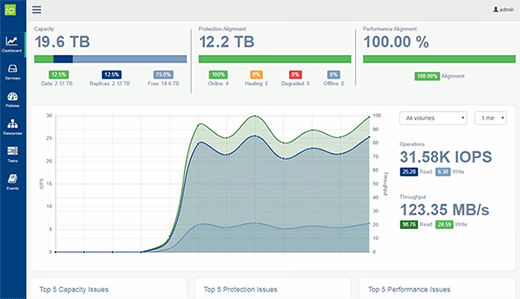 The new data protection features in Vicinity 3.0 include space-efficient, incremental, immutable snapshots as well as administrative access controls.
Flint said IoFabric's strategy for dealing with ransomware is, "Hopefully, you have a good copy somewhere. If everything is affected, we have you covered with immutable snapshots."
Will software-only model work?
Crump said IoFabric's challenge is -- as with all software-defined storage vendors -- to convince people to buy management software not tied to an array, server or appliance. He said he would like to see the vendor add the ability to move into cloud compute as well as cloud storage.
"Today, the cloud is used only as a tier of storage, and compute is intended to remain on-prem," he said. "I would like them to propagate into cloud computing so you can move data to the cloud and flip the switch so you could have cloud compute access this as well."
IoFabric Vicinity is sold as software-only, but has partners who bundle it on hardware. Flint said customers usually buy Vicinity when they purchase a new SAN or to postpone having to buy one. Vicinity subscription pricing is based on raw storage capacity under management, with different levels based on whether the data resides on premises or in the cloud. Customers using public clouds must also purchase subscriptions from the cloud providers.
Dig Deeper on Storage architecture and strategy