adam121 - Fotolia
Komprise adds data lifecycle management, deeper analytics
Storage startup updates data management software with additional policy-based data migration options, more granular analytics and GDPR-focused confinement capabilities.
Startup Komprise updated its data management software to enable customers to move data multiple times under a single...
Continue Reading This Article
Enjoy this article as well as all of our content, including E-Guides, news, tips and more.
policy, perform finer-grained analytics on metadata and confine access to obsolete or unwanted data.
The Komprise Intelligent Data Management product works across NFS-, SMB- and CIFS-based file storage, as well as cloud and on-premises object storage. Komprise Observer software runs locally in one or more server virtual machines, gathering information on data and storage assets and sending summary information to out-of-band Director controller software.
Komprise Director, which runs on premises or as a cloud service, aggregates the data and displays metrics, such as data usage, capacity, access frequency, growth rate and potential savings if the user tiers to less expensive storage. Customers can test what-if scenarios through the Director dashboard and set policies to manage the data placement the Observer software executes.
Komprise's users have always been able to set a policy to move data from one storage system to another. But if they wanted to move data two or more times, they had to set a separate policy for each migration.
With the new Komprise Intelligent Data Management 2.6 release, customers can set a policy to manage data sets throughout their lifecycle. For instance, a user could move data from file storage to on-premises object storage, shift the data to Amazon Simple Storage Service (S3) after six months, and to Amazon's colder and less expensive Glacier storage service after a year.
Komprise can migrate data to any NFS, SMB and CIFS file storage, and to object storage that supports Amazon's S3 API. Komprise cloud storage options are Amazon S3 and Glacier, and Google Nearline and Coldline storage. Komprise expects to support Microsoft Azure cloud storage later this quarter.
'Compelling' Amazon Glacier use case
"The capability to archive to S3 and then after six more months of inactivity move to something really cold, like Glacier, is a compelling use case and hurts the tape guys a little, because Glacier is getting so competitive to tape now price-wise," said George Crump, founder and president of Storage Switzerland LLC. "Glacier has a different set of APIs, so most companies are slow to support it."
Also in the 2.6 version, Komprise is making available deeper analytics capabilities as a beta release. Customers can write custom queries and apply filters to the metadata to gain granular insight. Komprise enabled the new deeper analytics through its distributed architecture without a central database or in-memory state, according to Krishna Subramanian, the Campbell, Calif., company's COO.
Subramanian said customers could use the deeper analytics to find "zombie data" created by former employees, or to locate information specific to a company project. Komprise expects to finalize the deeper analytics capabilities later this year or early next year, she said.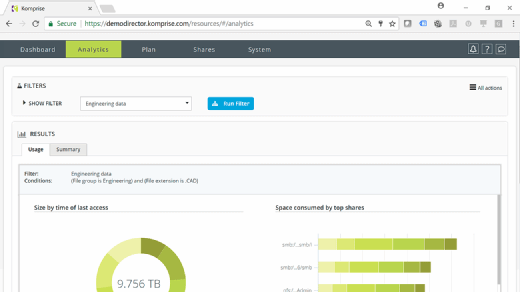 PacBio anxious to use deeper analytics
Customer Pacific Biosciences (PacBio) plans to use the new analytics options to help employees locate information about laboratory experiments. The Menlo Park, Calif., genomics sequencing manufacturer has a controlled laboratory information management system (LIMS). But Jay Smestad, senior director of IT at PacBio, said the LIMS organizes information based on sample or experiment numbers, rather than descriptive metadata tags.
Smestad said he also expects to take advantage of Komprise's new data lifecycle management capabilities to move data between the company's storage tiers of fast solid-state drives (SSDs), cheaper hard disk drives, slower backup tapes and Amazon S3 for disaster recovery.
"It's exactly what we need to manage our data. We don't want to have to touch the data multiple times. Every time we touch the data, it costs us money," Smestad said. "We want to set a policy for a [data] share, and it should do the right thing automatically for years to come."
Smestad said he might set a policy to keep hot data on SSDs and move files that aren't accessed for six months to PacBio's primary disk tier, and later to cheaper disk and eventually tape. PacBio currently stores about 7 PB of data and faces data growth of about 70% per year, Smestad said.
Confinement feature targets GDPR
Komprise had General Data Protection Regulation (GDPR) compliance in mind with the addition of new capabilities to confine unwanted or obsolete data. Subramanian said Komprise added the feature based on direct customer feedback, as companies face a May 2018 deadline to comply with the European Union's regulation that gives customers the "right to be forgotten." GDPR applies to any organization that does business in EU countries.
The Komprise software can move data outside the user and application namespace to a location that is inaccessible, Subramanian said. She said customers could test to ensure there are no dangling pointers to the data before its final deletion.
"The ability to test the impact of data removal is really smart" to make sure applications don't break, Crump said.
Komprise's data management competition includes Caringo, Data Dynamics, ioFabric, Primary Data and StrongBox Data, according to Crump. He said they all take different technology approaches, so customers would need to determine what they want to accomplish to figure out which one makes the most sense for them.
Komprise offers monthly subscription and perpetual licensing options for its Intelligent Data Management software. The subscription list price is $7 per terabyte, per month to manage, analyze, move and replicate data, and the perpetual software license is $150 per terabyte.
Next Steps
Using hybrid cloud storage to advantage
Explore software options for data migration
Review last year's top storage management tools