carloscastilla - Fotolia
Cloud storage best practices in the work-from-home era
Find out what data and applications are best for cloud storage, what design factors to consider and how to choose the right service to meet short- and long-term needs of remote workers.
The scramble to support ubiquitous work-from-home environments has hit every corner of IT, but the effects on infrastructure operations haven't been uniform. Organizations operating primarily from internally managed, on-premises infrastructure that supported few remote workers were hit hard as they quickly found themselves with inadequate VPN capacity and system designs ill-matched to a distributed workforce. In contrast, those that had embraced cloud services largely avoided service disruptions and performance degradation.
The inherent advantages of cloud services -- particularly the ability to rapidly scale capacity and geographically distribute data and workloads -- are well suited for a distributed workforce. Cloud storage is a notable area of cloud strength. Here, we examine cloud storage best practices: the types of data and applications most appropriate for cloud storage, design considerations for remote workers and work-from-home (WFH) environments, and choosing between IaaS and SaaS offerings.
Choosing what to use and what data to move
Cloud storage can accommodate any type of enterprise data; thus, when considering cloud services, the focus should be on an organization's needs and intended applications. Cloud backup and archive are the logical first step for new cloud users, but they don't fully address specific challenges of the WFH environment, which stem from the need to provide a distributed workforce with reliable, performant access to information.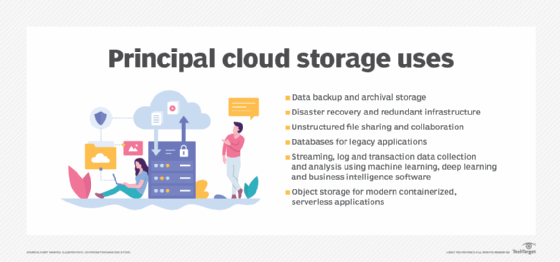 While there are few quick fixes in enterprise IT, addressing WFH needs can be split into short- and long-term cloud storage best practices. Here are some recommendations for both time frames.
Short-term cloud storage best practices
There are different options available for organizations that are looking to meet immediate WFH cloud storage needs, depending on their existing storage infrastructure:
Cloud storage can accommodate any type of enterprise data; thus, when considering cloud services, the focus should be on an organization's needs and intended applications.
Many organizations can move employee and project file shares to a SaaS storage product. The best approach would be to use one that's part of or integrated with your organization's standard productivity software -- e.g., Apple iWork, Google G Suite or Microsoft 365.
Organizations with extensive and sophisticated NAS deployments, particularly those with geographically distributed storage arrays using a global file system, should integrate the existing NAS environment with their primary cloud service. The details of doing this will vary with the local software being used, but extending a global file system to the cloud is relatively straightforward. For example, Panzura works with Amazon S3, making the cloud object store the authoritative source that replicates to Panzura filers and clients -- both PC and mobile. In contrast, Avere uses a vFXT instance in the cloud as a proxy to bridge on-premises NAS filers and cloud storage on Google Cloud, Azure and others.
Organizations with on-premises file shares using basic NAS protocols, like NFS and SMB, should migrate data to a managed NAS service, such as Amazon FSx for Windows File Server, Amazon Elastic File System, Azure Files or Google Cloud Filestore. Synchronize on-premises and cloud environments using the provider's synchronization service, like AWS DataSync or Azure File Sync, or manually using a command like rsync, and direct WFH users to the cloud shares.
Long-term cloud storage best practices
Organizations that expect to have a high percentage of WFH employees after the pandemic emergency passes should consider the following storage strategies:
Migrate latency-sensitive applications to multiple cloud regions, using an application load balancer, such as AWS Elastic Load Balancing, Azure Front Door or Traffic Manager, or a virtual appliance, like F5 BIG-IP, to optimize client connections. A lift-and-shift approach is simplest for most legacy applications, but for systems with a long life span, consider refactoring the design to use native cloud databases and other services.
Migrate and synchronize on-premises authentication directories -- Active Directory for most enterprises -- to a cloud identity and access management service. Having user directories in the cloud will improve reliability, performance and security for WFH users accessing cloud resources.
Implement data tiering to automatically migrate unused files to lower-cost cloud storage tiers. Some services, like Azure Files, will automatically tier hot and cool data based on policy settings and volume size. Otherwise, cold data can be migrated to a lower-cost object storage service, like Amazon S3 Glacier or Google Cloud Coldline Storage.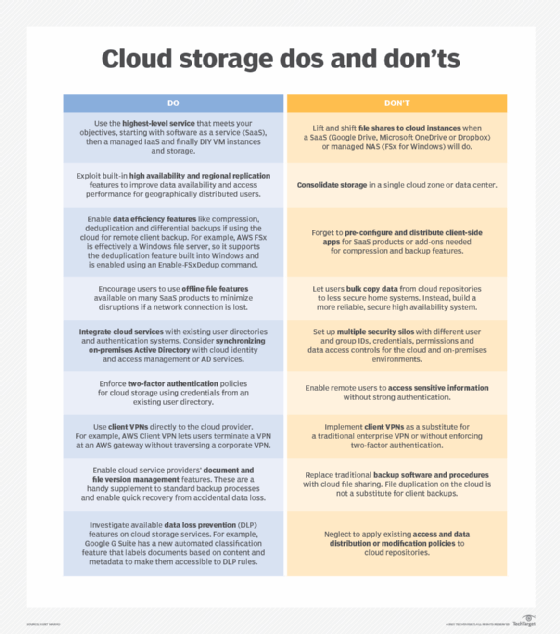 The hybrid cloud storage option
As the short- and long-term recommendations intimate, moving data to the cloud need not be an all-or-nothing proposition. There are benefits to a hybrid approach that give organizations greater flexibility in data placement and control if they follow hybrid cloud storage best practices.
Some data is better left on premises. Legacy database-backed applications that are in a maintenance mode and are unlikely to be updated and optimized for cloud infrastructure fall into this category. Sovereign or industry regulations might preclude moving some data to the cloud and argue for keeping it in on-premises systems with established processes for data integrity, security and auditability. Where those issues aren't in play, unstructured data on internal NAS filers can be replicated or migrated to the cloud to improve performance and security for remote users and simplify access by future cloud-native applications.
Even organizations that prefer an on-premises infrastructure strategy should consider a hybrid approach that lets them use cloud infrastructure for remote data backup and DR infrastructure. The cloud can reduce latency and improve performance for remote users by replicating application environments in cloud regions with high concentrations of employees and customers.
Cloud storage WFH benefits and challenges
Using cloud storage and adhering to cloud storage best practices offer many benefits to WFH employees. These advantages include greater data storage availability and better performance, the same or better security than on premises, and built-in compliance with many regulatory requirements, such as HIPAA and Payment Card Industry Data Security Standard. Other benefits include integration with SaaS productivity, messaging and collaboration applications; integration with other cloud application, business analytics and AI services; and the availability of multiple storage tiers and price points.
However, incorporating cloud storage into an enterprise portfolio also comes with challenges, such as having to develop a cohesive cloud strategy and select the cloud provider and services that best fit an organization's needs. Other challenges include implementing performant, secure network connections between on-premises infrastructure and virtual private clouds; migrating and replicating on-premises data to the cloud; keeping multiple data repositories in sync in hybrid environments; and extending existing user credentials and security permissions to the cloud and preventing drift that can create different security regimes in the two environments.