Getty Images/iStockphoto
What the new LTO roadmap means for tape storage
The future of tape is bright, and it should be on every storage manager's shortlist. LTO and its massive current and future capacity have a place among other storage media types.
The LTO Program has updated its roadmap with a planned LTO-14 tape cartridge that could break the 1-petabyte barrier within the next decade. That enormous capacity will help administrators keep pace with ever-growing data storage needs, but there are other key elements in the LTO roadmap.
Administrators will still use HDDs and flash drives for primary storage of mission-critical applications and data in the foreseeable future. However, user storage requirements grow so rapidly that the use of HDDs may be limited. Future super-large HDD devices may need a different form factor, which could affect compatibility with existing storage platforms.
One of the important benefits of LTO devices is that form factors generally have not changed with newer generations, thanks to the design.
Why tape storage is still a trend
Tape storage has traditionally been the go-to resource for longer-term data storage and archiving. However, with the advent of ransomware and other cyber attacks, tape has emerged as a critical resource to protect mission-critical systems and files. Tape provides an all-important air gap that increases data security.
In addition, the Linear Tape File System-Library Edition (LTFS-LE) dramatically boosts the value of tape for nonarchiving applications. The LTFS protocol greatly speeds up the seek-and-retrieve capabilities of LTO tape drives.
Among the many other reasons tape is more attractive than ever are the following:
Lower cost per gigabyte of storage than other storage systems.
Reduced costs for electricity.
Backward compatibility with previous generations.
Consistent form factor for installations.
Environmentally friendly storage medium.
Long shelf life.
Lower chance of theft and vandalism when securely stored.
Highly reliable.
Use of open standard data formatting and form factors -- different vendors can provide storage products that comply with LTO standards.
The capacity projections in the LTO roadmap mark a major milestone in the evolution of tape.
Capacity on the rise
The capacity projections in the LTO roadmap mark a major milestone in the evolution of tape.
The current generation of LTO tapes, LTO-9, provides up to 45 TB (compressed) of storage. The LTO roadmap projects capacities doubling with every subsequent generation. LTO-10 (up to 90 TB compressed) and LTO-11 (up to 180 TB compressed) are likely to continue LTO technology's rapid acceptance in the coming years. The current outer limit for LTO technology, LTO-14, could be a reality in as soon as a decade.
The future is bright in the LTO roadmap for tape storage capacity needs. With projected capacities of about 1.4 PB (compressed) for LTO-14 and high-speed retrieval using LTFS, LTO will be an essential storage strategy in the coming years.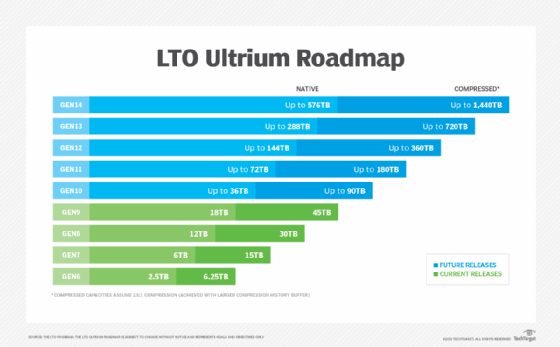 While these devices will still be for longer-term storage and archiving, their capacities and use of LTFS-LE will position them for DR and ransomware event survival applications. The capabilities of LTFS-LE help to recover data faster and more economically.
As the amount of generated data increases significantly each year, tape storage could be an important form of "almost-primary" storage. It will also likely be the go-to medium for DR and ransomware protection and recovery.
Planning considerations
Storage managers in most organizations track data growth trends and the resulting storage requirements. Regular contact with company department leaders helps storage managers better project their needs.
There are many storage technologies in addition to tape, and their costs vary. Production systems and data will need generally faster access to critical resources, which is where HDD and flash storage technologies are appropriate.
Dig Deeper on Storage architecture and strategy