alphaspirit - Fotolia
Put application virtualization products under the microscope
Get to know the four main components that make up any app virtualization product, including client access, management and monitoring, and the delivery infrastructure.
The components that make up application virtualization products may vary, but they are generally split into four categories: delivery infrastructure, application hosting, client access, and management and monitoring.
Together, these categories provide the structure necessary to host and deliver virtual applications, as well as to manage the components that support them.
Delivery infrastructure
The delivery infrastructure includes the components IT needs to orchestrate and distribute virtual applications to users' endpoints. At the heart of the infrastructure is a controller that brokers the connections between the applications and the devices.
For example, Citrix XenApp and XenDesktop include the Delivery Controller, VMware provides the Connection Server, and Microsoft Remote Desktop Services (RDS) offers the Remote Desktop Connection Broker.
In addition to managing the connections between endpoints and applications, the controller often provides other functionality that supports application delivery, such as connection optimizers or load balancers. Most products also allow IT to install the controller on multiple servers to ensure reliability and availability.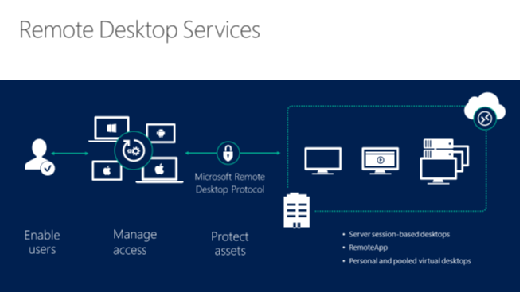 The controller can also authenticate and manage user access, usually by using directory services such as Active Directory. To support these services, the delivery infrastructure will likely include one or more servers to host the directory services.
The infrastructure can also provide other components related to user access. For example, Citrix offers the StoreFront service for authenticating users to resources and managing application stores.
The delivery infrastructure often includes one or more databases for storing configuration and session information, as well as historical data for system monitoring. The infrastructure can provide additional components for enhancing application delivery. For instance, VMware offers the View Replica Server to deliver high availability and load balancing to the Connection Server.
Application hosting
Application virtualization products require a location to host and run the applications IT pros plan to virtualize. They can use bare-metal servers, VMs or a combination of both depending on the product and the organization's requirements.
Most products focus on virtualizing Windows-based applications, although some also support Linux applications. In some cases, the servers hosting the applications are configured with Microsoft's Remote Desktop Session Host (RDSH), a server role included with RDS that supports both session-based desktops and RemoteApp applications. The use of RDSH depends on the virtualization product itself.
To facilitate application delivery, most application virtualization products require IT to install the vendor's specific agent on the server or within the VM to enable communication with the controller and to establish connections with the endpoints. For example, VMware requires IT to install the Horizon Agent on all virtual and physical machines.
Regardless of how an app virtualization product hosts the applications, the goal is to deliver them so they appear to run locally on the endpoint with as few latency issues as possible. That said, there is nothing to prevent application virtualization products from using services in addition to basic application virtualization. For example, IT can use Microsoft's App-V with RemoteApp to streamline application delivery.
Client access
Virtualization allows users to access applications from their desktops, laptops, thin clients and, depending on the application, mobile devices. In a typical setup, application delivery relies on client software being installed on the endpoint to enable users to communicate with the controller and connect with the target application.
With client software in place, an application virtualization product can transmit an application to the endpoint, where the client software receives it and renders it locally on the device. For example, devices accessing XenApp or XenDesktop applications must have Citrix Receiver installed, whereas devices accessing Horizon or Horizon Apps applications must have the Horizon Client installed.
Some application virtualization products also support application access through a web portal, allowing users to work with their applications in an HTML5 browser without the client software. Examples include the Parallels Remote Application Server (RAS) Web Portal, VMware Horizon User Web Portal and Microsoft Remote Desktop Web Access.
Many app virtualization products also provide some type of gateway for enabling endpoints to connect to their virtual applications from outside the corporate firewall. The gateway usually resides in the network's demilitarized zone and provides a single secure access point that enables endpoints to connect to resources within the firewall. VMware, for example, offers the Unified Access Gateway, Citrix provides the NetScaler Gateway and Microsoft has the Remote Desktop Gateway.
Management and monitoring
All major application virtualization products provide tools for administering components and controlling access to resources. The number and type of tools can vary widely from one product to the next, however.
For example, Parallels provides the RAS Console for configuring RAS features, publishing applications, backing up RAS configuration files and performing other administrative tasks. VMware offers the Horizon Administrator for configuring the Connection Server, deploying and managing applications, controlling user authentication and troubleshooting end-user issues.
Most virtualization products also provide tools for monitoring and troubleshooting application deployment.
In some cases, a virtualization product will include a server to control the product licenses, such as the one Citrix offers, which works in conjunction with Citrix Studio and the Delivery Controller to allocate license files and manage licensing for each end-user session. In contrast, Microsoft provides the Remote Desktop Licensing server, which issues client access licenses to users and devices when they access the RDSH servers that host the applications.
Most virtualization products also provide tools for monitoring and troubleshooting application deployment so IT can address issues before they become critical. The tools can also help administrators perform end-user support tasks.
VMware's vRealize Operations tool, for example, collects performance data and presents it on a customized dashboard for analysis. Another example is Citrix Director, which IT can use to monitor and troubleshoot multiple XenApp and XenDesktop sites.