everythingpossible - Fotolia
Learn to manage Office 365 ProPlus updates
The traditional Microsoft Office applications you get from Office 365 might appear to be the same on the surface, but how you administer them differs in several key ways.
A move to the cloud can be confusing until you get your bearings, and learning how to manage Office 365 ProPlus updates will take some time to make sure they're done right.
Office 365 is a bit of a confusing name. It is actually a whole suite of programs based on a subscription model, mostly cloud based. However, Office 365 ProPlus is a suite inside a suite: a subset collection of software contained in most Office 365 subscriptions. This package is the client install that contains the programs everyone knows: Word, Excel, PowerPoint and so on.
Editor's note: Microsoft recently announced it would rename Office 365 ProPlus to Microsoft 365 Apps for enterprise, effective on April 21.
For the sake of comparison, Office 2019, Office 2016 and older versions are the on-premises managed suite with the same products, but with a much slower rollout pace for updates and fixes. Updates for new features are also slower and may not even appear until the next major version, which might not be until 2022 based on Microsoft's release cadence.
Rolling the suite out hasn't changed too much for many years. You can push out Office 365 ProPlus updates the same way you do other Windows updates, namely Windows Server Update Service (WSUS) and Configuration Manager. Microsoft gave the latter a recent branding adjustment and is now referring to it as Microsoft Endpoint Configuration Manager.
The Office 365 ProPlus client needs a different approach, because updates are not delivered or designed in the same way as the traditional Office products. You can still use Configuration Manager, but the setup is different.
Selecting the update channel for end users
Microsoft gives you the option to determine when your users will get new feature updates. There are five update channels: Insider Fast, Monthly Channel, Monthly Channel (Targeted), Semi-Annual Channel and Semi-Annual Channel (Targeted). Insider Fast gets updates first, Monthly Channel updates arrive on a monthly basis and Semi-Annual updates come every six months. Users in the Targeted channels get these updates first so they can report back to IT with any issues or other feedback.
You can configure the channel as part of an Office 365 ProPlus deployment with the Office Deployment Toolkit (ODT), but this only works at the time of install. There are two ways to configure the channel after deployment: Group Policy and Configuration Manager.
Using Group Policy for Office 365 ProPlus updates
Using Group Policy, you can set which channel a computer gets by enabling the Update Channel policy setting under Computer Configuration\Policies\Administrative Templates\Microsoft Office 2016 (Machine)\Updates. This is a registry setting located at HKLM\Software\Policies\Microsoft\office\16.0\common\officeupdate\updatebranch. The options for this value are: Current, FirstReleaseCurrent, InsiderFast, Deferred, FirstReleaseDeferred.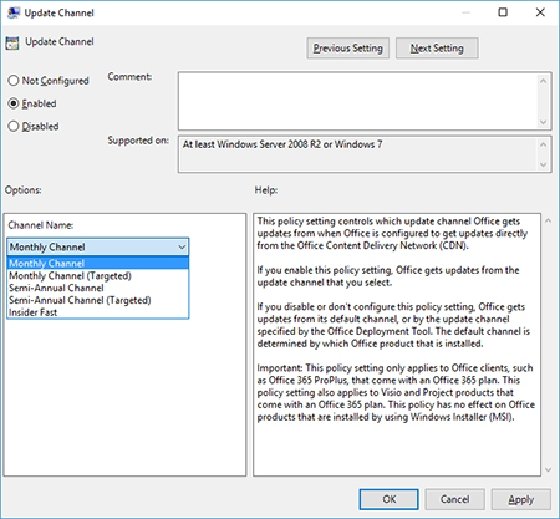 A scheduled task, which is deployed as part of the Office 365 ProPlus install called Office Automatic Update 2.0, reads that setting and applies the updates.
You can use standard Group Policy techniques to target policies to specific computers or apply the registry settings.
Using Configuration Manager for Office 365 ProPlus updates
You can use Configuration Manager, utilizing ODT or Group Policy, to define which channel a client is in, but it also works as a software update point rather than using WSUS or downloading straight from Microsoft's servers. With this method, you will need to ensure the Office 365 ProPlus channel builds across all the different deployed channels are available from the software update point in Configuration Manager.
Office 365 ProPlus updates work the same way as other Windows updates: Microsoft releases the update, a local WSUS server downloads them, Configuration Manager synchronizes with the WSUS server to copy the updates, and then Configuration Manager distributes the updates to the distribution points. You need to enable the Office 365 Client product on WSUS for this approach to work.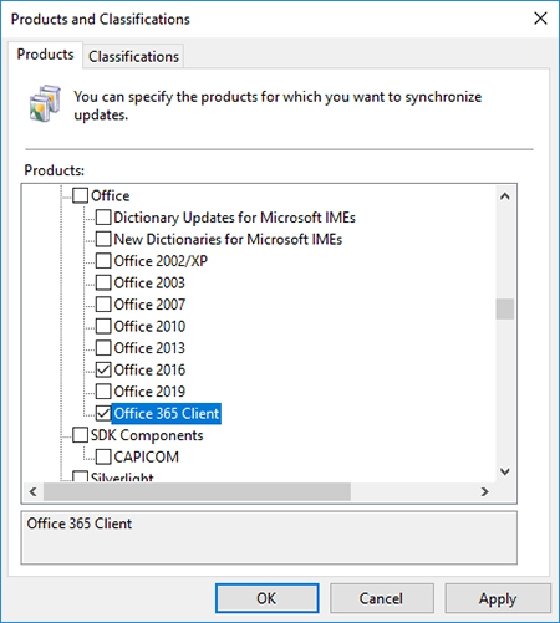 It's also possible to configure clients just to get the updates straight from Microsoft if you don't want or need control over them.
Caveats for Office 365 ProPlus updates
When checking a client's channel, the Office 365 ProPlus client will only show the channel it was in during its last update. Only when the client gets a new update will it show which channel it obtained the new update from, so the registry setting is a better way to check the current configuration.
When an Office 365 ProPlus client detects an update, it will download a compressed delta update. However, if you change the client to a channel that is on an older version of Office 365 ProPlus, the update will be much larger but still smaller than the standard Office 365 ProPlus install. Also, if you change the channel multiple times, it can take up to 24 hours for a second version change to be recognized and applied.
As always with any new product: research, test and build your understanding of these mechanisms before you roll out Office 365 ProPlus. If an update breaks something your business needs, you need know how to fix that situation across your fleet quickly.
Dig Deeper on IT operations and infrastructure management