geometrix - Fotolia
How does Microsoft 365 extend Windows 7 support?
Microsoft is ending its official support for Windows 7. However, Microsoft 365 customers have the option to extend support via continued Windows security updates.
Windows 10 has a massive install base as Microsoft's predominant desktop operating system, and when organizations don't upgrade their desktops to Windows 10, it can create problems for IT.
The stability of Windows 7, Microsoft's most popular OS prior to Windows 10, and the costs to upgrade equipment to meet the Windows 10 system requirements have kept some organizations on legacy OSes. There are certainly risks to this approach, such as missing Microsoft's consistent security updates.
Fortunately for those still using Windows 7 within their organization, Microsoft recently changed its timeline for Windows 7 support. In fact, Microsoft reversed its decision to end all Windows 7 support on January 14, 2020, and now has extended support for Windows 7 license holders with Microsoft 365 -- a Microsoft service that bundles Office 365 with other Microsoft services -- until January 2023.
This support extension could push some organizations to consider Microsoft 365 to extend Windows 7 support. However, IT administrators should evaluate if this extended support is worth their investment.
Keeping Windows 7 in many cases is a reality that IT professionals may not have a say in. Some issues of compatibility and cost may supersede simplicity for IT. Supporting legacy applications that are business critical and not compatible with Windows 10 could be one reason that organizations don't switch over. However, the new extended support allows organizations to maintain the Windows 7 OS and receive critical security updates they need to keep their environment protected.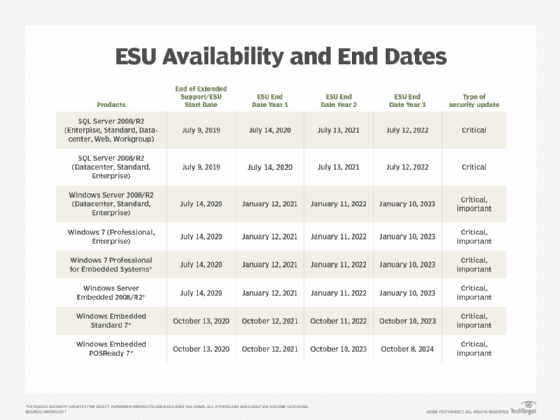 Extended Windows 7 support with Microsoft 365
While extensive OS support from Microsoft may seem unnecessary for some organizations, extended security updates will ensure that Windows systems have all the latest patches when Microsoft discovers new exploits.
The new three-year extension that Microsoft introduced for Windows 7 support will help IT shops that may have held off their OS upgrades. However, they still may need to evaluate the cost and the benefits of either upgrading directly to Windows 10 or subscribing to Microsoft 365 and having that monthly payment for each user.
The new three-year extension that Microsoft introduced for Windows 7 support will help IT shops that may have held off their OS upgrades.
Investing in Microsoft 365
There are certainly some good reasons for IT leaders and executives to consider Microsoft 365 for their users, and the added benefit of Windows 7 support makes the offering even more enticing. Microsoft 365 plans, which include the Business, Enterprise and Education editions, include some form of Office 365 licenses, Windows 10 licenses, and Microsoft Enterprise Mobility and Security services that help protect organizations and their devices.
While it may seem pricey for organizations to subscribe to Microsoft 365 just for Windows 7, it provides more value than just the extended Windows 7 support. Additionally, many organizations already rely on Office 365 software, so a Microsoft 365 license may not be a massive new investment.
What are the options for Microsoft 365 licensing?
The Microsoft 365 Business license targets small businesses with 300 employees or fewer, and the Enterprise version is for organizations with any number of employees higher than that. Within those plans, the E3 and E5 licenses include Office ProPlus for those who need the client applications. For organizations looking to include meetings and collaboration services, the E5 plans include the Teams add-on for cloud private branch exchange and conferencing.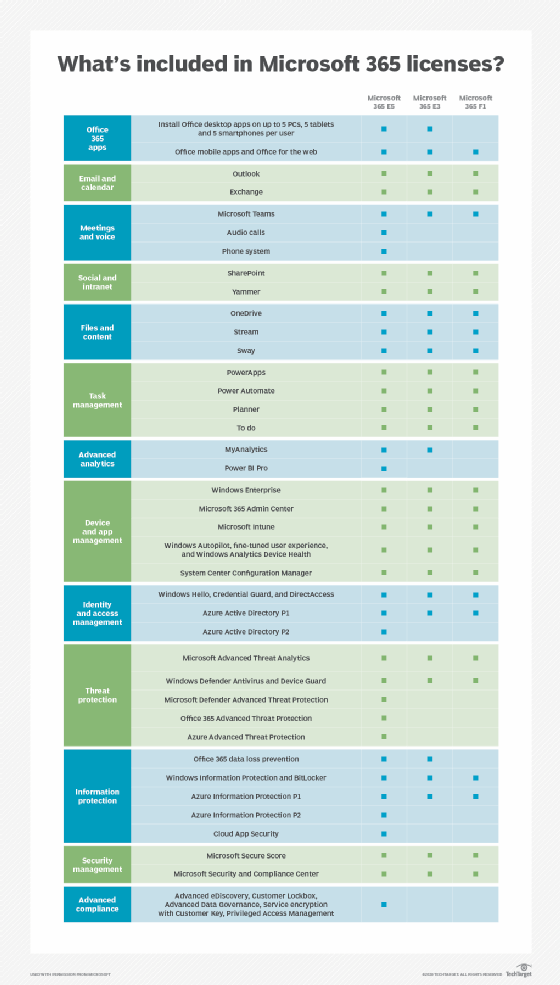 The Microsoft 365 E3 and E5 licenses also provide the Device and App Management components that Microsoft Intune offers -- though Intune is now rebranded as Microsoft Endpoint Manager. These additions help IT administrators manage their desktops and mobile devices. On the security front, the E5 license incorporates some AI-based threat detection and protections that allow the system to help mitigate the risks associated with ransomware and other threats.