Fotolia
New Office 365 administrators grapple with challenges
More enterprises mulling the move to Office 365 should factor in the adjustments necessary to get the IT department up to speed to manage the platform properly.
Microsoft Office 365 management presents a new set of challenges to administrators at multiple levels. For some...
Continue Reading This Article
Enjoy this article as well as all of our content, including E-Guides, news, tips and more.
in IT, a move to this cloud platform can be intimidating.
The transition from on-premises software to Office 365 can be difficult for several reasons. IT workers, who are used to working with legacy Exchange and SharePoint servers, will face the possibility of managing up to 28 workloads or apps in the Office 365 suite. Instead of patching and dealing with high availability issues with on-premises servers, Office 365 administrators will need to develop a new set of skills.
Typically, the decision to move to Office 365 requires extensive planning. IT decision-makers should carefully consider the current setup and whether they will maintain the existing Exchange, SharePoint and Skype for Business servers in the data center. Another factor is whether IT leaders want to adopt new services and apps, such as Teams, Planner, Power BI, Skype for Business with the Public Switched Telephone Network (PSTN), SharePoint Online, Delve and OneDrive.
The following list highlights the several areas IT engineers and administrators must be prepared for as they shift to the cloud.
One consolidated web admin portal
New Office 365 administrators must prepare to use the admin portal to manage end-user services. While the portal offers a practical web interface that is also accessible through a mobile app, knowing where to find specific settings can be tricky without doing extensive training to build a certain level of expertise.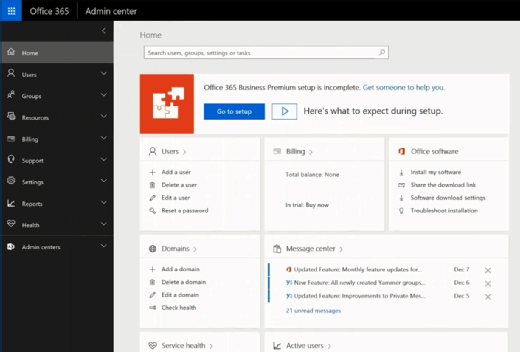 Security and compliance is more important than ever
As cyberattacks get more inventive and harmful, IT administrators must seek out and implement new security measures across different workloads to protect data and systems. Office 365 offers many options that administrators must investigate to see whether the capabilities fit the needs of the organization.
The Office 365 Enterprise E5 plan includes several security offerings, such as Exchange Online Protection, Advanced Security Management and Advanced Threat Protection. Organizations can also purchase these separately to use with the less expensive subscription levels.
Numerous apps and services that IT must understand
Administrators who want to see what's coming from Microsoft should monitor the Office 365 roadmap to avoid any surprises.
As Microsoft adds new services and apps to pull in more subscribers, new Office 365 administrators must stay current to provide sufficient support to end users. Not all 28 apps are in every Office 365 subscription, but administrators will need a basic understanding of how to manage the ones their organization uses -- or plans to use -- to best serve end users.
Administrators who want to see what's coming from Microsoft should monitor the Office 365 roadmap to avoid any surprises.
Be aware of alternative support options
Microsoft allows its partners to deliver some support services for Office 365 directly to subscribers.
Through its Cloud Solution Provider program, select cloud resellers and managed service providers can resell Office 365 licensing on behalf of Microsoft, and then deliver support services. This approach gives IT administrators the option to work with their preferred licensing partner and have access to support services from that partner.
Add-on costs can be tricky to manage and track
Stay in control with Office 365
New Office 365 administrators will have to adjust to the differences in licensing compared to traditional software installations. With the Office 365 suite, IT manages the end-user licenses internally. Any adjustments the administrator makes could change the billing amount.
The Office 365 admin portal provides reports on license usage and helps monitor some of the charges associated with Skype for Business PSTN calling, which are based on consumption.
Proficiency in PowerShell will be beneficial
Administrators need to work in the admin portal for common management tasks, but there are many times Office 365 workloads require some use of PowerShell. Any IT worker involved with Microsoft technologies should develop some aptitude with this administrative tool, but it's imperative for Office 365 administrators because the web portal cannot handle every task.
For example, only a PowerShell command can disable certain Skype for Business Online settings and see if an employee's mailbox is enabled in Exchange Online.