Definition
smart streetlight
A smart streetlight is a public lighting fixture that incorporates technology, such as cameras, light-sensing photocells and other sensors, to introduce real-time monitoring functionalities. Also referred to as adaptive lighting or intelligent street lighting, this type of lighting system is recognized as a significant step in the development of smart cities.
In addition to enabling cities to provide the proper amount of street light for local conditions, installing intelligent lighting will help improve citizen satisfaction regarding security and safety, while bringing municipalities significant savings in power consumption and lighting system maintenance. Plus, outdoor lighting infrastructure will serve as a backbone for a number of internet of everything (IoE) applications, such as monitoring weather, pollution and traffic.
As municipalities make the transition from traditional lighting to light-emitting diodes (LEDs), about 20% of this technology can be considered smart due to integration with lighting control systems, according to ABI Research. However, ABI forecasted that, by 2026, central management systems will connect to more than two-thirds of new LED streetlight installations.
How smart streetlights work
The technology behind smart streetlights can vary depending on its features and requirements, but typically, it involves a combination of cameras and sensors. When implemented on standard streetlights, these devices can detect movement that enables dynamic lighting and dimming. It also allows neighboring fixtures to communicate with each other. If a pedestrian or car is detected, all surrounding lights will brighten until movement is no longer captured.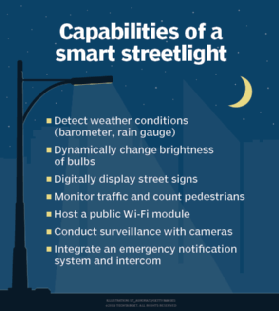 Additional capabilities of smart streetlights may require more technology, such as image sensors, seismic sensors, sound sensors, speakers, weather and water detection sensors, and wireless transmitters.
After smart streetlights are installed, most vendors offer software that can help cities monitor and manage the technology. This software can also be used to gather any data collected by the streetlights and adjust its features, such as dimming time.
The U.S. Federal Highway Administration has published guidelines on how government agencies can implement smart streetlights.
Features of smart streetlights
While the features of smart streetlights depend on the specific technology used by city planners, examples of common functionality include the following:
dynamic lighting controls based on movement detection;
environmental and weather monitoring;
digital signage that can update as needed, such as parking regulations or accident alerts;
parking management, such as alerting officials of illegally parked vehicles or drivers of open spaces;
extended cellular and wireless communications;
traffic management through real-time data feeds that track congestion and speed; and
automatic emergency response in the event of a car crash or crime.
Benefits of smart streetlights
Implementing smart streetlight systems offers the following advantages:
reduced energy cost and usage with flexible dimming controls;
increased pedestrian satisfaction through improved safety measures;
lowered repair and maintenance costs with the monitoring software;
reduced carbon emissions and light pollution;
increased lamp life and shorter response times to outages;
improved architectural planning based on real traffic patterns and insights; and
increased revenue opportunities, such as leasing poles for digital signage or other services.
Disadvantages of smart streetlights
Despite the long-term value in upgrading lighting networks, there are a few challenges. Although smart streetlights save money over time, the initial investment is a large one. Streetlighting costs can account for more than 40% of a city's energy costs -- although converting from halogen to basic LED luminaires yields up to 80% in instant savings.
Plus, there are multiple applications and technology platforms, so choosing the right ones can be challenging. The lack of common standards across networks poses challenges as well.
Another barrier is the lack of consumer knowledge surrounding the features and benefits of smart streetlights. Lastly, implementing smart streetlights requires compliance with federal and utility regulations.
Examples of smart streetlights
Cities investing in smart streetlights are chalking up gains. While Los Angeles received a revenue boost from SmartPoles, which offer Long-Term Evolution (LTE) reception and save energy, Chicago could save $10 million a year in energy costs, thanks to a four-year initiative to replace 270,000 city lights with LEDs and intelligent controls. Additionally, cities in Spain have invested in green street lighting with the development of the wind-powered Eolgreen turbine lamppost.
In San Diego, sensor-laden smart streetlights have been installed to help direct drivers to vacant parking spaces and alert traffic enforcement officers to illegally parked cars. These intelligent fixtures can connect to systems to help determine which intersections are the most dangerous and need to be redesigned. Systems such as these could help municipalities adjust traffic signals by monitoring intersections and noting when traffic backs up, and sensors connected to the streetlights could also detect sounds such as gunfire, broken glass or a car crash.
Software developers are creating apps using the data gathered by the streetlight internet of things (IoT) network. Emerging apps include one that identifies the quietest walking route; a "digital cane" for using traffic and location data to help visually impaired people cross the street; an app that enables food truck drivers to find locations with available parking spaces and high pedestrian traffic; and an app for identifying interesting events in real time.
This was last updated in
December 2019
Continue Reading About smart streetlight
Dig Deeper on IoT industry and vertical markets