p0temkin - Fotolia
An inside look at IoT gateway vendors, classifications
It's easy to get confused when it comes to IoT gateways. Learn about IoT gateway options, IoT gateway vendors and where products fit into the edge gateway spectrum.
By definition, an IoT gateway is a piece of hardware or software that connects the things in an IoT system to the cloud. It sounds simple enough, but it isn't quite so cut and dried.
Analysts agree the term itself is incredibly broad. An IoT gateway can be anything from a Raspberry Pi -- programmed to receive a few sensor readings, massage them and relay them to the cloud -- to a Hewlett Packard Enterprise (HPE) Edgeline, "a kind of full-on data center when it comes down to it," said Ian Hughes, market analyst at 451 Research.
To add to the confusion, some refer to IoT gateways as edge gateways. Instead of just funneling data along to the cloud, more computational and analytical muscle is being pushed to the edge -- closer to the things and further from the cloud -- and, therefore, in the gateway itself.
With more than 30 years in telecom and radio frequency (RF) infrastructure, Digi International Inc. is a good example here. All of its modules offer edge computing capabilities, said Scott Nelson, chief product officer at the company, based in Minnetonka, Minn., all the way down to its smallest programmable edge modules, the XBee3 series. The microprocessors running the XBee3's radios and relaying data have enough extra capacity to hold partition for Python programming and runtime.
On the other hand, you might also see an IoT gateway referred to as an intelligent gateway or control tier. Some vendors even include platform in the names of their gateways, inducing further misunderstanding.
Then, there are cellular routers, which can also be marketed as IoT gateways -- even if they only connect a single monitored device to the cloud. Mike Krell and James Brehm, analysts at James Brehm & Associates, include vendors such as Cradlepoint, Cisco and Sierra Wireless in this category.
Breaking down gateways even further, you could categorize them as hardware versus software, edge versus cloud or end-to-end providers, sometimes by vertical or application. However, these lines can blur, as choices of processor, upstream or downstream connectivity, physical interfaces, cloud and software integrations become optional variants of the same devices.
But we aren't quite there yet. For now, the most useful categorizations of IoT gateways might be density of application, operating environment -- indoor or ruggedized for outdoor -- and processing power.
Digging into IoT gateways and their vendors
While it's still too early in the internet of things' market development to draw sharp lines between product vendors and application areas, analysts were willing to make some generalizations.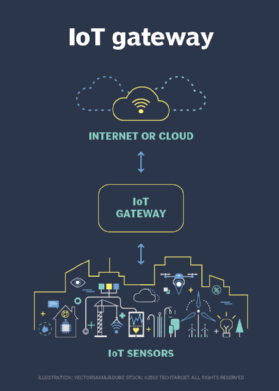 Starting at the high end, Brehm and Krell noted that HPE and Dell are "well-embedded" in applications that require a lot of computation and bandwidth -- video surveillance being a prime example. Dell, in fact, just launched a bundle package around video surveillance. Any gateway that can handle video's density of data points can also handle factory automation, as well as predictive analytics, without cloud contact. Just don't expect these vendors to call them gateways, as they do so much more than aggregate and relay sensor and control signals.
Computers with the processing heft of Dell and HPE's converged IoT hardware run what they call IoT platforms -- the runtime engines and development platforms -- that accommodate AI and machine learning at the edge. Krell named ClearBlade Inc., FogHorn Systems and SAP HANA as relevant examples.
The middle players -- those that 451 Research's Hughes described as "a few thousand dollars of hardened computer" -- include Adlink Technology Inc. and Eurotech. These are often installed by managed service providers in vertically specific areas, like facilities management or logistics.
Krell and Brehm associated Advantech Co. Ltd., its subsidiary B+B SmartWorx, Multi-Tech Systems Inc. and Digi International with industrial IoT, working with traditional industrial automation companies like Ecolab, Schneider Electric, Emerson Electric Co. and Rockwell Automation Inc. Digi is also one of several manufacturers that package sensors, gateways platforms and apps for specific verticals, offering drop-in networks that don't affect existing WANs.
Other vertically focused companies imbed the IoT gateways of smaller firms or contract manufacturers as part of their service offerings. See Rigado LLC's white-label IoT gateways installed for building automation, or startup PsiKick, which has aimed its first IoT play at monitoring steam traps. Its small control node gateways relay the data of its batteryless, low-power, energy-harvesting sensors.
As with most emerging technologies, IoT is undergoing market pressures to agree on interoperability standards, decoupling gateway hardware from application stacks and from cloud providers. In this connection, see EdgeX Foundry, a self-described "vendor-neutral open source project hosted by The Linux Foundation building a common open framework for IoT edge computing."
Below are some of the prominent IoT gateway vendors; many buy their core gateway function from Intel.
Cisco
When you think of IoT gateway vendors, Cisco may be one of the first to come to mind. But Brehm said Cisco is a hard company to read. In 2016, it bought IoT software platform Jasper Technologies -- a move many expected to extend Cisco's play in the IoT space. But, in the last five months, its IoT leadership has completely changed, Brehm said, adding that he expects Cisco to use its long-standing dominance in switches and routers while it injects and integrates computational power and more interfaces.
Case in point: the Cisco 800 Series Industrial Integrated Services Router, billed as an IoT networking and computing gateway that can serve in remote or mobile applications with 4G LTE wireless. Cisco pitches -- and Brehm reported success in -- smart city and industrial IoT applications. Cisco also targets edge computing with its IC3000 Industrial Compute Gateway.
High-performance IoT edge computing systems
Hewlett Packard Enterprise
Recognizing the commoditization of the IoT gateway market at the low end, HPE has now reserved its Edgeline brand for its more convergent, self-sufficient Converged Edge Systems. They may aggregate sensor data, convert it and send it cloudward, just like the HPE GL10 gateway formerly known as EL10.
But, just as likely, they permit automated decision-making, storage and control at the edge, without benefit of the cloud, to help strike oil on remote drilling rigs at sea, for example, or check quality control at automated automotive plants. Tom Bradicich, vice president and general manager of IoT and edge systems at HPE, said the company's edge computing business unit has grown 187% year over year.
HPE has also recognized the need to make hybrid IoT deployments easier to orchestrate. The vendor recently announced that enterprise software from partners Citrix, GE Digital, Microsoft, PTC, SAP and SparkCognition were certified to run on local Edgelines, as well as on data center and cloud platforms. HPE's EL1000 and EL4000 Converged Edge Systems also tout portability of the same HPE systems management and security tools across edge, data center and cloud. HPE is also opening up Edgeline to more industrial control systems, expanding on its initial integration with National Instruments.
Dell
Dell offers the Edge Gateway 5000 series, a ruggedized, optionally DIN-mounted gateway with a dual-core Atom processor for local analytics. It's engineered for industrial ranges of temperature, dust and humidity. They are offered with Wind River Linux 3.0, Ubuntu Snappy 15.0.4 or Windows 10 IoT Enterprise LTSB operating systems.
According to Jason Shepherd, Dell's CTO of IoT and edge computing, three flavors of its 3000 IoT edge gateway line are targeted at specific markets: The 3001, with more serial ports, is geared toward instrumenting legacy industrial machinery; the 3002, with CAN bus and Zigbee ports, is aimed at transportation applications; and the 3003, with video and audio ports, can be used for remote monitoring and control of such things as digital signage, retail kiosks and elevators. Security features include Trusted Platform Module chips for hardware root of trust, secure boot and BIOS-level lockdown of unused I/O ports.
Midrange IoT gateway vendors
AAEON
AAEON offers four IoT gateways, starting with the AIOT-IP6801 for outdoor applications. Integrators have a choice of Atom or Celeron Intel processors and low-power LoRa wireless networking, as well as 4G and LTE cellular.
With wide operating temperatures, waterproof connectors and resistance to dust, it's aimed at energy metering, transportation and other outdoor applications. The AIOT-IGWS01, billed as an industrial automation IoT gateway, runs on the Intel Atom system-on-a-chip and optionally supports Wi-Fi, Bluetooth and 3G or 4G.
Advantech
Advantech has 14 embedded IoT gateways, with a range of processors, form factors, interfaces and wireless protocols. IoT software integrations include AWS Greengrass, Microsoft IoT Edge and Advantech's own WISE-PaaS IoT software platform. It most recently unveiled the UTX-3117, a fanless IoT gateway with Intel Atom E3900, Celeron N3350 and Pentium or N4200 series processor. With its wide operating temperature range and LoRa, Wi-Fi, narrowband-IoT or 4G connectivity, it's being aimed at smart city and industrial applications.
Digi International
Digi has found a new raison d'etre in IoT after being in voice and data telecom since 1985. Its product line goes up and down the chain, from wireless sensors and RF modules to cloud platform and dashboard apps. In the middle, embedded systems on a module can add enough edge intelligence to gateways to run AWS' Greengrass serverless IoT microservices.
Digi is also packaging up sensor-to-dashboard SmartSense systems for specific verticals, including food service and hospitality, facilities management, education, healthcare, transportation and logistics, and retail. For these, SmartSense gateways mount within the reach of Wi-Fi, Bluetooth Low Energy or XBee -- Digi's series of devices that offer interoperability with a number of connectivity protocols, including Zigbee -- sensors and upload to the cloud over cellular network or Ethernet.
While Digi's cellular routers support Python programming, as noted above, its ConnectCore system-on-module devices run Linux or other OSes, like many other IoT gateways.
Eurotech
Eurotech's catalog of multiservice IoT gateways includes a range of processors, environmental tolerances, interfaces, and communication and expansion options. The company's recent release of Everyware Software Framework (ESF) v6.0.0 provides granular IoT connectivity to many leading cloud platforms, including Azure, AWS, Cumulocity IoT, Eurotech Everyware Cloud and Eclipse Kapua.
ESF even allows admins to assign different clouds to different endpoints. ESF is a remote management and update platform, as well as development and security environment. It is based on Eclipse Kura, an open source Java and OSGi middleware for IoT gateways.
Huawei
Huawei's enormous clout in the IoT space may be neutralized in the U.S. for now under new trade tariffs, but China has the largest installed base of connected things in the world, James Brehm & Associates' Krell said. Under the Chinese government's encouragement and coordination, Huawei has "the biggest proof-of-concept test bed we've ever seen," he said.
Huawei has a lot of deployments in video surveillance and smart city applications, such as streetlights and metering. Huawei's IoT plays include cloud platform, wired and wireless gateways, edge computing and chipset (LiteOS) modules.
Lantronix
Lantronix offers embedded and external IoT gateways. The SGX 5150 connects to edge assets with RS-232 and 485 serial ports for legacy industrial devices. It's Azure-certified, and it can also be integrated with other third-party cloud services. It comes with basic device configuration, security and system diagnostic apps. An M.D. version is certified for medical devices and hospital assets. Want more edge intelligence? You have a Linux software development kit and Python runtime services with which to roll your own apps.
Siemens
Siemens is a prominent example of a company with industrial automation systems that are well-known and trusted by operations people -- a good basis of trust and technology on which to build IoT gateway and platform offerings. Siemens' Industrial SIMATIC IOT2000 gateway series mounts on the DIN rails typical of industrial control cabinets, is built to survive factory floor environments and accommodates custom programming via Yocto Linux support.
Other industrial automation companies developing or manufacturing IoT gateway software and hardware, platforms and cloud include GE Digital, Bosch, Fujitsu, Mitsubishi Electric and Ericsson.
Dig Deeper on Internet of things platform