Sergey Nivens - Fotolia
Domino's Pizza IoT deployment delivers temp monitoring, food safety
Domino's Pizza franchises are putting IoT on the menu to automate manual processes, save costs and predict machine maintenance -- and to better focus on cranking out pizzas.
Pepperoni, anchovies, internet of things?
Continue Reading This Article
Enjoy this article as well as all of our content, including E-Guides, news, tips and more.
IoT may not be the most likely topping for a pizza (restaurant), but whatever way you slice it, connected technology has its place in the food service industry.
And now three top-tier Domino's Pizza Inc. franchise groups are ready to take a bite (of an IoT deployment, that is), to not only improve management processes, but also be a real-time aid in restaurant temperature monitoring, food safety, customer satisfaction and predictive maintenance.
MAR Pizza of Los Angeles, Domino's Team St. Pete and Domino's Team New Bedford are adding a new service offered by their analytics and communications platform service provider Unified Office Inc. For the groups, which already use Unified Office's Total Connect Now managed hybrid cloud service to monitor store-level and franchise-wide performance, adding TCNOPS is "a natural next evolutionary step," said Ray Pasquale, CEO and founder of Unified Office.
"Listening to these folks and the pain they go through, it was a no brainer for us to layer IoT on top of the analytics [the franchises] are already using to run their businesses," Pasquale added. Total Connect Now Operations Performance Suite, or TCNOPS, was announced in early February and, according to Pasquale, has been well received. Built on the company's "secret sauce" -- its Highest Quality Routing Protocol broadband connection -- TCNOPS aims to bring restaurants and other SMBs into the connected age, moving them beyond real-time monitoring to full-fledged proactive and predictive analysis.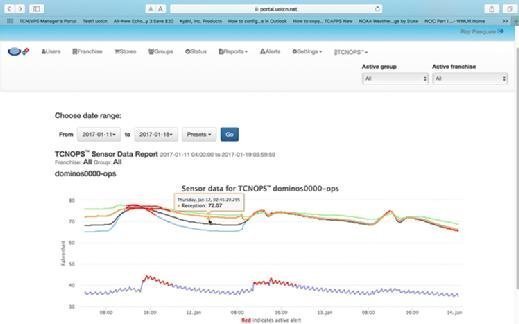 Restaurant temperature monitoring and food safety
Working with a number of hardware vendors, including Samsung and Zen, Unified Office builds the optimal IoT deployment for its clients to automate manual tasks and ensure regulatory compliance.
"Before now, [restaurants] relied on workers to take temperatures and jot them down on a piece of paper," Pasquale said. "You know how that works -- they don't always do it. Then the restaurant gets dinged by health inspectors. [Non-compliance] could get them shut down for hours, or they're made to throw away food. If you have 100 restaurants, that adds up to big money."
While Phil Rands, president of Domino's Team St. Pete, had never really considered an IoT deployment for restaurant temperature monitoring, he sees the benefits.
"Having real-time temperatures displayed is great," Rands said. "It's great for store manager and assistant managers, but what's even better is it sends out alerts to upper-level management."
The IoT implementation will help automate tasks, including monitoring the temperatures of the store's production tables, refrigeration and exhaust systems. The information is then reported on an in-store wallboard display of Unified Office's Visual Performance Suite management software alongside other historic and real-time data, such as staff performance, telephone line status and the local weather.
Rands said there are a number of ways to take temperatures throughout the restaurant -- all of which require human interaction. Pulling IoT sensors into the mix creates what Rands called a "paradigm shift."
"[Taking temperatures] is something so ingrained in us that we do it every day," Rands said. "And you need to make sure thermometers are being sanitized and maintained and calibrated. But with [the new technology] that all goes away."
All 16 Domino's Team St. Pete restaurants, located in the Tampa/St. Petersburg, Fla., area, will deploy TCNOPS, which has configurable alerts to ensure each different jurisdiction can meet its varying health standards and regulatory requirements.
"With something as severe as temperatures, we know the consequences," Rands said, adding that not meeting regulatory requirements was not healthy, not good for the customer and can get a restaurant in a lot of trouble with health inspectors.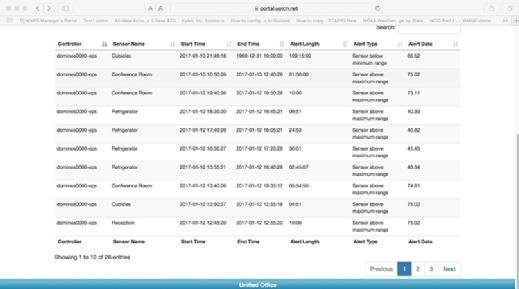 Ambient restaurant temperature monitoring, predictive maintenance
Beyond monitoring temperatures for food safety and compliance, the IoT deployment incorporates smart building functionality, including smart thermostats for ambient control temperature.
"It's a no brainer to have [a smart thermostat] as part of the system," Rands said. "Paying attention to things like that contributes to a successful operation. You want to know the ambient temperature for the guests, and you want to know when there's a problem and address it as soon as possible. That's the primary benefit. The secondary benefit is every time I save a dollar on an electric bill, we increase proceeds by four or five times. As an operator, I'm pretty happy about that."
TCNOPS' real-time alerting helps not only monitor when a freezer door is open too long, but also offers predictive analysis for proactive maintenance.
"Franchises will be alerted to things we think are about to happen," Pasquale said. "If we notice a particular sensor has been recording refrigeration above the minimum but below the maximum for some time, the store will be alerted that they may want to service the machine before it breaks."
Pasquale said the price point for the TCNOPS IoT deployment is "very attractive" -- and not anywhere near the $150 per month fee purpose-built pure-play IoT companies may charge.
"They're already paying for our communication system and visual analytics," Pasquale said. "For a modest increment on top of that they get unlimited sensor reporting, all the reports generated, real-time alerting and more."
Pasquale also mentioned many of his customers have commented on the ease of use of the platform, saying purpose-built solutions were not only too expensive, but also too complicated.
"We're trying to keep everything very simple and only produce information that is meaningful and actionable," Pasquale said. "Simple is good in this case."
Rands echoed the sentiment.
"I'm just a pizza guy," Rands said, adding that the IoT deployment was "super simple" and completed over the phone in less than an hour. "They didn't even have to send someone to do it; they just talked [someone in my office] through it; now she is able to do the other installations herself."
Pasquale said the "controlled rollout" to 300 Domino's locations is helping Unified Office identify early issues and tweak the system to eventually bring the best product to market. He expects the service to be in full production in the second quarter of 2017.
Next Steps
Learn about Arby's Restaurant Group's IoT innovation plans
Explore more about IoT deployments in the food supply chain