AI in restaurants takes customer service to the next level
Restaurants face challenges that include low margins and high turnover, but the use of chatbots is helping some restaurant chains address these perennial difficulties.
AI in restaurants is enhancing and changing the entire food service experience, not only for customers, but also in the back-office operations of food service establishments.
Restaurants face a wide array of process challenges when running their establishments, including hiring staff and managing their schedules, inventory ordering and management, food prep, marketing, point-of-sale systems, and other operational needs.
It's not uncommon for restaurants to have multiple programs that each manage a different piece of the operation, and these programs may not talk to each other. As a result, food service establishments of all types ranging from delivery to fast casual to sit-down dining are turning to AI and cognitive technologies to improve process flows and customer experience.
Chatbots grow into customer experience roles
Restaurants are taking notice of an increased acceptance and popularity of chatbots to boost engagement and interaction with their customer base while reducing customer support costs.
AI-enabled bots can do a variety of things, like help manage reservations, respond to customer inquiries and customize customer orders, freeing up staff to spend time with the customers currently at the store. Domino's famously experimented with giving customers the ability to text a pizza emoji to order a pizza as a way to not only increase overall sales, but to also provide a unique customer experience.
Many establishments, such as Domino's, Pizza Hut and Starbucks, now offer voice ordering assistants that utilize natural language processing to interpret and place orders. Using voice commands on devices like Alexa, customers can reorder food from recent orders or navigate voice-only menus without ever interacting with a human or even getting off the couch. As long as you have a user account set up with your delivery address and payment information, you can have the food delivered hot to your door in mere minutes.
Of course, the lack of voice authentication should make parents of hungry teenagers a bit wary of this convenience. And even small, single-restaurant establishments are taking advantage of these messenger, voice and chatbot capabilities.
AI-driven food apps are further adding to these capabilities. They work by identifying the patterns of a customer's dining choices and pairing that information with the customer's location to suggest other restaurants that the user may be interested in. If these apps can start to know when customers are traveling and make suggestions for new restaurants on the road or learn customer's behaviors -- for example, knowing that Tuesday is always take-out night -- this form of AI in restaurants can truly become powerful.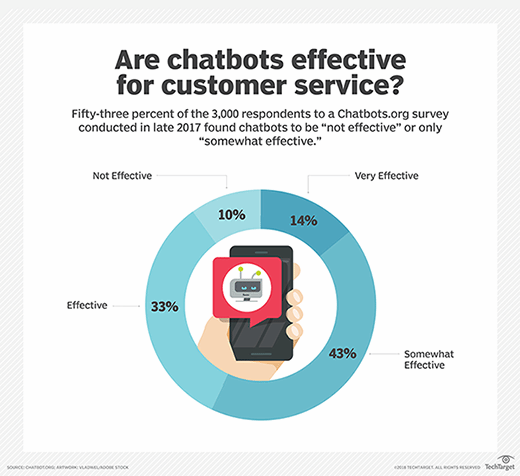 Robots become more normal in restaurants
As minimum wage has steadily increased in many areas of the country, restaurants are looking to save costs however they can. It's becoming more common to see AI robots assisting in the kitchen. Robots help with consistency in both food prep and cooking, can help speed up the time it takes to get food to customers and are decreasing training costs, as turnover rates are not an issue with robots.
Robots are stepping into front-of-house operations, as well. In addition to assisting the hostess with tasks such as reservation management, robots are also interacting with customers tableside. Smart bots are able to provide meal recommendations to customers, take orders and even process payments once the diners have completed their meals.
AI can help with back-office tasks
One thing that every restaurant manager needs to handle is staff schedules. This important but mundane task is one area where AI in restaurants can be particularly proficient.
By teaching machine learning-enabled systems what a typical work week looks like and how many employees are needed at certain times of the day or week, these systems then learn to schedule staff accordingly, take into account scheduled time off and ensure the restaurant is properly staffed during busy and slow times. The system can also deliver alerts if it looks like the restaurant is going to be short-staffed or when workers are nearing overtime.
AI tools can use predictive analytics to help forecast visitor traffic, food orders and inventory needs, as well as revenues and costs. By learning what items are popular with patrons, what foods aren't selling and what times are most busy for the restaurant, the AI system can place orders with vendors at the right time, ensuring the restaurant has enough inventory on hand. These systems monitor inventory to make sure that the store will not run out of food, drinks or alcohol.
With slim profit margins and high staff turnover, restaurants are getting creative to maximize profit and efficiency. While some may be concerned that robots will take over jobs, as a whole, this does not appear to be the case. In order to stay in business, restaurants are going to do what's best for the bottom line, and that may mean robots will be taking your order, cooking and serving your food, and managing the whole process in the near future.