How a chatbot sales platform helps King Kong on Broadway
Using an intelligent ticketing agent from vendor Broadw.ai, the Broadway production of 'King Kong' can better manage its brand while driving up ticket sales.
The Broadway show King Kong, inspired by the classic 1933 movie of the same name, tells the story of a giant gorilla captured and brought into New York, and his friendship with a young woman. Besides the music, dance numbers and familiar plot, the show's main attraction is Kong himself -- a 20-foot-tall, 2,000-pound animatronic puppet.
While the striking Kong puppet alone drives ticket sales, the Broadway show has also turned to a more digital measure. Since February, King Kong has been using a ticketing chatbot sales system from Broadw.ai, a bot vendor specializing in Broadway tickets, to drive up sales.
Broadw.ai on Broadway
Founded in 2018, the aptly named ticketing vendor aims to, as co-founder and CEO Micah Hollingworth put it, digitally recreate the experience of buying tickets at a box office window. Broadw.ai works with several Broadway shows besides King Kong, including The Phantom of the Opera, Anastasia, and Wicked.
The startup, using home-grown analytics, as well as AI and NLP technology from Satisfi Labs, sells users customized intelligent agents customers can use to buy tickets.
The agents can work over social media, on platforms like Facebook Messenger, or directly on a show's website, as is the case with King Kong.
Broadw.ai "allows us to better deliver to our customers exactly the information they need as they seek to buy our tickets," said Mark Shacket, general manager of King Kong.
The Broadway show uses Telecharge, a third-party ticketing platform, to sell tickets online. The platform -- a Broadw.ai partner, along with Ticketmaster -- has a basic ticketing process that, on its own, doesn't allow users to sell tickets directly from their websites, Shacket said.
"This limits our ability to deliver to our ticket buyers the information they are seeking in a simple and branded way," Shacket said.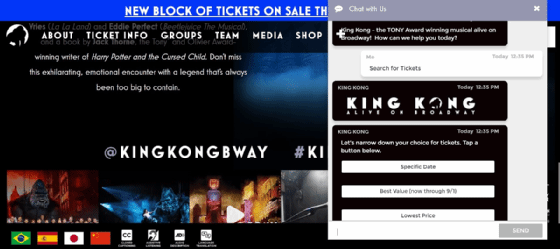 An intelligent ticketing agent
Using Broadw.ai, the website now features a ticketing agent. By clicking on it, users get the option to engage with the agent in Messenger or choose from options that include searching for tickets on a specific date or looking for the lowest-priced tickets in a particular time frame.
[Broadw.ai] allows us to better deliver to our customers exactly the information they need as they seek to buy our tickets.

Mark ShacketGeneral manager, Broadway production of King Kong
"The net result for us is vastly improved brand management and a material reduction in drop-off rates from our sales funnel," Shacket said.
It's not just the easy-to-use chatbot sales system that's increasing ticket sales, however.
Behind the scenes, Broadw.ai, thanks to its own technology, as well as its partnerships with ticketing companies and Satisfi Labs, collects and analyzes data from potential ticket buyers and completed purchases.
That data, combined with its simple chatbot sales platform, has helped drive up how much a customer spends per ticket, as well as how many potential customers make a transaction.
More ticket sales, higher prices
"Our goal is to as quickly as possible surface tickets to you based on the information you provided so you can quickly make a decision to purchase those tickets or search for a different day or price," Hollingworth said.
Generally, it takes a customer four clicks from start to finish to purchase a ticket, he said.
If a customer doesn't buy a ticket on the first look through, they are then given a more reasonable offer, Hollingworth said, adding that, on average, ticket sale prices are 26% higher than if customers chose a more manual method of transaction.
For the most part, Broadw.ai's ticket selling chatbot has been successful for King Kong, Shacket said, noting, however, that he would like to see more reporting functionality, including an online portal with real-time results.
Overall, though, that's a minor issue, he said.
"This technology is so transformative to the way our industry sells tickets," Shacket said.
"Broadw.ai delivers a platform to directly engage with our consumers through the entire ticket buying process, which is a true game changer for our industry," he added.