kentoh - Fotolia
Einstein Analytics for Financial Services enhances banking CX
Salesforce's new analytics tools for financial services follow AI advancements from IBM Watson and Acquia upgrading customer experiences in retail banking and wealth management.
With its Einstein Analytics for Financial Services, Salesforce seeks to drive AI in banking further into both retail consumer finance and wealth management.
Salesforce, which released Einstein Analytics for Financial Services on May 7, isn't the only customer experience (CX) platform vendor to recently make deeper inroads in the financial market. Financial institutions, in general, see more and more uses for AI in banking to advance automation, create efficiencies and drive revenue.
In the last month, Regions Bank rolled out Banker Assist using IBM Watson to help its customer service agents. And Enterprise Bank & Trust relaunched its site on Acquia, with AI tools to lock down security and fraud detection; the bank has future plans to ramp up a personalization engine.
Banks and financial services firms use AI to enhance customer experiences in many ways, said Gartner analyst Darrin Courtney.
Retail banking covers day-to-day transactions, such as deposits, withdrawals and paying. Wealth managers cover more long-term financial and growth strategies. Many retail banks use customer-facing AI tools such as chatbots, while wealth managers see AI embedded into next-best-action advice.
"AI, in general, is still kind of nascent. There are a lot of things you can do with it in small use cases," Courtney said. "But as far as this super broad rollout, where everyone's figured out how to crack the nut and apply it, there's a long way to go."
More Einstein for Financial Services Cloud
Meanwhile, Salesforce's Einstein Analytics for Financial Services targets both retail banks and wealth managers, with out-of-the-box dashboards and data models that cater to each group's differing needs.
AI, in general, is still kind of nascent ... there's a long way to go.

Darrin CourtneyAnalyst, Gartner
The tools also can take external data from a customer account, such as a credit card balance or loan payment load, and feed it into the analytics, which can return more personalized insights and recommendations. In demos for salespeople and support agents, Salesforce shows Einstein Analytics for Financial Services tools performing churn predictive modeling to prevent loss of disengaged customers, as well as AI tools to help make lead-to-customer conversions.
Salesforce also made available a set of manager-specific tools that dashboard a team's overall performance. Graphs and stats break down sales by team member or region, and the tool purports to offer suggestions for coaching underperforming salespeople with AI-gleaned observations.
The ability to mash up data from Salesforce Financial Services Cloud and external sources is a big component of these new features, said Amruta Moktali, vice president of product management for Einstein Analytics at Salesforce. Like the Einstein Predictive Services that went live in April 2019, these tools come with ready-to-use data models for customers, or for data scientists to build their own models.
"For Financial Services Cloud, Einstein Analytics, augmented with actionable AI, is a fully customizable platform -- not just a couple of dashboards and locked-in [data] models that don't work," Moktali said.
Regions Bank taps IBM Watson AI
Regions Financial Corp., a $129 billion company, with 1,500 Regions Bank branches across the American South, Midwest and Texas, expanded its AI footprint with a tool it calls Banker Assist using IBM Watson Assistant AI.
The Watson-based tool, released April 25, was in the works for more than a year, said Chris Brasher, head of bank operations at Regions Bank, based in Birmingham, Ala. As of last month, the tool had solved about 3 million customer and banker questions in the rollout phase that continually fine-tuned the AI software, he said.
AI for banking CX isn't confined to self-service and agent assistance. Enterprise Bank & Trust, which operates 34 branches in the St. Louis; Kansas City, Kan.; Kansas City, Mo.; and Phoenix areas, is slowly rolling out AI, starting with security and fraud prevention where bots flag anomalous activity for human review.
Enterprise's refreshed website, developed by Chicago-based consultant Bounteous, went live on April 29. It runs Acquia's personalization engine and content management system to track customer activity and feed its marketing funnel.
"Everybody would love to wake up and have this amazing one-to-one personalized digital experience," said Tom Wentworth, product marketing senior vice president at Acquia, based in Boston. "But before that can happen, there's a lot of data capture, customer profiling and platform-building that comes . Then, they can turn on AI customer segmentation and product recommendation algorithms."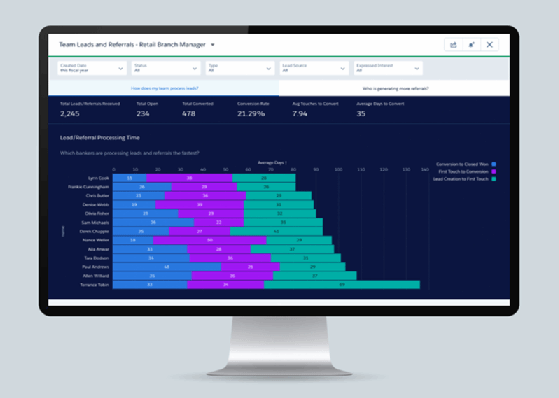 Finding banking AI use cases still elusive
Banks are slowly coming around to AI, because the technology is broad, as is the variance in financial services across the industry. Gartner's Courtney said, in wealth management, the challenge for technology vendors is driving adoption.
Getting financial advisers to look at -- let alone use -- AI-infused applications is a win for technology vendors, he said. Less than half use CRM systems multiple times a day, and just 12% use financial apps daily, according to Gartner survey data.